Information
Related Templates
Comments (0)
Civil engineering free Bootstrap Website Template
Today we would like to represent a Civil Engineering HTML bootstrap template. The reason we are introducing it is that the Home page is for FREE. Civil Engineering is a very broad business. It's a professional engineering discipline, which deals with design, road, buildings, railways, airports and etc. Thus, this template is very useful and popular among those businesses. Every customer has the opportunity to use the design of this template for commercial reasons.
Although we give you the opportunity to create a great website for your customers, and we give it out for free with its original images and free .psd version of the home page design, you do not have the legal right to resell this design for any other company. Neither the Photoshopped version nor any other template made by this template.
The template is created by CSS, Bootstrap and JS frameworks and is fully responsive as any other our products. Nowadays, it is our number one priority that the template is responsive. Responsive means that the template can be seen and opened with any devices, and its design and dimensions will greatly be adjusted the device.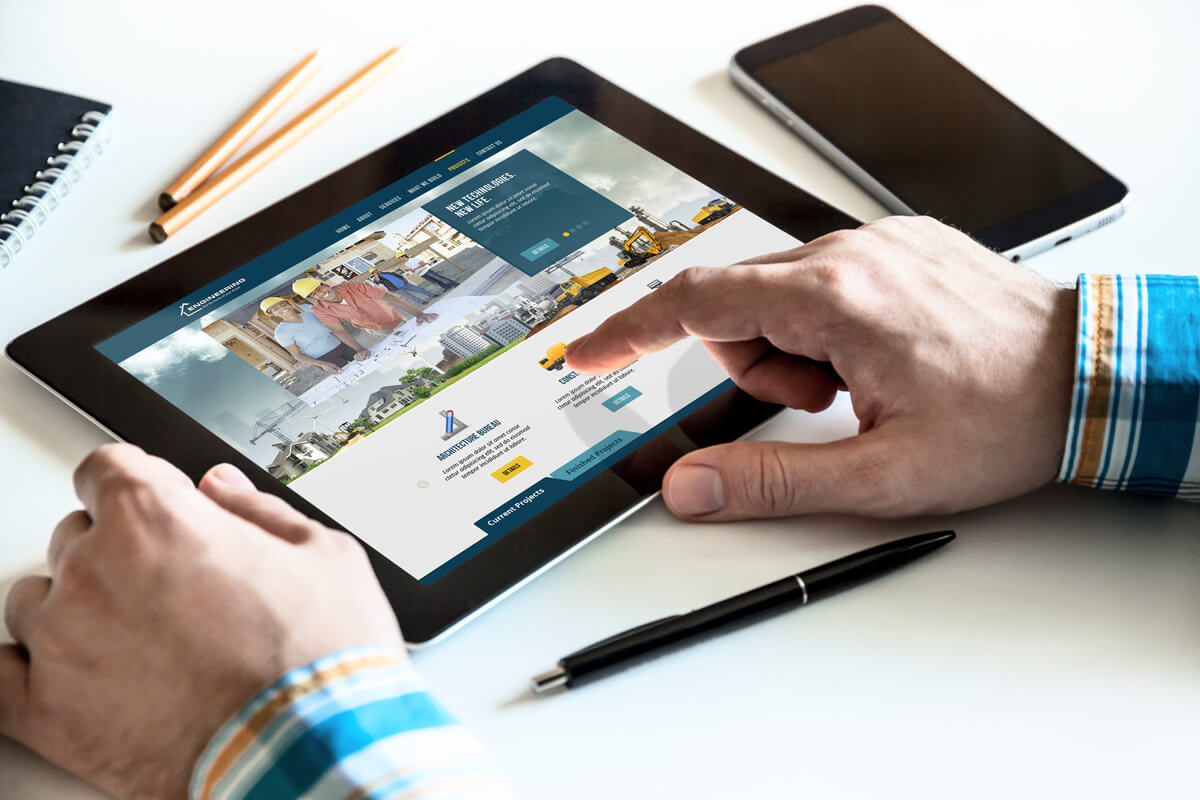 We can assure you that with the help of this free template you can succeed in your Civil Engineering business and develop knowledge in web design. In this free theme, there is given everything that would help you as a businessman/women for the startup business.
Before describing the Home page step-by-step, here should be mentioned that we only give out the home page for free. If you want the whole template, you have to pay for it here: https://gridgum.com/themes/civil-engineering-bootstrap-theme/
In case of, this template doesn't fulfill the expectation you had, you can also download other types of free website templates, we have a huge collection of them. All of those free bootstrap, free WordPress, Joomla or free website templates can be seen here: https://gridgum.com/themes/category/free/
Now let us discuss a landing page of the Civil Engineering HTML bootstrap template. However, we promise you that in the nearest future we will definitely add more pages to it. This means that each one of you, who downloads this product, in future, they will get the notification from us to upgrade their product.
The homepage is the section, which makes the most important influences on the visitor. As you can see, here is given a slide show, which consists of several images, however, you can add as many as you wish, the sky is the limit. Under the slideshow, there is given buttons that say: "Details" and have corresponded picture with it, for example, Equipment, Bulging, Construction, Architecture bureau. This is just, for instance, you can change it any way you like it to be. Under that, you can see a title that says "Current Projects" and "Finished Projects". Here you have the ability to put out the greatest examples of the work, which was done by this company, and also, the work, which is planned in the future.
Let's say a few words about our support team. We can proudly say, out loud, that our company has the greatest support team. We always take into account customers needs, they are not only your priority to satisfy the wishes, it is ours too. Thus, if you have any kind of a problem or have some questions, please feel free to write those in the comment section and the support team will respond as soon as possible. If that is not enough, they will create a step-by-step video tutorial exclusively for you.
Free
Download
| | |
| --- | --- |
| Date of Creation: | 15 June 2018 |
| Last Update: | Never |
| Compatible Browsers: | IE, Chrome, Safari, Firefox, Opera |
| Files included: | HTML, CSS, JS, Files, Images, PSD |
| Documentation: | Well Documented |
| Layout: | Responsive |
| Tags: | free templates, free bootstrap website templates, free website templates, bootstrap free templates, bootstrap templates free, free html5 templates |
| Type: | Free template |
| Categories: | Free bootstrap themes, Free CSS Templates, Free HTML5 Templates |
| item #: | 30975 |
©
All Rights Reserved Gridgum