Information
Related Templates
Comments (0)
DASHGUM BASIC - Free Bootstrap Dashboard Theme
DashGum Basic is a simple elegant free dashboard template. It comes with 15 pages to use and adjust to your requirements.
With DashGum you have charts, tables, a lot of panels, calendars, notifications, to do lists and more. Grab our free theme and enjoy it.
If you need more, see our Premium Dashboard Template which is packed with tons of features. The premium version contains 33 HTML and more than 40 plugins, the premium Dashboard Template comes with 4 different chart plugins, Email pages, Chat pages, maps, advanced forms and tables, file uploaders, inline editor, pricing tables, complete profile page and more.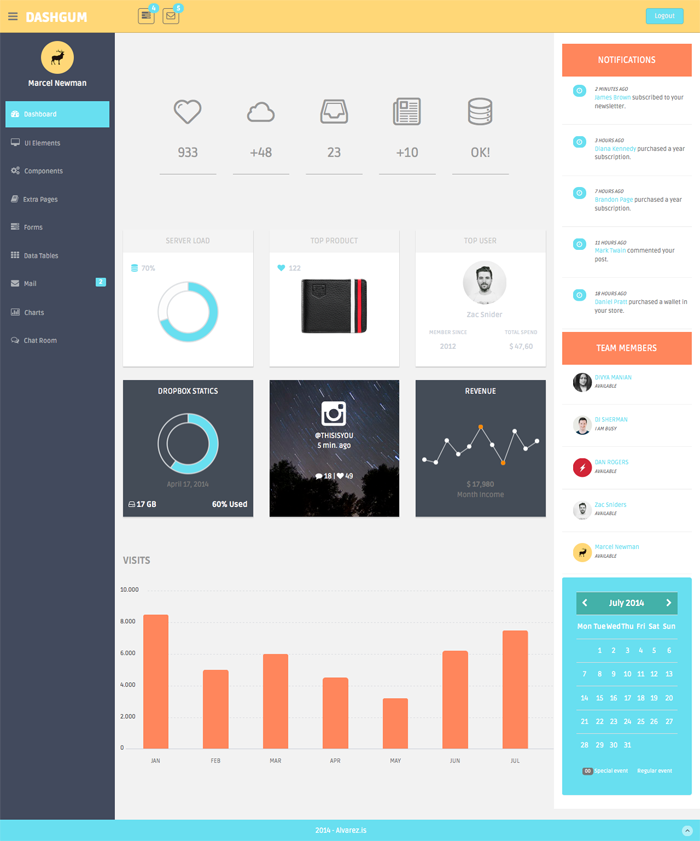 License & Author DetailsThis free theme is provided courtesy of Blacktie.co. Feel free to visit for further license and attribution details.
Free
Download
| | |
| --- | --- |
| Date of Creation: | 29 April 2015 |
| Last Update: | Never |
| Compatible Browsers: | IE, Chrome, Safari, Firefox, Opera |
| Files included: | HTML, CSS, JS, Files, Images |
| Documentation: | Well Documented |
| Layout: | Responsive |
| Tags: | free admin template, free dashboard templates, bootstrap admin template free, free admin panel template, admin template free, free bootstrap admin template, free admin dashboard template, free bootstrap dashboard templates |
| Type: | Free template |
| Categories: | Free Admin Templates |
| item #: | 19787 |
©
All Rights Reserved Gridgum