Information
Related Templates
Comments (0)
Varius Free Bootstrap Admin Dashboard Template
Varius is an admin dashboard template. It can be used for the backend management.
Varius is a free bootstrap template. If this isn't your first time on a template marketplace, you should already know everything necessary about Bootstrap, but if you still don't, Gridgum has a blog article, where you can read all about it: What is Bootstrap.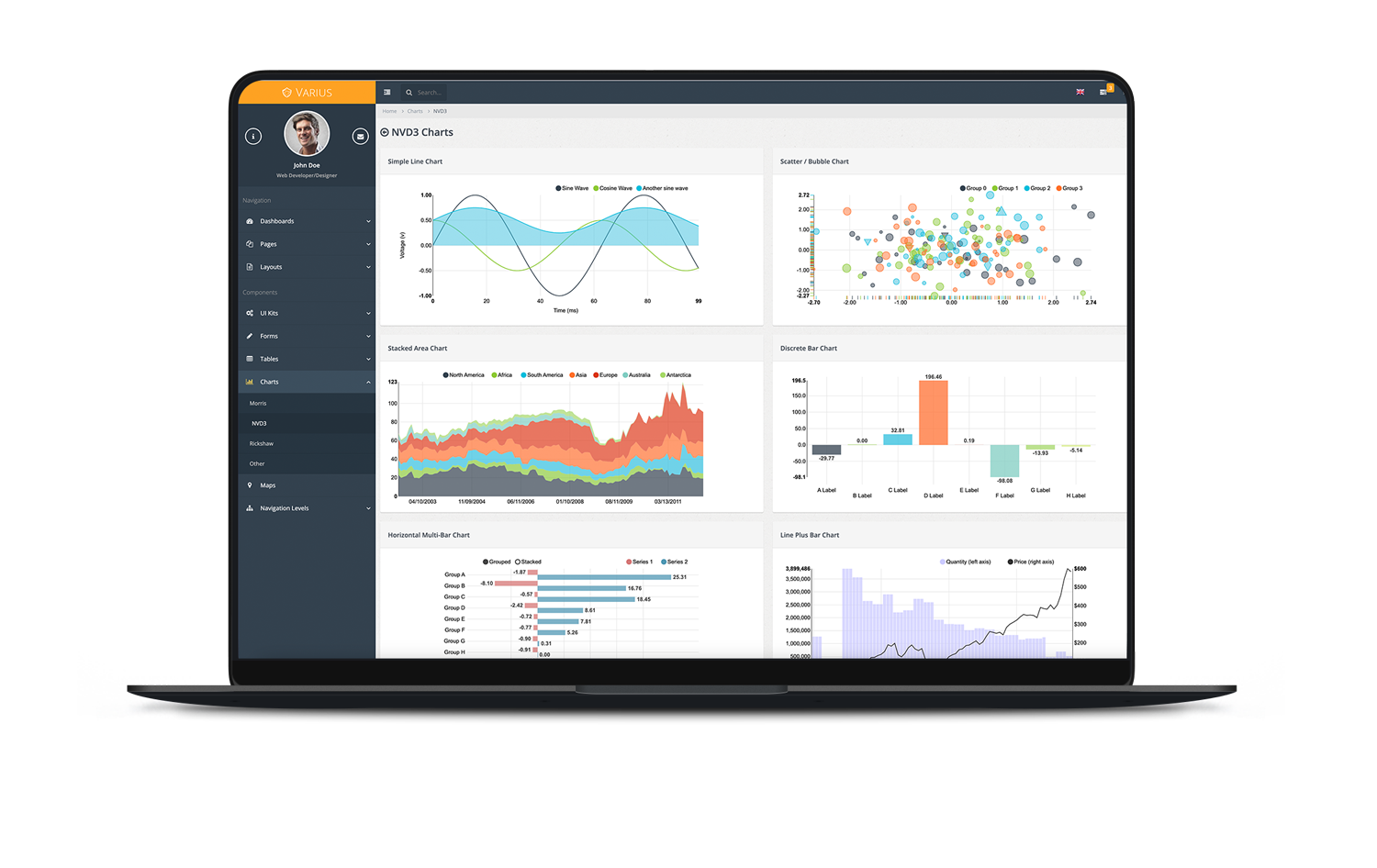 The template consists of a sidebar on the left and a dashboard. The sidebar has a profile on top, which shows the current user, this part also has the team information button and messaging section.
Below there is a navigation section. It has dashboards, pages, and layouts each with its own dropdown menus, which you can easily modify to your needs according to what your project is. There is also a components section, which can also be modified to give you full control and overview of your operations.
The dashboard side can show you all kinds of charts and graphs, so you get full analytics of your business. It shows you visitors, users, messages, sales, projects and etc.
Here you can find a lot of different types of pages, any and every page that you might need for an admin webpage. There is a link to our website in the free version, but if you wish to remove the link, all you have to do is pay 3$ and you can remove it and use this website for commercial or non-commercial purposes.
This admin dashboard template is free for everyone. All you need to do is download it. If you have any trouble setting up or customizing, please do not hesitate to leave a comment in the comments section below and our support team will help you with everything.
If you don't like this specific template and it does not suit you, we have a wide range of Admin Dashboard templates that are perfect for those who have experience in this field. You can see and download them from here: Admin Dashboard Templates or if you have not experienced it and need any kind of Free Templates you can download them from our Free Templates section here: Free Admin Dashboard Templates
Free
Download
| | |
| --- | --- |
| Date of Creation: | 20 December 2022 |
| Last Update: | Never |
| Compatible Browsers: | IE, Chrome, Safari, Firefox, Opera |
| Files included: | HTML, CSS, JS, Files, Images |
| Documentation: | No documentation |
| Layout: | Responsive |
| Tags: | free admin template, free dashboard templates, bootstrap admin template free, free admin panel template, admin template free |
| Type: | Free template |
| Categories: | Free Admin Templates |
| item #: | 31095 |
©
All Rights Reserved Gridgum