Information
Related Templates
Comments (0)
Minima - Free Woocommerce Bootstrap Template
We are glad to introduce the newest addition to our free templates section. This is a free website template made with Bootstrap HTML5. Bootstrap is a framework for building websites, this template also uses HTML5 technology. This framework - Bootstrap is not something that requires additional knowledge of coding. It is easy to manage and can be done by anyone. This particular template is also a WooCommerce theme, which means that it is perfect for an online store.
For the theme of this website we have chosen fashion, so it is perfect for an online clothing store, an online fashion boutique, or any kind of clothes retailer. All of the images that you see will be included in the template package. If you have sold different kinds of goods, if you replace the photos of the products, you can use this website for any other kind of online store, not only clothes.
This theme can be used for commercial and non-commercial purposes, but because it is a free template, it will have a link to our website (Gridgum.com) in the footer. If you wish to remove this link, you have to pay 3$ and you will be able to remove the link.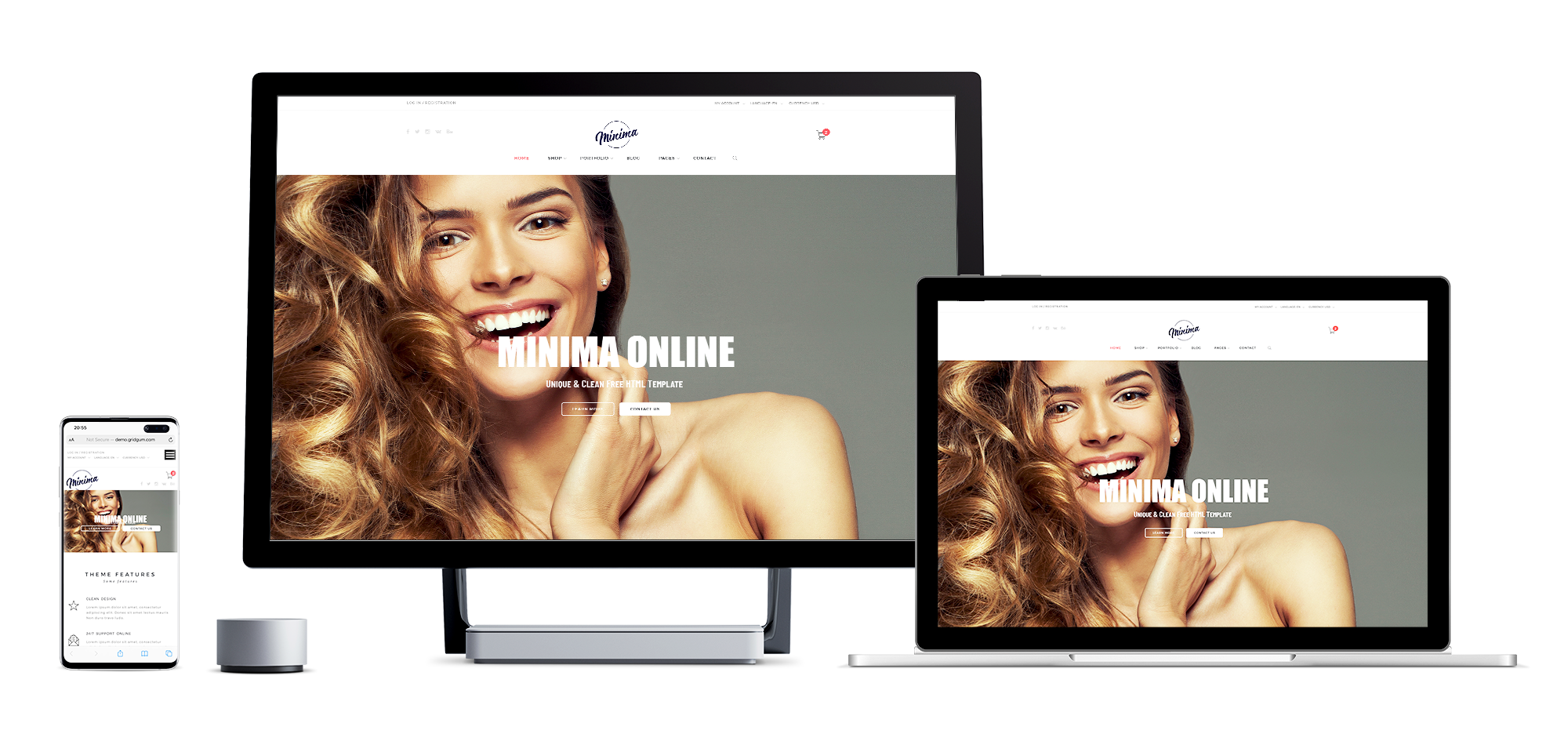 Bootstrap doesn't usually require extra knowledge of coding, as we mentioned above, so it can be learned quickly. For some of you who have no experience with this tool, we have a wide range of free Bootstrap templates, for those who want to try themselves out. You can see our free bootstrap templates on this link here. Download it, try it out completely free of charge.
And for those of you, who have worked with Bootstrap before and who can say that you know the basics of the tool, we also have premium bootstrap templates. If you have some experience, if you have managed a bootstrap website before, then you might find something at this link, in our premium Bootstrap website themes.
It has the following pages: Home, Shop (2 versions: with sidebar and without sidebar), Portfolio (with different amount column designs), a blog page, and Contact. Also included in the design is everything necessary for an online shop like: a single product page, Shopping cart, Checkout page, etc (it even has a 404 page in case there is one needed). It has a total of 16 pages:
Home (index.html)
Shop 1 / With Sidebar (shop-with-sidebar.html)
Shop 2 / Without Sidebar (shop-fullwidth.html)
Portfolio (portfolio.html)
Portfolio 2 (portfolio-2-col.html)
Portfolio 3 (portfolio-3-col.html)
Portfolio 4 (portfolio-4-col.html)
Blog (blog.html)
Single Post (single-post.html)
Pages / Accordions & toggles (accordions-toggles.html)
Pages / (single-product.html)
Pages / (shopping-cart.html)
Pages / (check-out.html)
Contact (contact.html)
Log in / Registration (login-register.html)
404 (404.html)
Should you have any questions, our support team will be there to answer all of them. They will also provide you with detailed explanations and step-by-step video tutorials.
Free
Download
| | |
| --- | --- |
| Date of Creation: | 16 April 2021 |
| Last Update: | Never |
| Compatible Browsers: | IE, Chrome, Safari, Firefox, Opera |
| Files included: | HTML, CSS, JS, Files, Images |
| Documentation: | Well Documented |
| Layout: | Responsive |
| Tags: | free website template, bootstrap free templates, free html templates, free html5 templates, free html website templates, free woocommerce themes, Best free website templates 2021, free website templates |
| Type: | Free template |
| Categories: | Free CSS Templates, Free HTML5 Templates, Free Multipurpose templates |
| item #: | 31076 |
©
All Rights Reserved Gridgum