Information
Related Templates
Comments (0)
Architex - free Bootstrap Website Template
We are ready to introduce our new Free Bootstrap template, which is designed for companies and businesses that operate in civil engineering, construction, and architectural industry. The offered template is absolutely free of charge, moreover, we do not require anything that would benefit us, like links to our favor. However, there is one condition that has to be fulfilled, if you distribute this Free Bootstrap theme please include our URL, in order to make other people visit our website for an official preview. If you want to explore more Free Bootstrap templates, then please look through our collection, which can be found here: https://gridgum.com/themes/category/free/
This Free Bootstrap template is designed for companies that are involved in construction and architectural engineering activities, like planning, designing, managing and constructing the building structures. The provided theme gives a perfect opportunity to present all company data in a very detailed manner and attract as many customers as possible. The bootstrap template is very famous on the market because it is an easy way to launch a highly functional website for a very decent price.
Bootstrap templates are offering a wide variety of benefits especially for people, who do not have a thorough programming background. For altering the website's content and design, based on one's preferences and taste, any HTML editor can be used, for instance, Adobe Dreamweaver.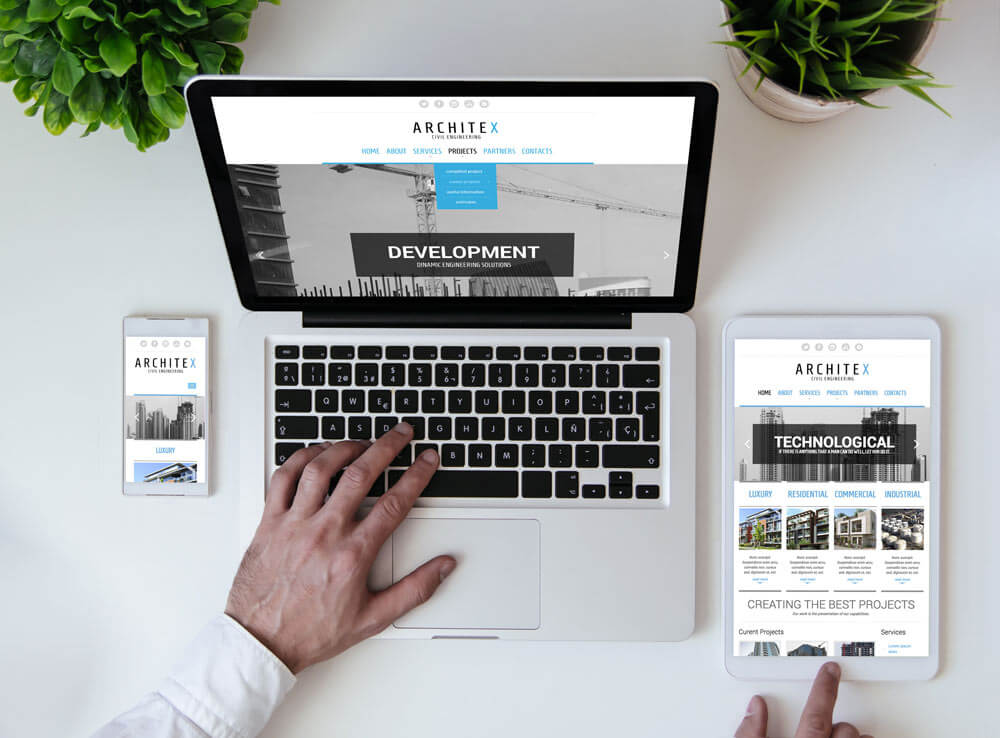 As it was outlined above this Civil Engineering Free Bootstrap template is a perfect way to reflect on company information. It provides six different sections to present various information in a separate way. These six sections are:
1. Home: In this section should be presented the most engaging, interesting and important information about a company. Include the mission and vision statements in order to demonstrate core company values, principles, and goals. Compromise various images of your company to make the front page very attractive. If you like the images provided in the given Bootstrap theme will free use them as well!
2. About: In this section should be presented a history of the company, for instance, when and why it was created, what kind of problems you solve, why you are the best service provider on the market and etc. Include the description and photos of team members, tell about their experiences and projects they have worked on. You will also have a space to present company testimonials that will, of course, affect customers' attitude towards the company. Try to provide as much information as possible because it will increase the company validity and credibility among potential customers.
3. Services: In this section should present the information about the services that the company provides. Section involves four different pages that can be employed in order to describe all the services meticulously. Present various information like price range, customer feedback and etc.
4. Projects: In this section should be presented an information about projects. There are four different pages that can be employed in order to present all the relevant information. Reflect on current and past projects as well, compromise the most important information and also some estimates and figures. The projects can be categorized based on different categories or can be shown all together.
5. Partners: In this section should be presented with information about the company's partners. Give a general description of what partnership means for a company and how it can be acquired by others. Also include additional information about current partners, their brand or company names, logos and etc.
6. Contacts: In this section should be presented the company's contact information, for instance, email address, street address, telephone number and etc. In order to show the exact location of the company, we included the Google Map location tool. If you do not know how to set up a Google Map location, then please feel free to read a detailed article about that, which can be seen here:
We also incorporated the Contact Form tool to facilitate the communication processes between companies and customers.
As you might notice the provided Free Bootstrap template has a lot to offer, so feel free to download and use it! But if you are interested in professional templates then please follow this link and look through our collection of Premium Bootstrap themes: https://gridgum.com/themes/category/bootstrap-themes/
As you might notice the provided Free Bootstrap template has a lot to offer, so feel free to download and use it! If you employ our Bootstrap template your website will never have accessibility problems since it can be opened from various browsers, like Opera, Google Chrome, Internet Explorer, Mozilla and etc. Since the Bootstrap products is responsive it can be accessed from any device like cell phones, tablets, laptops, personal computers and etc. But the best thing about responsiveness is that template's design will be altered depending on which gadget is used to open the website. In other words, the website's design will always look flawless no matter what device is used. If you are interested more in Bootstrap, like what it is and how it works, please follow the provided link and read a detailed article about it:
https://gridgum.com/blog/category/bootstrap/
If you have questions, regarding any topic, please leave them in the comment section and our support team will respond as soon as possible. In order to have smooth communication and explanation process with customers, the support group will provide video tutorials to answer your questions.
Free
Download
| | |
| --- | --- |
| Date of Creation: | 23 November 2017 |
| Last Update: | Never |
| Compatible Browsers: | IE, Chrome, Safari, Firefox, Opera |
| Files included: | HTML, CSS, JS, Files, Images |
| Documentation: | No documentation |
| Layout: | Responsive |
| Tags: | bootstrap free templates, bootstrap templates free, bootstrap templates free download, free responsive website templates |
| Type: | Free template |
| Categories: | Free bootstrap themes, Free CSS Templates |
| item #: | 30924 |
©
All Rights Reserved Gridgum