Wedding Templates and Themes by Popular
If you own a company that deals with wedding planning, wedding pictures or a general event planning, we have created this section for you. All fully responsive themes and full HD pictures. The design also varies from one theme to another. You will find one theme more colorful and enjoyable another is a more traditional wedding template. If you like one of our templates and want to modify it to fit another event planning, do not hesitate to contact us.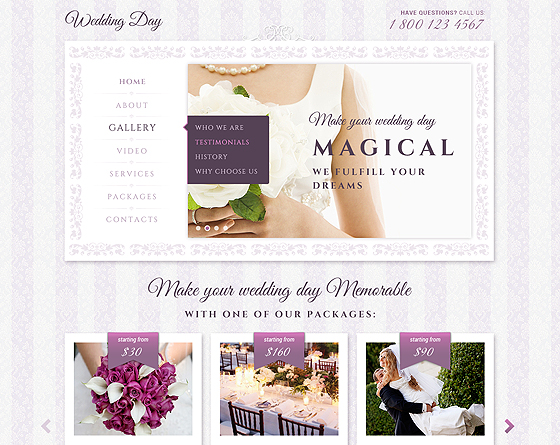 There are some important days in our lives for which everyone is preparing exceptionally. One of those days is a wedding day, which should be beautiful, special and memorable. People address companies or organizations that take the responsibility of making the day perfect. We tried to create a bootstrap template were all of the factors that might be needed for wedding companies would be considered perfect. First of all, the website needs to be able to be seen from any device – no matter if its tablet, phone or computer. These kinds of templates are called responsive.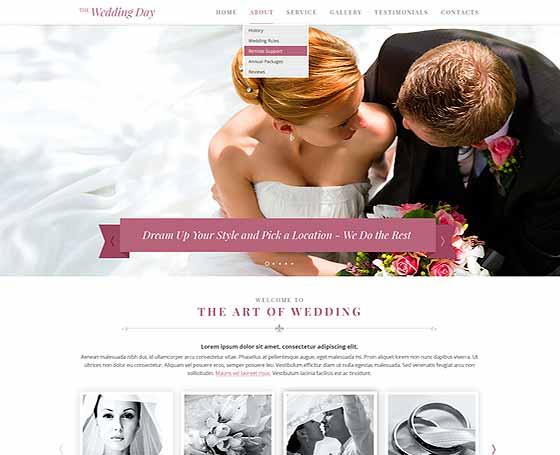 Gridgum is fulfilled to introduce our most recent wedding HTML template. This wedding website template is added to many more wedding template that you can browse on Gridgum website. It starts with 6 most fundamental options at the upper right corner which outlines how your website is sorted out. After that comes our pleasant slideshow bound by numerous HD photograph. Each photograph of the slideshow presents something that you want to promote for in your website template; for example, photographs, rings, decorations or designs and many more. The slideshow is not the last part to show you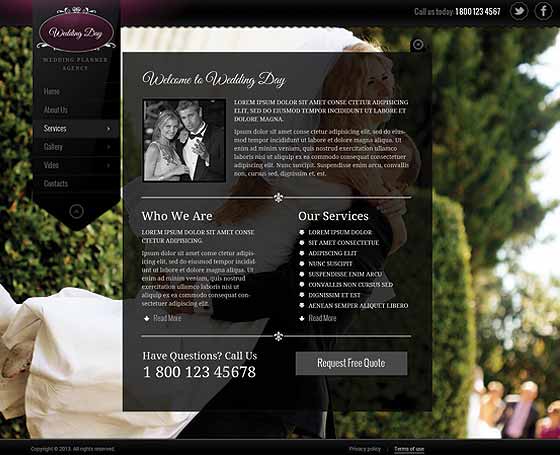 Wedding WordPress theme, this WordPress template is for anyone who has a business of Wedding Day Photos or services for the wedding. Moreover, people who want the world to see how amazing their wedding was can use this template! It is a WordPress template, therefore it is very easy to modify it. Admin Panel of the template lets you control any content on the website! Why should you choose this template? Very Beautiful Background Slideshow, Animated menu, Fully Responsive, Social Network Logos