Information
Related Templates
Comments (0)
SOLID - Free bootstrap responsive theme
Now let's represent Free HTML bootstrap template called Solid. This is the multi-purpose free theme and can be used for commercial and non-commercial reasons. As we have mentioned this theme is completely free which directly says that you are not required to pay even a cent for it when you download it.
Besides that, our company never requires the customers to give us backlinks.
However, for one occasion only, if you put up our free templates on your site as free templates collection for seeing the demo preview of each template you have to indicate the link which after clicking on it will transfer the customers on our web page to see demo preview pages.
Nowadays, in the century of developed technology, society not only uses computers to see stuff on the internet, they also use Cell Phones, iPads, Notebooks, Androids and etc. The reason we are providing this information is that the web sites must be responsive for the customer to see it in any devices. Of course, this free bootstrap template is responsive as any other templates, which we provide in the free template section. Responsive means that the design and dimensions will perfectly adjust the device, which it is opened by.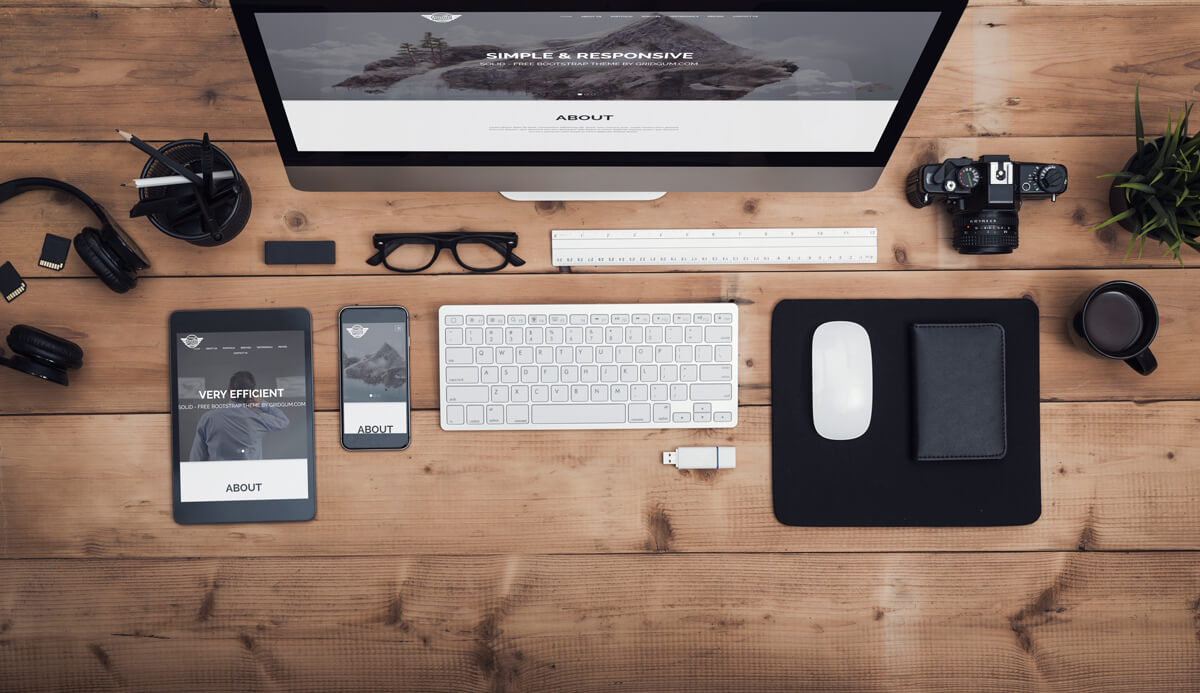 We give you the opportunity to check the any our template to see its responsiveness. For this please go on the demo preview page and on the top of the screen you will see three device icons: Desktop, iPad, iPhone. When you click one of the icons provided above you will see the clear difference in how the design changes according to the device. See the screen below:

The solid free bootstrap theme is created by CSS, JS, HTML5(jQuery) and Bootstrap frameworks. Although to customize it you definitely need any HTML editor, the editor can be any kind which you pick out for example: Adobe Dreamweaver or any other code editor.
Hopefully our new free template met all the conditions which you need it to use; however, if it is not enough and you want to look for a wide range of themes you should look for free bootstrap templates collection here: https://gridgum.com/themes/category/free/
Although, if you are thinking of creating a professional and demandable website, in that case, we recommend you to our premium templates and themes, which are provided here: https://gridgum.com/themes/category/bootstrap-themes/
Now let's see the description of the template page by page.
Home - As you can see here is provided a beautiful slideshow. As this is the very first page, which your future visitors see here you should create a slideshow and upload as many pictures as you wish.
About us - The name of the page directly suggest to write a brief description of the information about your company.
Portfolio - On this page, you can upload the pictures depending on the categories, which you create. In this case here are Web, SEO, Works, Brands and all of them together.
Services - here you should clearly give an information about all the services and products you are offering on the marketplace.
Testimonials - A page where you can see the customers' reviews.
Pricing - The page provides exact information about the pricing of the product, and also use here the product description.
Contact Us - on this page is indicated in the email address, cell phone, and street number to get in touch with them. Also, you can send the email from there, because as you can see there is a chart made to send emails via the site.
Our company provides the best support in the whole marketplace. Author of the template responds not only by giving the detailed answers to your questions but also provide step-by-step video tutorials created especially for you. Thus, please do not hesitate to write as many questions as you have.
Flatty - Free Bootstrap App Landing Page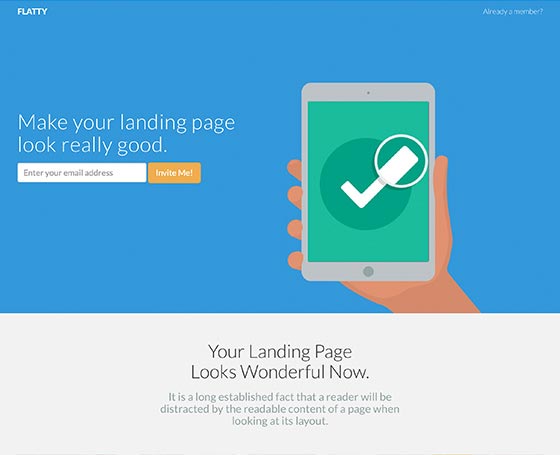 Stanley - Free Freelancer Theme Bootstrap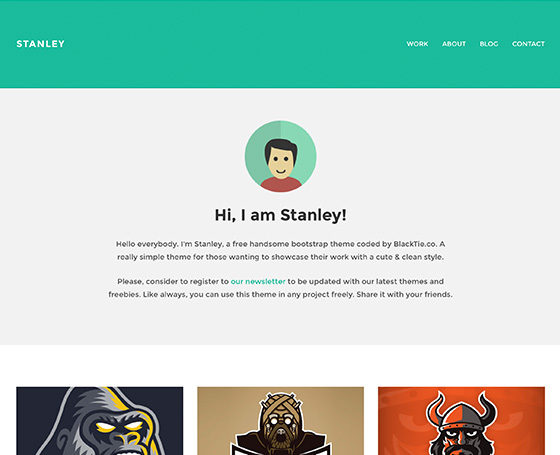 Free
Download
| | |
| --- | --- |
| Date of Creation: | 14 February 2016 |
| Last Update: | Never |
| Compatible Browsers: | IE, Chrome, Safari, Firefox, Opera |
| Files included: | HTML, CSS, JS, Files |
| Documentation: | Well Documented |
| Layout: | Responsive |
| Tags: | free bootstrap templates, bootstrap free templates, bootstrap templates free, bootstrap themes free, free html templates, free html website templates, free bootstrap website templates |
| Type: | Free template |
| Categories: | Free bootstrap themes, Free CSS Templates |
| item #: | 26504 |
©
All Rights Reserved Gridgum