Information
Related Templates
Comments (6)
Bikers Club - bootstrap responsive template (theme)
This is the Bikers Club Bootstrap website template that can be purchased and downloaded for a very attractive price. Nowadays most of the people, companies, and businesses are using already created and designed templates to launch their own websites. Why? Because they are very convenient, time and money consuming and they deliver nicely done end-product (website).
But if you are not a programmer and have never worked with Bootstrap HTML themes but are curious about them, then please follow this link which will show you our collection of Free Bootstrap templates. Start and work with a template for which you do not have to pay anything and decide whether you like it or not. After gaining some experience you can always switch to our Premium version of Bootstrap templates which can be found on this page: https://gridgum.com/themes/category/bootstrap-themes/
Of course, professional Bootstrap templates are better than the free ones that's why you pay money for it, for instance once bought bootstrap theme will also get updated whenever we add some pages and features in it. But in either way, you will be left with the high-quality product and get satisfied.
This is the Bikers Club HTML Bootstrap website template which can be downloaded and used by people who are involved and are part of Bikers unity. In this decade, people are more eager than ever to share their private or non-private lives with others. And the internet is a place where people are exchanging information.
If you own a Bikers Club or are the part of it and want involve other people and let others know about your activities, then download this template and run your own website. If you purchase this HTML theme you will not have to do any programming because all the work is already done. You will just need an HTML editor, for instance, Adobe Dreamweaver, in order to shape already designed template based on your taste and preferences.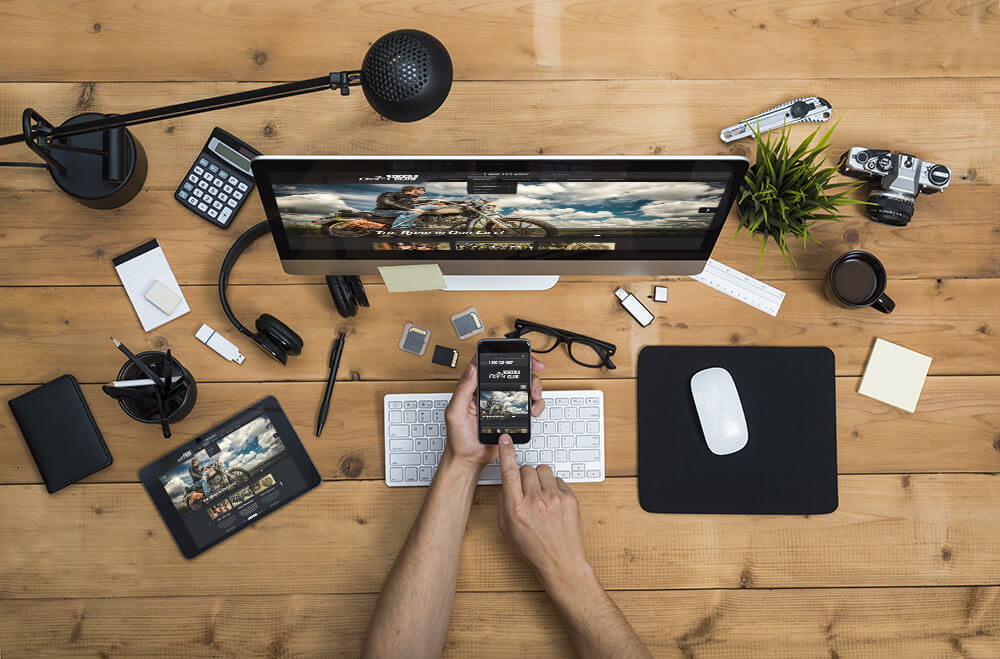 The Bootstrap templates have many advantages and that's why they are chosen by customers, for instance, the responsiveness feature. All templates are responsive which means that they can be accessed through any device like mobile phones, laptops, tablets, computers and etc. But the best thing about the responsive product is that it changes its shape and design depending on from which device it is opened. To better understand our point please click the Live Preview button which will demonstrate how the template looks like. On the upper side of template there are distributed three icons computer, iPad, and iPhone and by clicking on them you will see how this exact theme will appear on those devices. As you might understand the website's design will always look nice regardless of which device is used to open it.
As it was mentioned above the Bikers Club Bootstrap template can be downloaded by owners of these clubs or members in order to promote their activities. By using this template, they will be able to demonstrate all of the information in a detailed way using the provided six sections:
1. Home: On this page, you can post the most recent and upgraded information about your club and activities. The news should be engaging and interesting to attract as many people as possible and convince them to visit other pages of a website as well.
2. About Us: In this section, you should share the club's history like, when and why it was created, what is the main ideology of the club around which evolves everything. List and outline all the testimonials you have, in this way the club's credibility and validity will be increased among potential members.
3. News and Events: On this page, you can share some interesting news, events, projects that are recently ended or still going. People like having as much information as possible therefore satisfy them as much as you can by sharing interesting moments.
4. Gallery: In this section, you can publish images of club, bikers, past events and etc. If you like you can also use the pictures that are distributed in this template, they are included in the price package.
5. Membership: This is the most important section of the website because in here you will post the steps that have to be taken to get the membership. Represent the rules that have to be followed in order to be part of the Bikers club also show the benefits of participation.
6. Contacts: Here you can post your contact information like email address, telephone number and the exact address of the club. We also offer the contract offer to the viewers to make the communication process between you and them very easy. For the address, we included a Google Map location tool to show viewers the exact location of a club. If you do not know how to set up a Google Map location then please follow this link:
https://gridgum.com/How-to-Set-Google-Map-Location-in-Bootstrap-Template/
If you have any questions, please leave them in the comments section and our support will get in touch with you as soon as possible. In order to answer fully your questions and fill out all the gaps that you have we offer video tutorials to have a smooth explanation process.
Template package includes:
all 6 pages design in .psd format;
all 7 original files (.html, .php, .js, .css);
working contact form released in PHP;
working photo gallery with categories;
Working search form;+ 404.html page;
all content images (all images are legal from www.yaymicro.com).
$19


| | |
| --- | --- |
| Date of Creation: | 22 July 2015 |
| Last Update: | Never |
| Compatible Browsers: | IE, Chrome, Safari, Firefox, Opera |
| Files included: | HTML, CSS, JS, Files, Images, PSD |
| Documentation: | Well Documented |
| Layout: | Responsive |
| Tags: | motorcycle website template, bootstrap templates, Best bootstrap themes, best bootstrap templates, HTML templates, HTML website templates, biker website templates, biker template |
| Type: | Bootstrap Templates |
| Categories: | Miscellaneous |
| item #: | 22749 |
©
All Rights Reserved Gridgum