Information
Related Templates
Comments (0)
Dobule - Food Delivery UI Kit for Mobile App
UI Kit contains a high-quality mobile application design best suited for any business connected to food delivery. This modern theme resembles Uber Eats, Doordash or GrubHub and also enhances some of their functionality and design. It contains 170 beautiful screens and there's more to come!
It has concepts for drivers & customers and offers different versions for both!
Animation Order History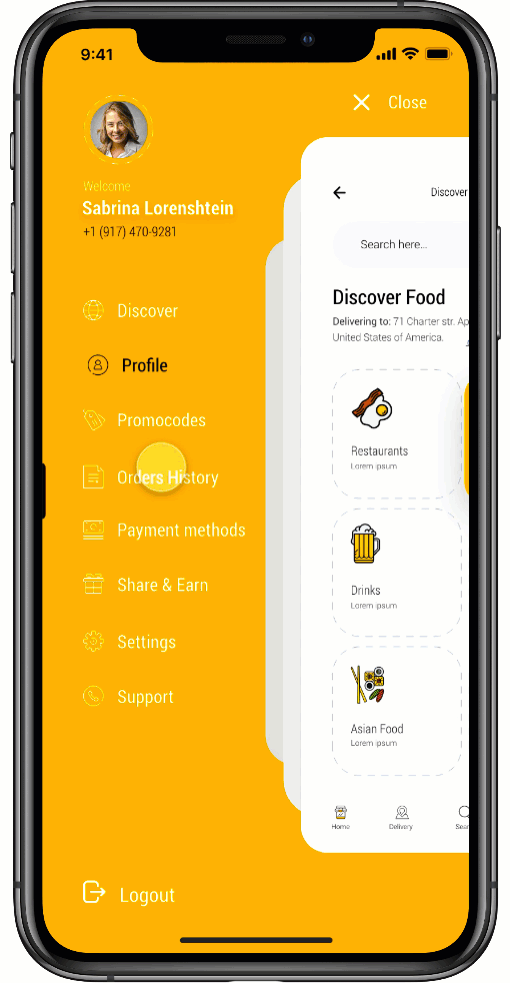 The kit would be very useful for people interested to learn more about Adobe XD or Sketch. The prototype is fully interactive and linked which will give you the opportunity to explore and interact with the product in a more exciting way!
The design can be used to develop or demo applications for Android or iOS. Build your dream application faster! Stay tuned for the HTML5 Mobile application version coming soon. Please do not hesitate to reach out to us with any questions you might have!
Driver Side: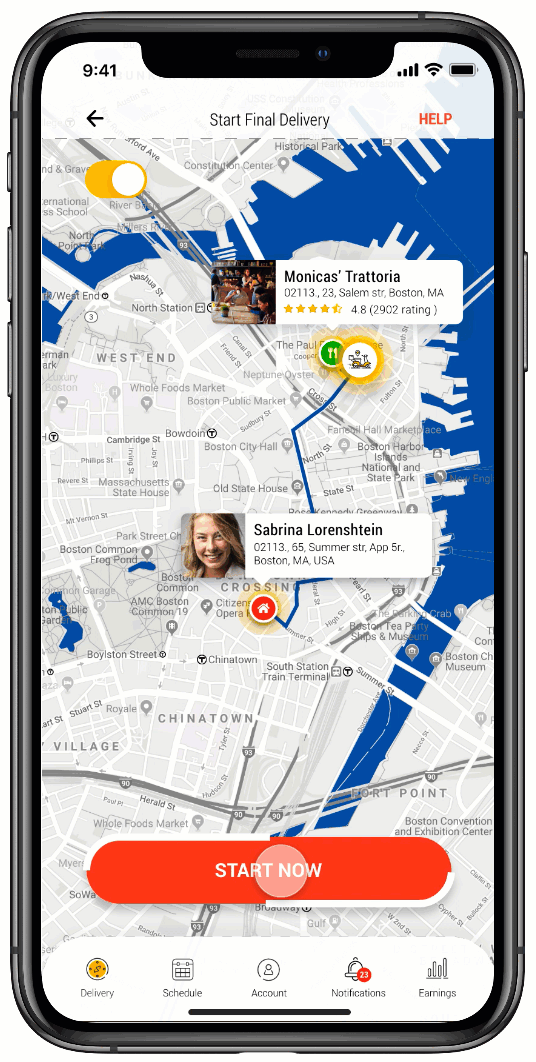 Key Features:
67 Customer, 47 for Driver & 56 for Restaurants' side Premium Ready-To-Use Screens
Available in Sketch and Adobe XD Formats.
High Resolution. 325×2000 Resolution for iOS
Every element is editable
Fully Layered, Grouped & Named appropriately
100% Scalable Vectors
Roboto Font
Easy to customize and edit
Well-Documented Help File
Screens Include:
---
CUSTOMER SIDE
WELCOME / LOGIN / SIGN UP
01. Welcome
02. Slide 1
03. Slide 2
04. Slide 3
05. Slide 4
06. Slide 5
REGISTRATION
07. Sign Up
08. Login
09. Registration
10. Edit Phone for Verification
11. Verification
12. Reset Password
PROFILE
13. Menu
14. Profile
15. Set Address
16. Add a New Address
17. Personal Information
18. Change Password
PAYMENT METHODS
19. Payment Methods
20. Debit Card Settings
21. Add a New Card
22. PayPal Settings
23. Add aNew PayPal address
24. Apple Pay
25. Promocode
ORDER HISTORY
26. Order History
27. Order Paid
28. Order Declined
29. Tracking History
SUPPORT / FAQ / SHARE / EARN
30. Support
31. Comments
32. FAQ
33. Active FAQ Box
34. Share & Earn
35. Page Sharing
GENERAL SETTINGS
36. General Settings
37. Terms
38. Privacy
DISCOVER FOOD BY CATEGORY
39. Food Category
40. Food Category with Search
41. Select Address
FOOD DISCOVERY
42. Food Discovery
43. Food Discovery by line icons
44. Nearby Restaurants
45. Nearby Restaurants by Map
RESTAURANT / INVOICE / ORDER / REVIEW / DELIVERY
46. Restaurants' single page
47. Restaurant on the Map
48. Restaurant Review
49. Add to Cart
50. Single Product
51. Product reviews
52. Shopping Cart
54. Order Popup
55. Order Paid
56. System waiting info
57. Order accepted by driver
58. Start Delivery
59. Start Delivery scrolled up
60. Delivery confirmation
61. Products Delivered
62. Review Menu
MESSAGES / RESTAURANT, DRIVER & PRODUCT REVIEWS
63. Products review
64. Restaurant review
65. Driver review
66. Chat with customer
67. Write Message
DRIVER SIDE
WELCOME / LOGIN / SIGN UP
01. Welcome
02. Sign Up
03. Login
04. Registration
05. Edit Phone for Verification
06. Verification
07. Reset Password
MENU / PERSONAL INFO
08. Menu
09. Personal Information
10. Profile
11. Driver License upload
12. Change Password
TRANSPORT REGISTRATION
13. Transport Registration
14. Add car
15. Add Motorcycle
16. Add Bike
MY WALLET
17. My Wallet
18. Payout History
19. Payout Methods
20. Debit card settings
21. PayPal setting
22. Add a new PayPal address
23. Add bank info
START DELIVERY
24. Start delivery
25. Select end time
26. Hotspot
27. Message about new order
28. Delivery information
29. Accept or Decline
30. Decline, why?
31. Customers' information
32. Order info
33. Pickup Order
34. Final delivery
35. Reach customer
36. Reach customer 2
37. Call to customer
38. Delivery process on the map
HELP
39. Help
40. Can not reach customer
41. Can not reach customer 2
42. Leave order popup
43. Delivery completed
44. Confirm Delivery
45. System waiting
46. filed
47. Delivery Success
RESTAURANT SIDE
WELCOME
01. Welcome
02. Slide 1
03. Slide 2
04. Slide 3
05. Slide 4
06. Slide 5
LOGIN / SIGN UP
07. Login
08. Registration
09. Edit Phone
10. Verification by Phone
11. Save Password
PROFILE / ADD RESTAURANT
12. Menu
13. Profile info
14. Add Restaurant
15. Company info
16. Sole Proprietorship
17. Personal info
18. Change Password
MY WALLET
19. My Wallet
20. Withdraw history
21. Payout Method
22. Credit Card Setting
23. Add a New Card
24. Set PayPal
25. Add a New PayPal Address
26. Bank Information
$44


| | |
| --- | --- |
| Date of Creation: | 9 May 2020 |
| Last Update: | Never |
| Software version: | Sketch v 65.1 |
| Files included: | Files, Sketch, XD |
| Documentation: | Well Documented |
| Layout: | Responsive |
| Tags: | food delivery, mobile application, ubereats, mobile app, food templates, delivery app, doordash, glovo, ubereats clone, mobile app, uiux, ui design, mobile |
| Type: | UI Design |
| Categories: | Cafe Restaurant Theme, Mobile Application, Sketch Templates |
| item #: | 31045 |
©
All Rights Reserved Gridgum