Information
Related Templates
Comments (0)
FirstOrder - Free Bootstrap HTML Template
We have created free bootstrap HTML template, which is multifunctional, meaning it can be used for business, finances, management, portfolio and etc.
Our team has decided and created this "FirstOrder" as a unique free template in the whole marketplace. Its uniqueness is that we decided to create a minimum of 200-300 pages for this template.
Other companies who create free templates have only a landing page or a maximum of 3-4 pages. Thus, as you can see we offer a huge amount of free templates for our customers, and know we decided to be only company that created this specific template that is multifunctional and anyone can use for their business. If you do not like our free themes and template we can offer you Premium bootstrap and website templates here: https://gridgum.com
Now we have several pages created which are: Home, Portfolio, Blog, and Post pages. However, as we have mentioned above there will be numerous pages.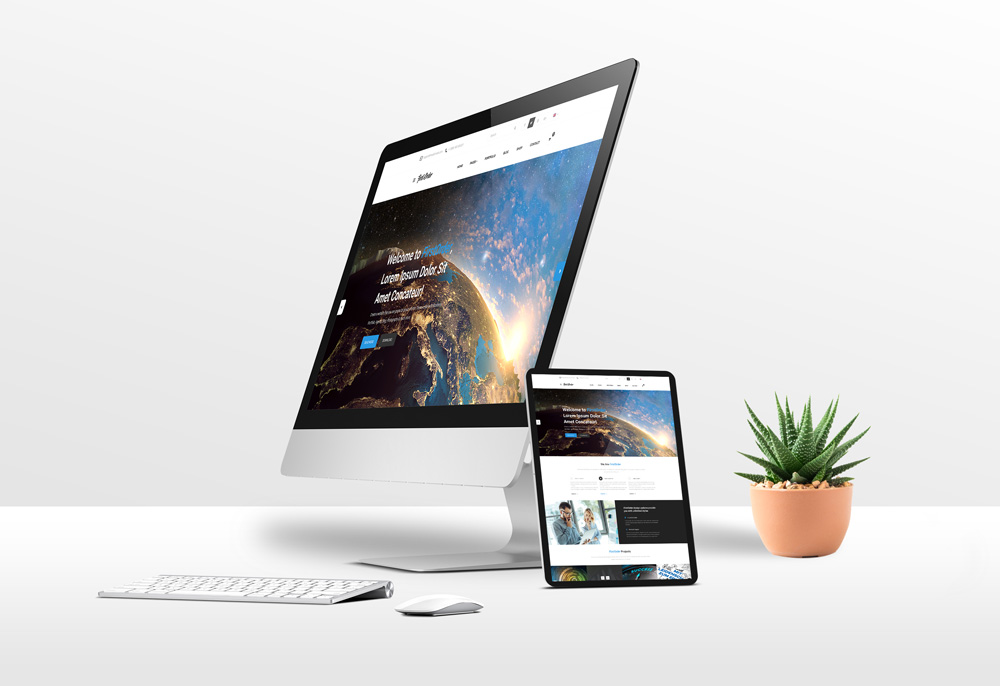 Now let's discuss the Home page. As you can see on the right corner of your screen there is a drop-down menu to choose a language. Below this, you can see a slideshow, which can contain as many pictures as you wish. Below the slideshow under "We Are FirstOrder" you can write about what the company offers its customers, what your field of work is, who our employees are, what projects you completed and etc. As you can see, besides this, there can be space for a pop-up video too.
The space under the pop-up video can be used for projects, current, past, or future projects. Next is the "Meet Our Team" section, here you can place your employees' pictures and write a little description about each one of them, and what their position is you can also add their social network links (ex: LinkedIn).
At the end of the home page, there is a "Stay Updated for Latest News" space, where you can write about the latest news about the company's project benefits, plans or etc. There is also a "read more" button by clicking on it, you will be transferred to the blogs' page. The main aim of this template is that it can be used by anyone for anything, meaning for commercial and non-commercial reasons, everyone is can download it.
However, there is one important condition, the free version has to have a link to our website at the bottom. If you want to remove the link it costs 3$, and if you want to use this template multiple times you will have to purchase the license which costs 5$.
The next page which we are going to discuss is a portfolio. Here you can categorize your photos in folders: Photography, Mockup, Logo Design, and Other.
Besides the pages, there is "Blog" and when you hover over it, appears a drop-down menu: Blog Right Sidebar (Blog, Blog Post) and blog Left Sidebar (Blog, Blog Post). On the blog page, you can write news and on the blog Post page, you can read the comments and also leave a reply. Those are the four pages at this time, but we promise our customers that this template will be a minimum of 300 pages. We will do our best to add at least one page every week. Customers who have already downloaded this template will get a notification (if you are subscribed) that a new page has been added.
If you have some difficulties and need help, just leave a comment in the comment section below the template and we will create a video tutorial personally for you.
Free
Download
| | |
| --- | --- |
| Date of Creation: | 20 September 2019 |
| Last Update: | 30 September 2019 |
| Compatible Browsers: | IE, Chrome, Safari, Firefox, Opera |
| Files included: | HTML, CSS, JS, Files, Images |
| Documentation: | Well Documented |
| Layout: | Responsive |
| Tags: | free website templates, bootstrap free templates, free business templates, free business website templates, free portfolio template, free portfolio website template, free html templates, free html website templates |
| Type: | Free template |
| Categories: | Free CSS Templates, Free Landing Page, Free Multipurpose templates |
| item #: | 31026 |
©
All Rights Reserved Gridgum