Information
Related Templates
Comments (0)
FirstOrder - Multipurpose
Free PSD (Photoshop) template
We would like to present the brand new FREE FirstOrder PSD template which can be downloaded and used by anyone for commercial and non-commercial purposes. If you post the above-mentioned template online, please include also our URL so that users will visit us for the official preview. Acquiring the suggested template means launching a simple and modern website without bearing any financial costs.
The theme was created in Adobe Photoshop and for editing purposes, the program should also be acquired. To find more information about Adobe Photoshop and how to download please, visit the following page: https://www.adobe.com/uk/products/photoshop.html Photoshop templates are simplifying the website launch process and therefore are very popular on the market. Due to high interest in them, we try to offer as many themes as possible and to diversify our PSD portfolio. If you are interested to look through our rich gallery, then please click on the following link: https://gridgum.com/themes/category/free/psd-templates/
It is also worthy to mention that we not only offer the FREE Photoshop templates but also the premium quality ones which have more benefits to offer. They are charged with a fee, but it would be a wise investment since they come with a wide variety of benefits. The Premium quality Photoshop templates can be found here: https://gridgum.com/themes/category/psd-templates/
The FirstOrder FREE Photoshop template includes 5 pages,
1. Home page;
2. Home page; (blue version)
3. About us (added 30.09.2019)
4. Blog page;
5. Blog Post page;
6. Portfolio page;
7. Portfolio page (added 30.09.2019);
8. Portfolio page (added 30.09.2019);
which can be used by various business and individual entities. The already existing content can be altered and filled with any kind of information and images. Nowadays, it is very important to have an online platform from which you can communicate with people and share company-specific information. The FirstOrder FREE PSD theme can be used to sustain long-term relationships with customers and attract potential ones.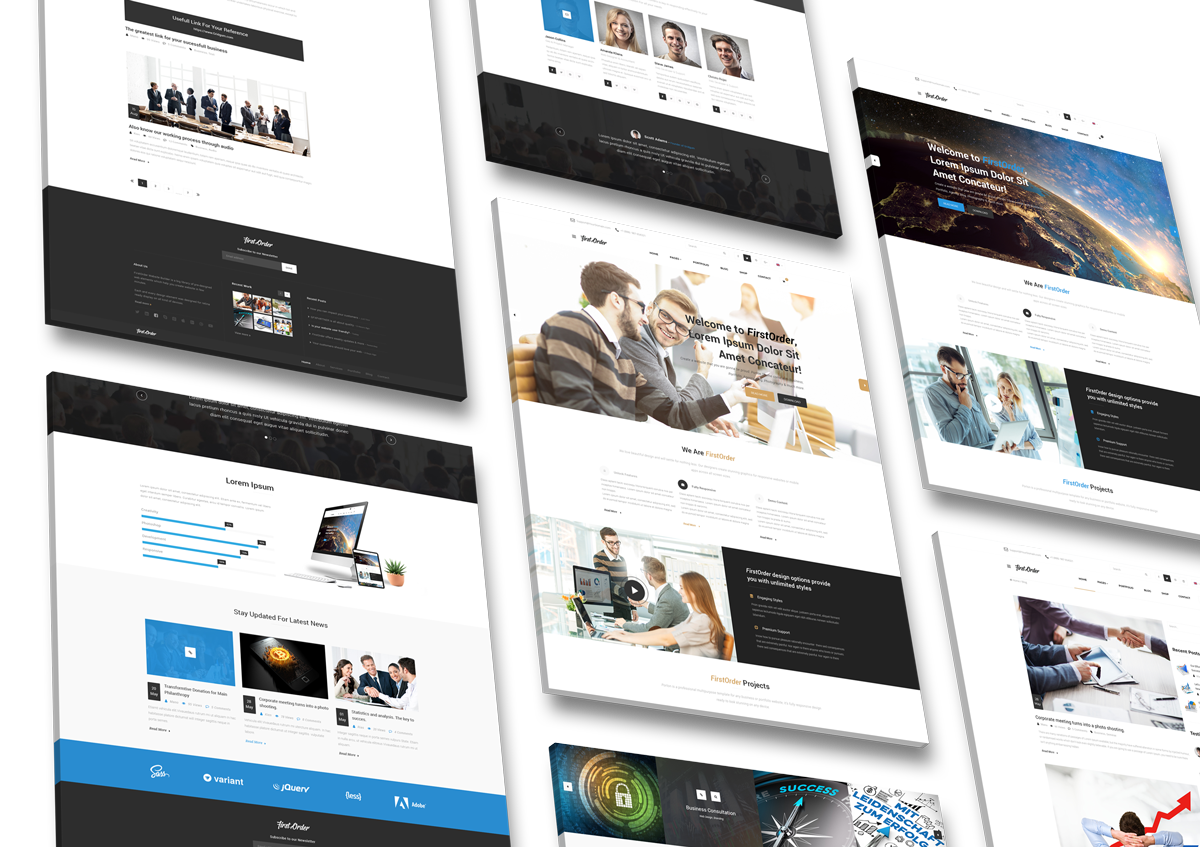 AS it was mentioned above, the PSD templates are very easy to run and the initial content can also be easily altered based on one's preferences, taste, and desires. As you see from the template preview, there can be incorporated any type of data like text, videos, images, etc. We also want to emphasize that all the images and texts included in the template can also be used without any extra charges. Moreover, due to the high demand, we plan to create approximately 100-150 more new PSD pages. Every time we will post a new page, you will immediately get notified and you can download and implement it in your PSD theme. The newly created PSD pages will renew and upgrade your website.
The PSD template is the initial design from which can be created any type of template like HTML Bootstrap, WordPress, Joomla and etc. We also monitor which PSD template designs are popular among our users and afterward also offer them the Bootstrap or WordPress versions.
The Photoshop templates are highly functional however the most valuable feature is responsiveness. The responsive design means that it can be accessed through any device like computer, laptop, mobile phone, tablet, etc. The layout of the theme will be changed based on the screen size of a device that is in use. The design flexibility is a very important feature in a world full of different devices.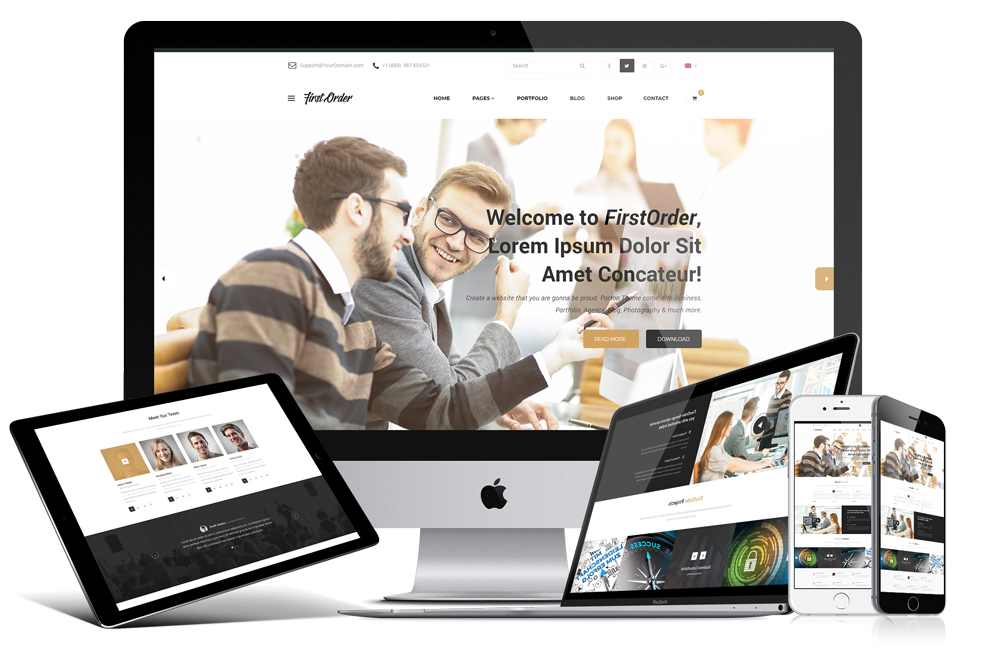 In case of any questions or concerns, feel free to contact us anytime and our technical support team will get back to you as soon as possible. The best way to approach us is by leaving a question or feedback in the comment section and to deliver full and detailed answers we will offer the video tutorials as well.
So as you see there are many benefits awaiting you by simply downloading and using the FirstOrder FREE Photoshop template! We are sure that you will like every bit of user experience with the suggested template.
Free
Download
©
All Rights Reserved Gridgum