Information
Related Templates
Comments (0)
King Law Firm - PSD (photoshop) Template
We would like to introduce King Law Firm PSD template, which is created by Adobe Photoshop software. King Law Firm PSD template is created for the customers who are lawyers, attorneys, have Law companies and etc.

Our company though a lot which type of a template to create, CMS (WordPress) template or bootstrap (HTML). However, our choice stopped on PSD (photoshop) template because of several reasons. First of all, any kind of a website needs a design and after that can be created bootstrap or any other type of template. Thus, we created design in PSD and if it comes popular among our customers after that will think about creating html bootstrap version or WordPress version.
Now lets discus King Law Firm PSD template.
On the home page you can create slide show. Also added language change section. If you go on the next home page you can see drop down menu, how it looks like(there is no difference it is just to see hows the drop down menu works).
On the home page is a practice area and you can see all the reasons what it is for. Also this template give you ability to give information to the customer how many qualified lawyers do you offer to them; how many cases have your company managed to do. Moreover, there is section about why should customer trust you. Here you can give every information about your company.
The most important part is that there is a comment section where customers write abut their impressions. At the end there is a blog, here are how the blog looks like and at the left there is a articles by categories. Also herein blog there is a comment section to get in touch with the author of the specific article.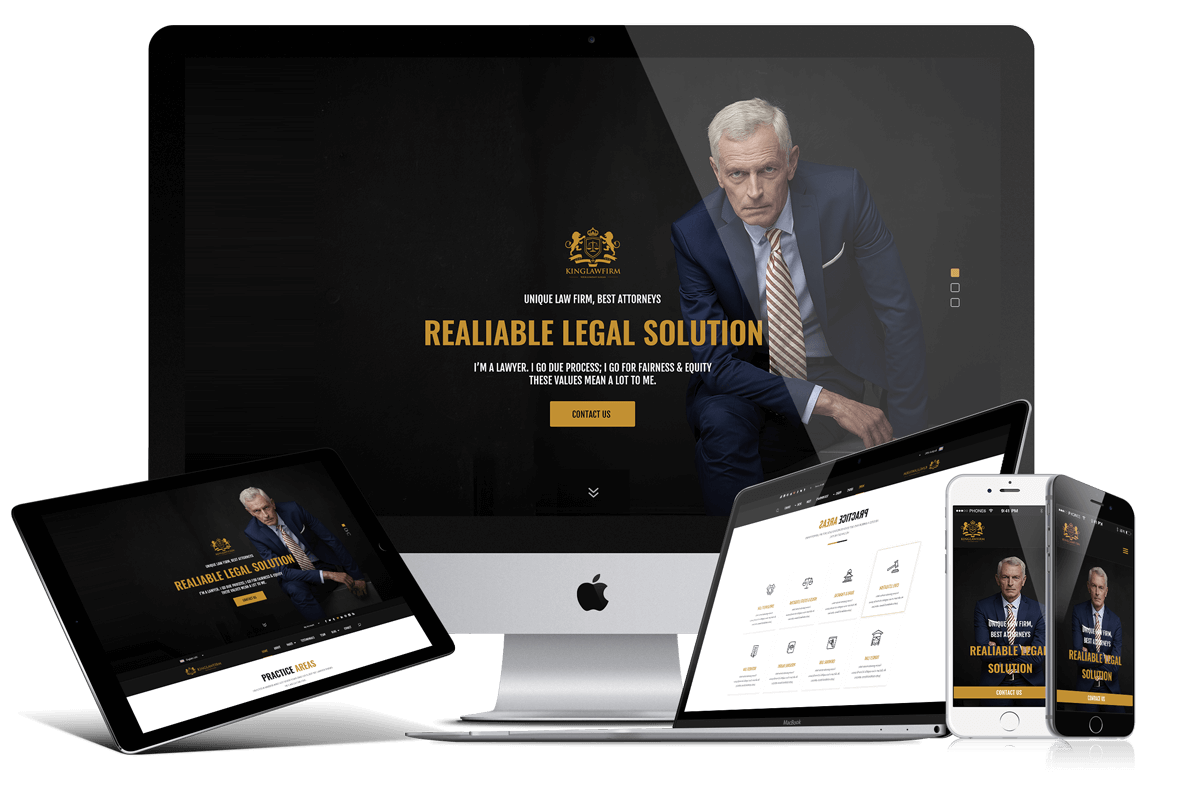 The last page is Contact page. Here is a Google map location, which can change color, depended on your taste.
Most important today is that website should be responsive, which means that design should be changed depended on in, which devices it is opened by. Therefore, we have created design for mobile version too which can be see in live demo preview page.
Last but not least, in case if you do not have any experience in photoshop, we offer to our customers our free psd templates, which can be seen on our Free templates section here: https://gridgum.com/themes/category/free/ download it and challenge your gained experience.
In the future we are planning to add more pages to this. If you have any ideas please write us and we will take it into account.
$5


| | |
| --- | --- |
| Date of Creation: | 10 March 2018 |
| Last Update: | Never |
| Compatible Browsers: | N/A |
| Files included: | PSD |
| Documentation: | Well Documented |
| Layout: | Responsive |
| Tags: | templates psd, psd website templates, web template psd, bootstrap psd template, lawyer template, law firm templates, bootstrap psd template, bootstrap psd, bootstrap design, legal templates for lawyers, legal templates, law firm website design, attorney website design, photoshop templates |
| Type: | PSD Templates |
| Categories: | Landing Page Templates, Miscellaneous |
| item #: | 30951 |
©
All Rights Reserved Gridgum