Information
Related Templates
Comments (2)
KingLawFirm - Bootstrap 4 Template (theme)
Nowadays having a law firm filled with reliable and famous lawyers is really important. Everyone wants to know their rights and in special cases defend them too. Thus, today we would like to introduce an incredible King Law Firm bootstrap template, which is created by bootstrap, CSS, JS, and HTML5(iQuery) frameworks. We should indicate that this template is created by the latest Bootstrap 4 version of frameworks. For customers who have not any experience in HTML bootstrap or have not been created before HTML website, we recommend to visit and download one of our free bootstrap theme from our Free Templates Collection here: https://goo.gl/8QnKdd
This theme is a great choice for the customers who are a legal entity, lawyers, attorneys, and own law firm. Moreover, in this technologically advanced world, the most important thing for a template is that it must be responsive, Why? Because nowadays people do not only use computers to surf the internet, in most cases they choose to use a cell phone, notebooks, iPad because it is more convenient. Thus in this time and age, it is highly important to have a responsive website.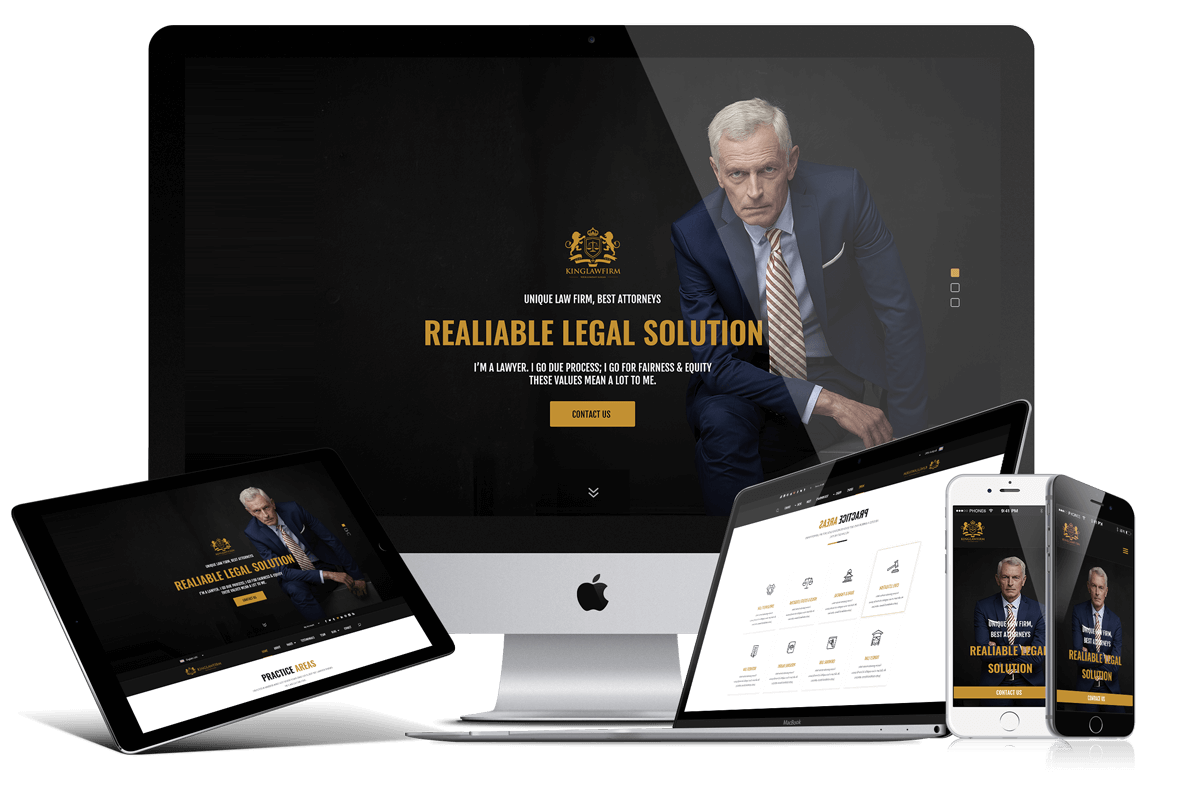 Let's restate what responsive means. Responsiveness indicates that the designed and dimensions of the template will greatly and effectively adjust the devices which it is opened by.
As we have promise previous time when we created the King Law Firm PSD(Photoshop) template our choice stopped here, to create a bootstrap (HTML) template because of the huge demand for PSD(Photoshop) version.
Now let's briefly discuss King Law Firms on every page and section.
Home - As it is shown on this very first page where you can create a slideshow and put up as many pictures as you wish. As you click on the "Home" you go on the page where you have the opportunity to change the language, it is located at the very left, on the top. Moreover, if you look at the very right you see "My Account" drop-down where are give Login, Registration, My Profile, Settings, My Account, Sign out none of them truly works you need to program in PHP but the reason it is given is that to see the design how it will look like. If you scroll down you will see a form called "Free Case Evaluation" this is for the cases which a customer wishes to be done for free. At the very end of this home page, you will see the percentages of qualified lawyers, trusted clients, successful cases, and lastly honor& awards.
About - here you should write several reasons why customers should deal with your company and why not with any other. In this case, you will see six reasons which are: Firstly, the company has the best attorney team, the second 99$ of the cases have been successful and the third 25/7 Clint support., fourth is that low cost for every case and the last two reasons are that they fight for the justice and always have the best case strategy. At the end of the about page, you should upload your team's photos in this case attorneys and write a little background of them.
Testimonials - this page is created for the present customers to write about the services, which the company had. Was I great or not, helpful or not. It is very important, it is the guide for the future customers this comment will greatly affect on them, they will decide if they should work with you or not depending on these comments. If you look at the end of this page, there you can read all about the latest news, in this situation the cases, which were held, what was it about, did the company win the case. Also here will be provided the future cases, which will be held in court.
Blog - if you click on if there are two positions Blog page on the right sidebar and on the left it is up to you which one you choose. The only difference is the sidebar location everything else stays the same. The articles will be located in the categories depending on what the article is about.
Contact - On this page here is provided detailed information to locate the company. The Google map, building addresses, email, contact information, cell phone and business hours.
If you do not know how to set up Google map location, we provide various articles about it just click on the following link here: https://gridgum.com/How-to-Set-Google-Map-Location-in-Bootstrap-Template/
Moreover, to gain experience in how to publish your template on the server we recommend you to take a look and read the following articles about How to publish bootstrap template on the server.
Last but not least, if you come across any kind of problem please do not hesitate to write about it in the comment section. Our team will do their best to give a detailed explanation as soon as possible. If it was not enough they will create a step-by-step video tutorial to make it clear for you.
$10


| | |
| --- | --- |
| Date of Creation: | 3 April 2018 |
| Last Update: | Never |
| Compatible Browsers: | IE, Chrome, Safari, Firefox, Opera |
| Software version: | Bootstrap 4.x |
| Files included: | HTML, CSS, JS, Files |
| Documentation: | Well Documented |
| Layout: | Responsive |
| Tags: | lawyer website templates, law firm website templates, lawyer template, law office website template, law firm templates, attorney website templates, attorney website design, HTML templates, HTML website templates, best bootstrap templates, bootstrap 4 templates, bootstrap 4 themes, bootstrap 4, bootstrap themes, bootstrap css, bootstrap website templates, bootstrap html, bootstrap, bootstrap responsive |
| Type: | Bootstrap Templates |
| Categories: | CSS Templates, Miscellaneous |
| item #: | 30956 |
©
All Rights Reserved Gridgum