Information
Video Tutorial
Related Templates
Comments (26)
Muslim's (islam) religion Joomla template
Introducing our most recent Islam Religion template. If you run an Islamic organization, a mosque, an Islamic community, this Joomla website design is the best way to run your business. You will always reach your customers by a beautiful internet tool to access them your information or maybe spread out your religion. You will benefit from a beautiful slideshow that will allow you several pictures accompanied by text that describe the highlights of your website. For example, in the template we used three different pictures, one for an Islamic family, the other for a religious man and the third for a veiled woman. Consequently, you will have the ability to offer three different program: for Muslim men, Muslim women and Muslim families each accompanied by the text that you wish.
Next, you will have the ability to highlight 5 or more highlight of your website using a beautiful card layout that has an Islamic oriental design. These card layout has a main idea to be catchy for your customers, so they immediate understand what does your website offer. After that, you have a big picture where the most famous Islamic word "Allah Akbar" is written. This part has as a main idea to write two sentences generally about Islam, to spread your religion, to convince other people about how peaceful and great your religion is.
At the end, you will have three different columns which illustrates any there idea that you wish, in our default template, we chose to make them about the rules of Islam and the news and Islamic world. From the right of the page at the first column we have: little about us, then Rules for the Mosques and Islamic News. This part of the page has as a main goal to tell your customer about what are the rules of Islam and how your website tries its best to serve Islam and Muslims.
Below in a brief highlight of our website design:
Responsive background slideshow with HD pictures.
Pictures are included in the theme.
Animated menu.
Fully responsive.
Social network logos, Facebook, Twitter and YouTube.
Pages:
Home Page.
About us
History
Community
Gallery
Contacts
Card layout:
Children Education
Education Classes
History And Traditions
Islam Community.
Program name of your choice 1
Program name of your choice 2
Vertical List layout:
Little About Us
Rules For Mosques.
Islamic News
If there are any customizations needed, please let us know and we will be happy to help you, also installation service is free for m9host.com's  customer.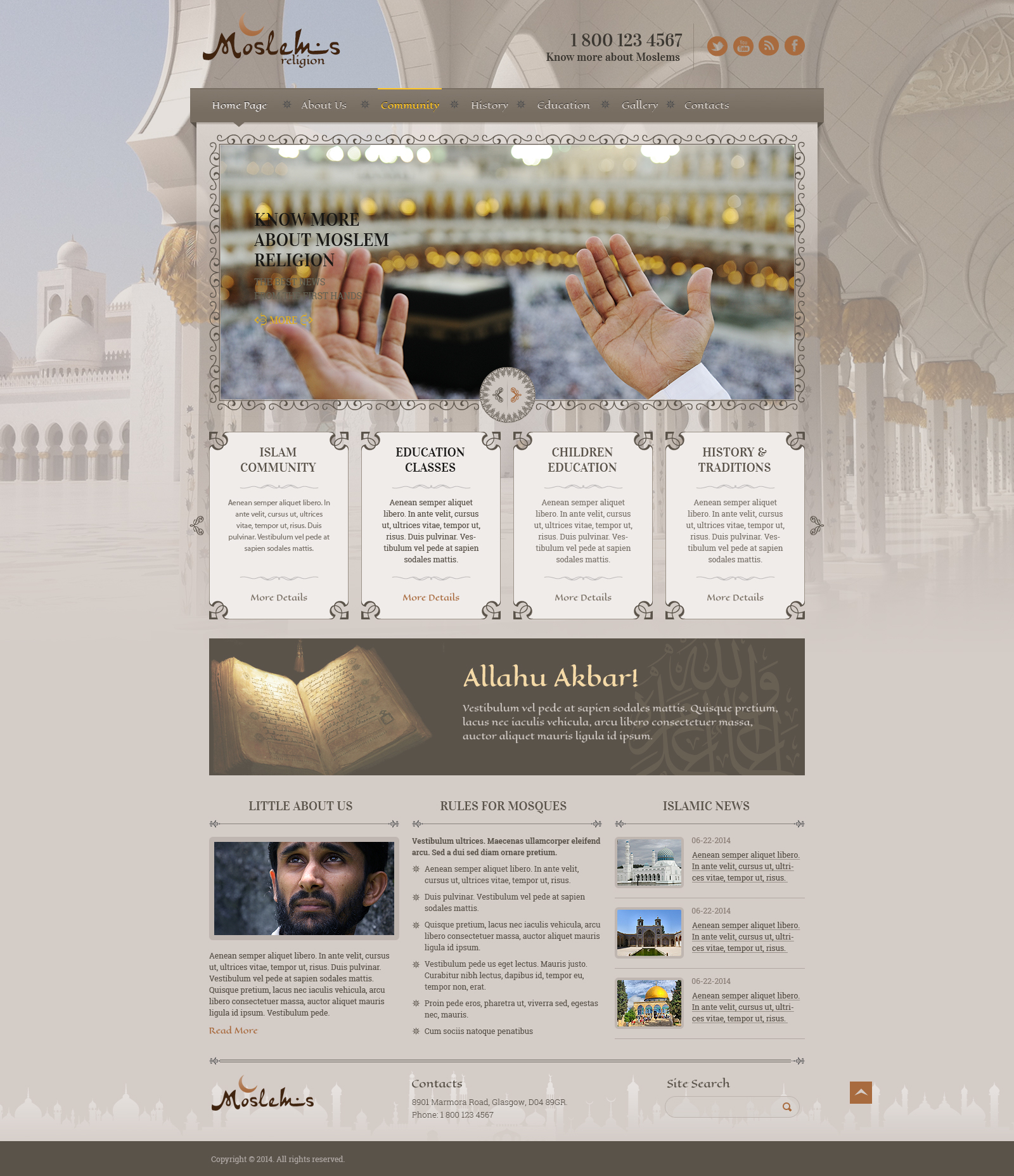 If you need help with Muslim's Religion Joomla template,
please send us your Questions in "Comments" section and
we will create youtube videos for you and upload it here.
---
---
---
$25


| | |
| --- | --- |
| Date of Creation: | 24 April 2016 |
| Last Update: | Never |
| Compatible Browsers: | IE, Chrome, Safari, Firefox, Opera |
| Software version: | Joomla 3.x |
| Files included: | HTML, CSS, JS, Files, Images, PSD |
| Documentation: | Well Documented |
| Layout: | Responsive |
| Tags: | islamic joomla templates, religious templates, religious website templates, islamic website templates, template islami, muslim website templates, template islamic, islamic design template, islamic design, joomla islamic template, template islam, responsive web templates |
| Type: | Joomla Templates |
| Categories: | Miscellaneous |
| item #: | 28094 |
©
All Rights Reserved Gridgum