Information
Related Templates
Comments (0)
Nursing care HTML bootstrap Website Template
This is a Nursing Agency Bootstrap template that is perfectly suitable for nursing care agency, hospital, home health care, or any business related to health care institutes, facilities or any businesses that are related to medical care. Nowadays, it is very important for companies and businesses to have their own websites to attract as many customers as possible and keep them fully informed. The provided Bootstrap template can be used to launch a highly functional website that would reflect every aspect of company data. The given template is created by the latest Bootstrap, CSS and JS frameworks and is compatible with various browsers, like Internet Explorer, Google Chrome, Safari, Opera and Firefox. The Nursing Agency Bootstrap theme has six different sections, that can be employed to present all company information in an organized way.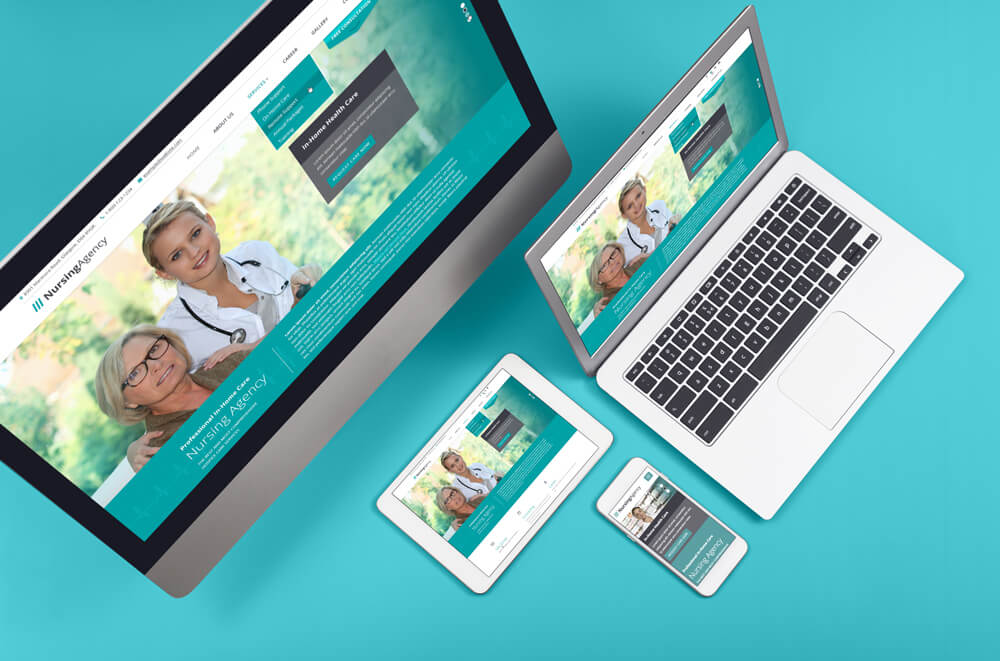 More precisely, these six sections are:
1. Home: On this page should be shared the most important and interesting information in order to assure the viewers' engagement. On this page can be presented whole company information briefly with outlining some bullet points. There can be outlined the reasons for choosing your company and not any other one. Also, some frequently asked questions with answers and also guideline how to become the part of the nursing agency. Below of the page can be presented the customer feedback to increase the company validity and credibility.
2. About Us: On this page should present the company profile, significant dates from company history and also some latest news. There is separate space for presenting the team members, their names, positions, experiences, educational background, images and etc. On the right side of the page, there is also offered a contact form, that can be used by viewers to ask questions regarding any matter.
3. Services: On this page should be described meticulously the services that are offered by a company. This page has five different sections: Phone Support, On Home Care, Remote Support, Annual Packages, and Training. Each section can be employed to describe different services in a very detailed way. On the bottom of the page can be shared frequently asked questions and answers (FAQs).
4. Career: On this page can be distributed some job prepositions and available vacancies. Include the requirements and expectations that are necessary for applying for a job.
5. Gallery: On this page can be distributed different images that would describe the life in your medical facility, for instance, some events that are held there. If you like the images that are used in the given Bootstrap template, feel free to use them since they are included in a price that is charged for a theme. In other words, you are legally eligible to use these images.
6. Contact Us: On this page should be distributed the company contact information, for instance, the email address, telephone number, street address and etc. There is included the Google Map location tool to show the facility's exact location. If you do not know how to set up the Google map location, then please read this article:
https://gridgum.com/How-to-Set-Google-Map-Location-in-Bootstrap-Template/
There is also incorporated the Contact Us form which can be used to make smoother the communication process between customers and facility.
The Bootstrap templates are very popular on the market since they are money and time-consuming. They give people an opportunity to launch and manage a highly functional website for a very decent price. The best thing about Bootstrap template is that it does not require thorough knowledge or experience of programming. You will just need any HTML editor, for instance, Adobe Dreamweaver, to alter the website design and content based on your preferences, wishes, desire, and taste. If you have never worked with Bootstrap templates and do not know whether it's worthy to invest in or not, then use our Free Bootstrap templates, that can be found here: https://gridgum.com/themes/category/free/
Using Free Bootstrap templates will help you to realize whether you are satisfied with the product and end-result. Afterward, you can switch to Premium (Professional) Bootstrap templates that have more things to offer. The collection of premium Bootstrap templates can be found on the following page:
https://gridgum.com/themes/category/bootstrap-themes/
As it was mentioned above Bootstrap templates are very demanded because of its features and benefits. For instance, by employing the Bootstrap template, a website will never have accessibility problems since it can be opened through various devices like laptops, tablets, cell phones, computers and etc. Moreover, the website's design will be altered depending on which device is used. In other words, the design will always look flawless no matter which device is used.
If you want to learn more about Bootstrap, how it works and what benefits it provides, then feel free to read this detailed article about it:
If you have any questions, regarding any issue, leave them in the comment section and our support team will respond to them in a very short period of time. The support team will also offer a video tutorial for explanatory purposes.
Nursing care template package includes:
Social Network Icons
All the pictures visible on the template
All page design in .psd (photoshop) format
Home Page
About Us Page
Services page with a drop-down menu(includes different pages of a different design)
Career Page
Gallery, where you can add unlimited photos with/without comments.
The gallery can be filtered according to categories you make up
Contact Us Page, which includes: Email, Map, Contact Information
$19


| | |
| --- | --- |
| Date of Creation: | 12 June 2016 |
| Last Update: | Never |
| Compatible Browsers: | IE, Chrome, Safari, Firefox, Opera |
| Files included: | HTML, CSS, JS, Files, Images, PSD |
| Documentation: | Well Documented |
| Layout: | Responsive |
| Tags: | home care website templates, health care website templates, healthcare website templates, healthcare templates, nursing templates, home health care website templates, bootstrap templates, bootstrap, HTML templates, HTML website templates, responsive web templates, best website templates |
| Type: | Bootstrap Templates |
| Categories: | Medical Themes, Miscellaneous |
| item #: | 29057 |
©
All Rights Reserved Gridgum