Information
Related Templates
Comments (0)
Original Brand - free HTML5 Bootstrap Template
Now let's look over one of the free bootstrap templates in our huge collection. Original brand is a one-page (landing page) multipurpose theme. It is created by HTML5, CSS and JS frameworks. This template can be used for any kind of businesses or website production, it is a multipurpose theme.

Our company always tries to get along with the developments which happen in the world. As it is known to everyone society not only uses the PC to look up some information on the internet but also, they use Telephones, Notebooks, iPad and etc. Thus, it is very important that the template is responsive. Responsiveness means that the theme will change its dimensions and designed deepened on the device which it is opened by.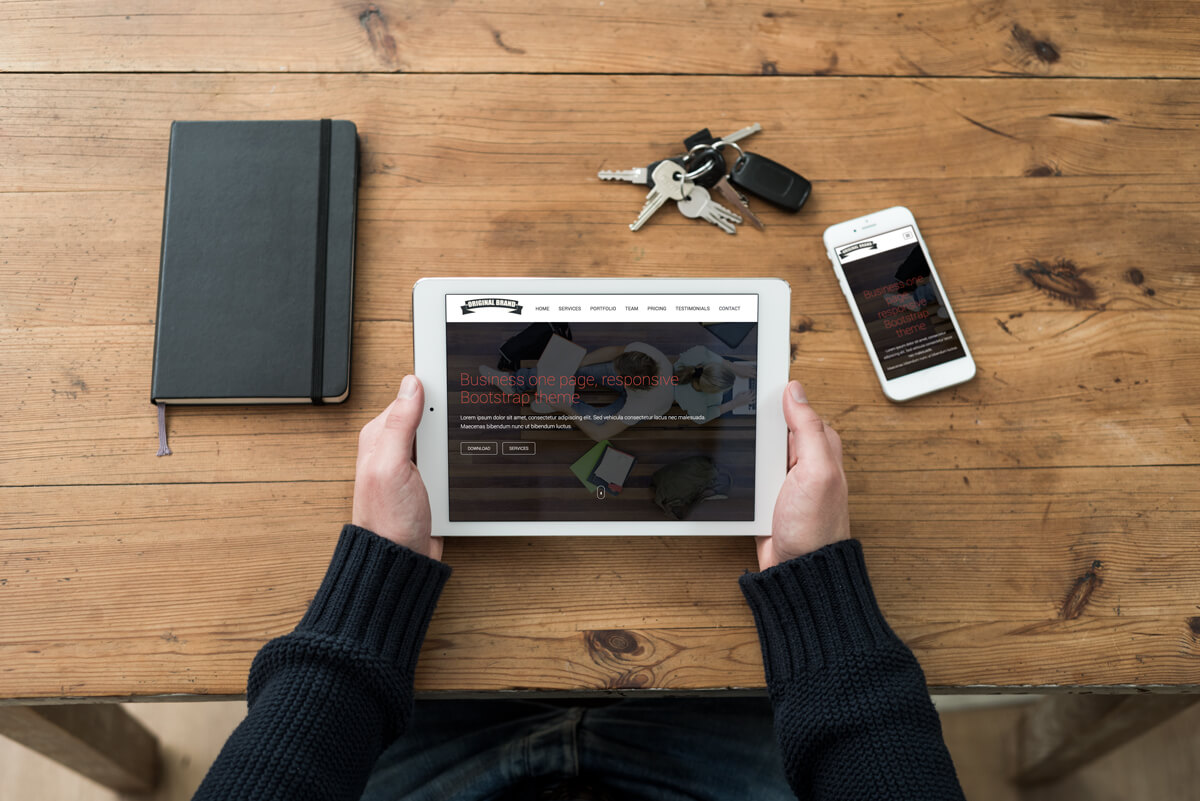 We hope our free template met all your conditions; However, most of the customers look for other free templates which will fit their wishes and expectations. Thus, we provide a huge collection of the free bootstrap template, see the banner below:
Now let's discuss Original Brand itself.
Home- As it can be seen, there are two buttons "Download" and "Services". It is just an example, you can make it whatever you like. Although the "Download" button does not really work, it needs some coding. However, the button "Services" works, and it will scroll it down where the services are indicated.
Services- Every customer looks for the service, this is the main reason why they visit your site. Thus, there should be indicated for all the services which the company provides. Here is given an example of some services, such as Professional counseling, 24/7 support team, Blitz service. Moreover, under the services there is "About company" title, under this should be written a little decryption about the company itself. For example, about its projects, customers, consultants, and testimonials.
Portfolio- Here you can upload pictures, in categories. However, all of them can be seen together. If you are interested in the site's new information and want to get directly just enter your email in the "subscribe for more" box. This does not work, it needs programming.
Team- This section provides information about team members. Here you can upload some photos of the team members and write about their background for instants: What work do they do for the company and etc.
Pricing- As you can see in this section we have given 3 examples of the pricing criteria, which were: Start, business, and enterprise. Under the pricing, there were given a little description about the product itself. Thus, you can use it as an example and give several examples of what the prices in your company are.
Testimonials- This section is not only important for the owner of the business, but also for the future clines. Here are written all the suggestions, complains that previous customers had, for example, The support team was great.
Contact- To have direct contact with the company here is given Contact Form, which gives you the opportunity to send an email using the site. However, it does not work it is given to see the design how it will look like. To get started it need programming.
If there appears any questions or problems regarding the template, please fill free to ask as many questions as you wish, just write it in the comment section and you will get the response as soon as possible.
Coding and Frameworks used:
Coding:
JSFrameworks:
jQuery,
WoWJS,
jQuery CountUp,
Font Awesome (icons)



Template package includes 1-month free host account at www.m9host.com

Free
Download
| | |
| --- | --- |
| Date of Creation: | 30 March 2016 |
| Last Update: | Never |
| Compatible Browsers: | IE, Chrome, Safari, Firefox, Opera |
| Files included: | HTML, CSS, JS, Files |
| Documentation: | Well Documented |
| Layout: | Responsive |
| Tags: | bootstrap free templates, free bootstrap templates, bootstrap templates free, bootstrap themes free |
| Type: | Free template |
| Categories: | Free bootstrap themes, Free HTML5 Templates |
| item #: | 27537 |
©
All Rights Reserved Gridgum