Information
Related Templates
Comments (0)
PerFolio - HTML Bootstrap Template
PerFolio is a sleek and modern HTML Bootstrap template designed for freelancers, artists, programmers, and other service providers looking to showcase their portfolios online. This template is perfect for anyone looking to create a personal portfolio website that highlights their skills, services, and past projects.
The single-page design of this template features a clean and user-friendly layout that makes it easy for visitors to navigate through your website. The Home, Services, About, Projects, and Contact pages offer a clear and concise way to present your work and provide visitors with all the information they need to know about your services. The contact form on the contact page allows for easy and direct communication, making it easy for potential clients to reach out to you.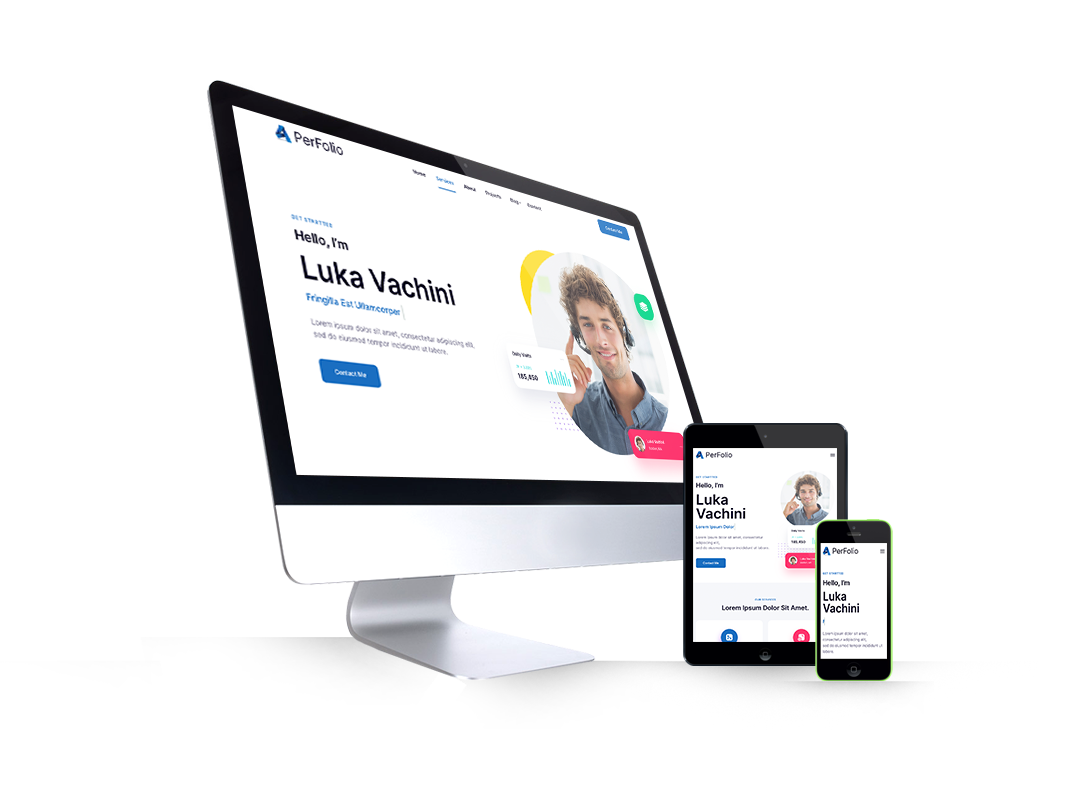 In addition to the portfolio pages, this template also includes a blog section where you can write about your latest projects, achievements, and other updates. This is a great way to keep your website fresh and engaging, and it also helps to improve your website's search engine visibility.
The template is built using Bootstrap, a popular front-end framework that makes it easy to create responsive and mobile-friendly websites. This means that your website will look great and function seamlessly on any device, whether it's a desktop, laptop, tablet, or smartphone.
If you have experience working with Bootstrap, this template is an excellent choice for your personal portfolio website. However, even if you're new to Bootstrap and website building, our support team is available to help you with personalized, detailed video tutorials on anything you might need to know.
In addition to PerFolio, we also offer free Bootstrap templates that are perfect for anyone looking for an easier and more affordable way to create a website. These templates are available on our website and they can be a great starting point for anyone new to website building. you can see and download from here: Free Website Templates
Overall, PerFolio is an excellent choice for anyone looking to create a professional and visually stunning personal portfolio website that showcases their work and services in the best light. With its clean and modern design, responsive layout, and easy-to-use features, this template is the perfect solution for anyone looking to make a great first impression online.
$11


| | |
| --- | --- |
| Date of Creation: | 28 December 2022 |
| Last Update: | Never |
| Compatible Browsers: | IE, Chrome, Safari, Firefox, Opera |
| Files included: | HTML, CSS, JS, Files, Images |
| Documentation: | No documentation |
| Layout: | Responsive |
| Tags: | bootstrap templates, personal page, personal, HTML templates, HTML website templates, personal portfolio template, bootstrap themes, bootstrap css, bootstrap website templates, bootstrap 5 templates, bootstrap 5, bootstrap html, bootstrap, bootstrap responsive |
| Type: | Bootstrap Templates |
| Categories: | Portfolio |
| item #: | 31096 |
©
All Rights Reserved Gridgum