Information
Related Templates
Comments (2)
Pest Control - Bootstrap Website Template (Theme)
We would like to introduce the new Bootstrap Pest Control template that is perfectly suitable for companies and businesses that offer various pest control or eradication services. By purchasing the provided Bootstrap template, you will be able to launch a website very easily. The Bootstrap templates are very popular on the market since they require minimum amount of coding because most of the heavy work is already done. If you have no experience with Bootstrap templates, you can start with Free Bootstrap templates, which can be found here: https://gridgum.com/themes/category/free/
Try out the Free Bootstrap templates, practice with them and, then decide whether you actually like the product or not. After practicing with Free Bootstrap templates, you can switch to Premium/Professional Templates that have more features to offer than free ones. The collection of Premium Bootstrap themes can be found here: https://gridgum.com/themes/category/bootstrap-themes/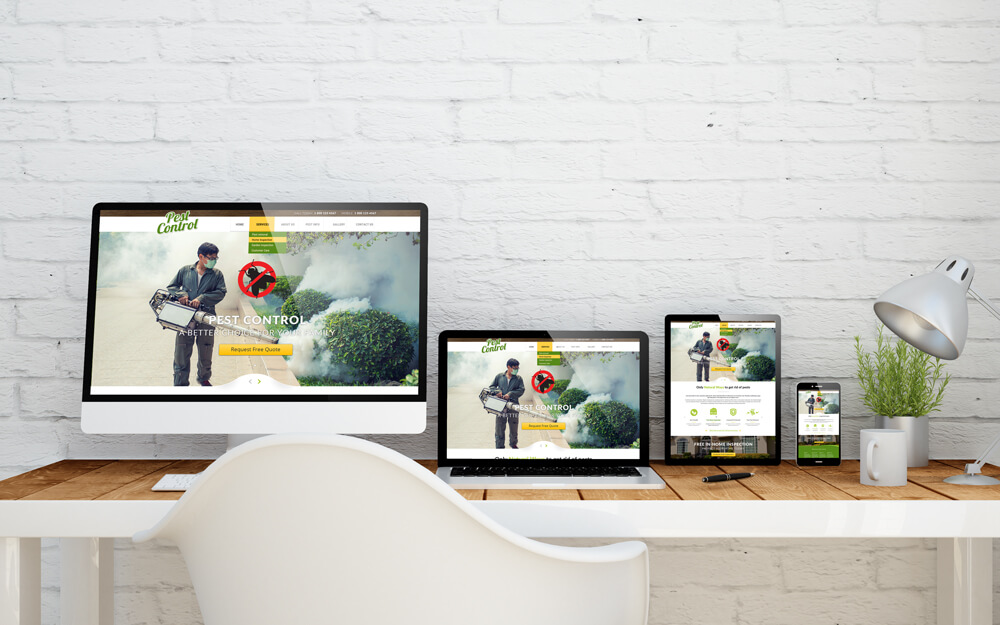 As it was mentioned above, the Pest Control theme can be employed by the companies that offer services to solve the insect invasion problems. The pest control companies are very important and necessary because many insects carry diseases, cause some property damages, provoke some allergies and etc. Therefore, people are willing to know about the companies that can professionally solve the pests related problems. The best way to increase your company awareness among people is to launch a highly functional website. Nowadays, internet is the most frequently employed in order to search and find the desired information. So if you have a pest controlling company and do not have a proper online platform that would represent your data, feel free to download this Bootstrap theme.
The template has six different pages that can be used to categorize and share all company information. More precisely, these six pages are:
1. Home: On this page should be distributed the most important, recent and engaging information. The home page should be attractive to viewers in order to make them visit the rest of the pages. There can be written mission and vision statements of your company to demonstrate how you position yourself.
2. Services: This page can be employed to represent all services that are provided by the company. There are four different sections that can be used to categorize the services: Pest Removal, Home Inspection, Garden Inspection, Customer care. Each service can be thoroughly described including the price range. In each section can be included the reasons why to choose you, what are the benefits that company offers.
3. About Us: On this page should be presented the company history, for instance why and when company was created. Who you are, what services you offer and how you outperform the competitors. Can be included some testimonials and certificates that company has gained since its creation. Include as much information as possible to increase the company credibility and validity in customers' eyes.
4. Pest Info: On this page should be presented the detailed information about the pests that you can eliminate. In the description you can write what damages they cause and also the techniques employed to get rid of them. Its important to make aware the viewers about the potential threats so that they can use your services.
5. Gallery: On this page should be shared various pictures of company activities. The pictures can be categorized or presented all together. They can be categorized based on the services or damages. If you like the pictures that are employed in this Bootstrap template, then feel free to use them since they are included in the price range. In other words, you have all legal rights to use the pictures as you want.
6. Contact Us: On this page should be represented the company contact information like the telephone number, email address, street address and etc. In the template there is embedded the contact form that will make easier the communication process between the customers and company staff members. There is also included the Google Map location tool that can be used to show company's exact location. If you do not know how to set up the Google Map location, then feel free to read the article that explains the process meticulously:
By employing the provided Bootstrap template your website will never face the accessibility problems since the theme is compatible with various browsers like Google Chrome, Internet Explorer, Opera, Firefox and Safari. Moreover, the Bootstrap template has a responsive design which means that it can be opened through any device like cell phones, computers, laptops, tablets and etc. But the best thing about responsive template is that it alters its design depending on which device is used. In other words, your website's design will look flawless no matter which gadget is used, leaving you and viewers highly satisfied, see screen above.
As you might see, Bootstrap template is a great opportunity to create your own website so do not miss the chance. If you do not have deep knowledge of programming or coding, do not worry since you will need minimum amount of it. You will simply need any HTML editor like Adobe Dreamweaver to alter the content based on your preferences, wishes, desires and taste. If you are interested more in Bootstrap, what it offers and what are its features, then please read this detailed article about it:
If you have any questions or concerns, please leave them in comment section and our support team will get back to them as soon as possible. To facilitate the explanation processes our support team offers the video tutorials to fully answer your questions.
$18


| | |
| --- | --- |
| Date of Creation: | 7 December 2017 |
| Last Update: | Never |
| Compatible Browsers: | IE, Chrome, Safari, Firefox, Opera |
| Software version: | Bootstrap 3.x |
| Files included: | HTML, CSS, JS, Files, Images |
| Documentation: | Well Documented |
| Layout: | Responsive |
| Tags: | HTML templates, simple website templates, responsive website templates, responsive web templates, responsive, web templates, website templates |
| Type: | Bootstrap Themes |
| Categories: | Landing Page Templates, Miscellaneous |
| item #: | 30928 |
©
All Rights Reserved Gridgum