Information
Video Tutorial
Related Templates
Comments (40)
Photographer WordPress Theme
This template is created for people or companies in photography business. It is perfect for photo studios or just freelance photographers, shortly it is a perfect tool to show the world your photo gallery.
This template is created using Bootstrap, CSS3, JS frameworks and WordPress Content Management System (CMS), which is a computer "tool" that allows creation and modification of some digital content. It is responsive, therefore looks good on any modern-day device, apart from PCs and laptops, this design fits smartphones, tablets, smart watches, etc. Our web designers have considered every design detail necessary to make your website make the best impression on its visitors.
Because most photographers don't have any experience with coding, we created an easy to manage WordPress version of this Photographer theme. WordPress is famous for having a super easy control panel, where admins can upload an unlimited amount of pictures and texts, without any extra knowledge of coding languages. Currently, this theme has masonry layout, but in the nearest future, Gridgum plans to update this setting, so it will be changeable and choosable by the website's future administrators.
To view the same theme in Bootstrap, click here.
The main menu is on the left side column of Homepage. It's closed on default, but it is possible to enhance it by clicking on this button, see below: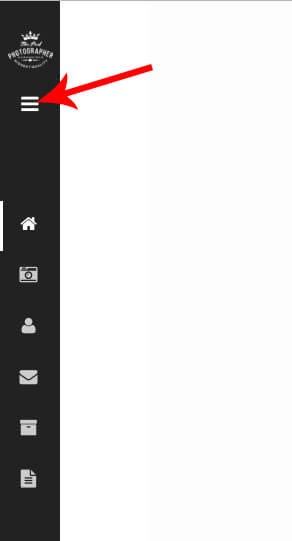 After, your screen will look like this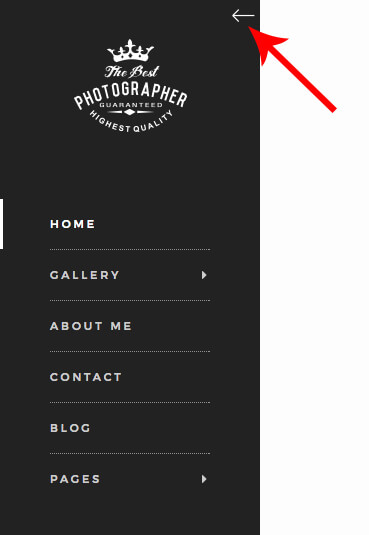 The main menu column stays perfectly still while scrolling through other pages. It has pages for Home, Gallery, About me, Contact, Blog, and Pages.
Let's start with the most important one – Gallery page. When you move your mouse over the Gallery section, you get an animated sub-menu, with any amount of sub-menu categories as you like.

Now you can see only "Black & White" and "Yosemite", which we have used just to demonstrate the site's photo gallery.
When choosing one category, you get directed to the chosen photo gallery page itself, as displayed below:
Picture 1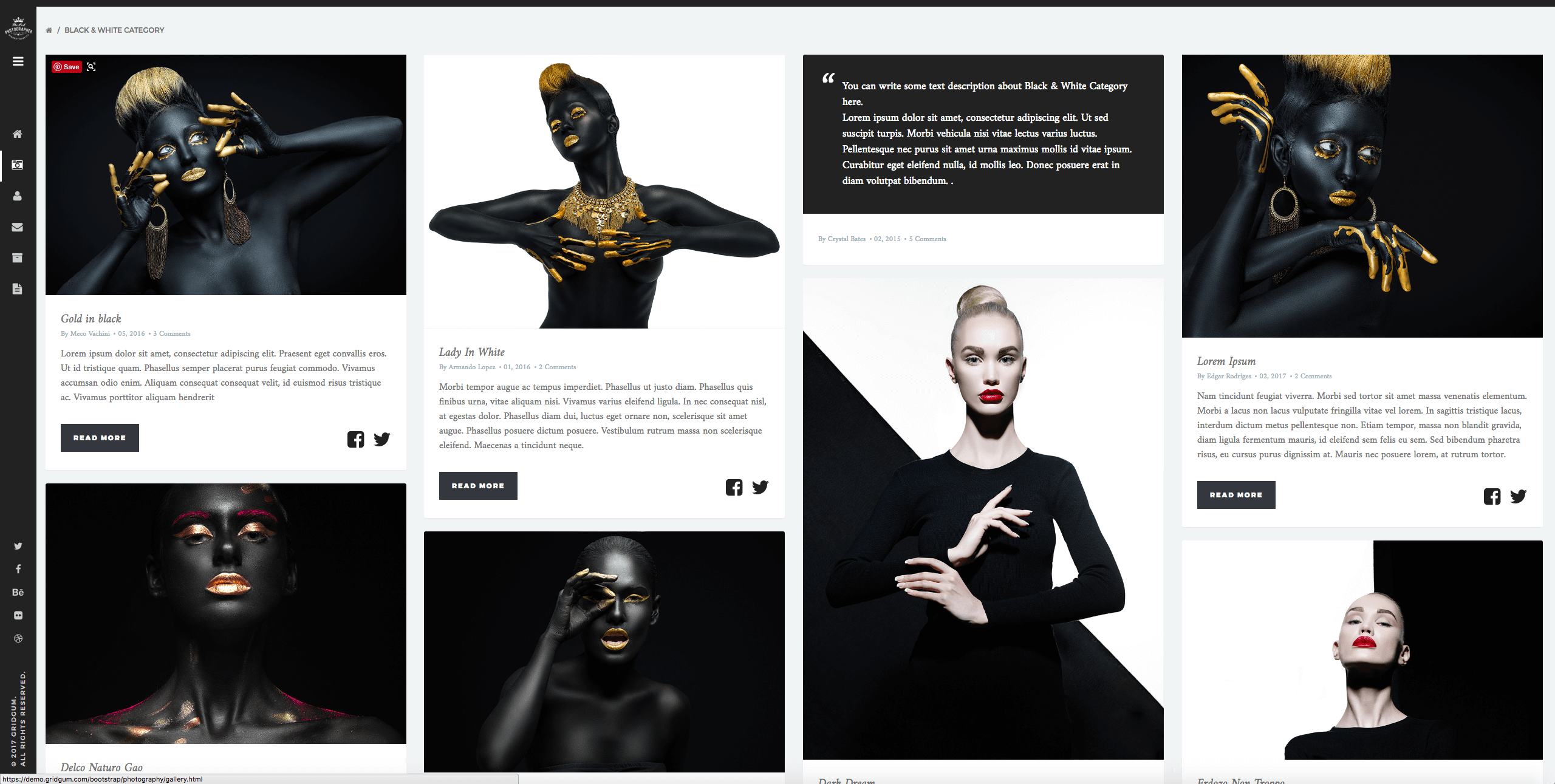 The gallery has a masonry layout, each page, as the template itself, is responsive, so when changing the size of your browser window, you can see the photos changing their location. View video demonstration here:
Here's a bit about the overall functionality of the webpage. When clicking a certain photo, the visitor goes to the demonstration page, where every photo is visible on full screen, as you can see below: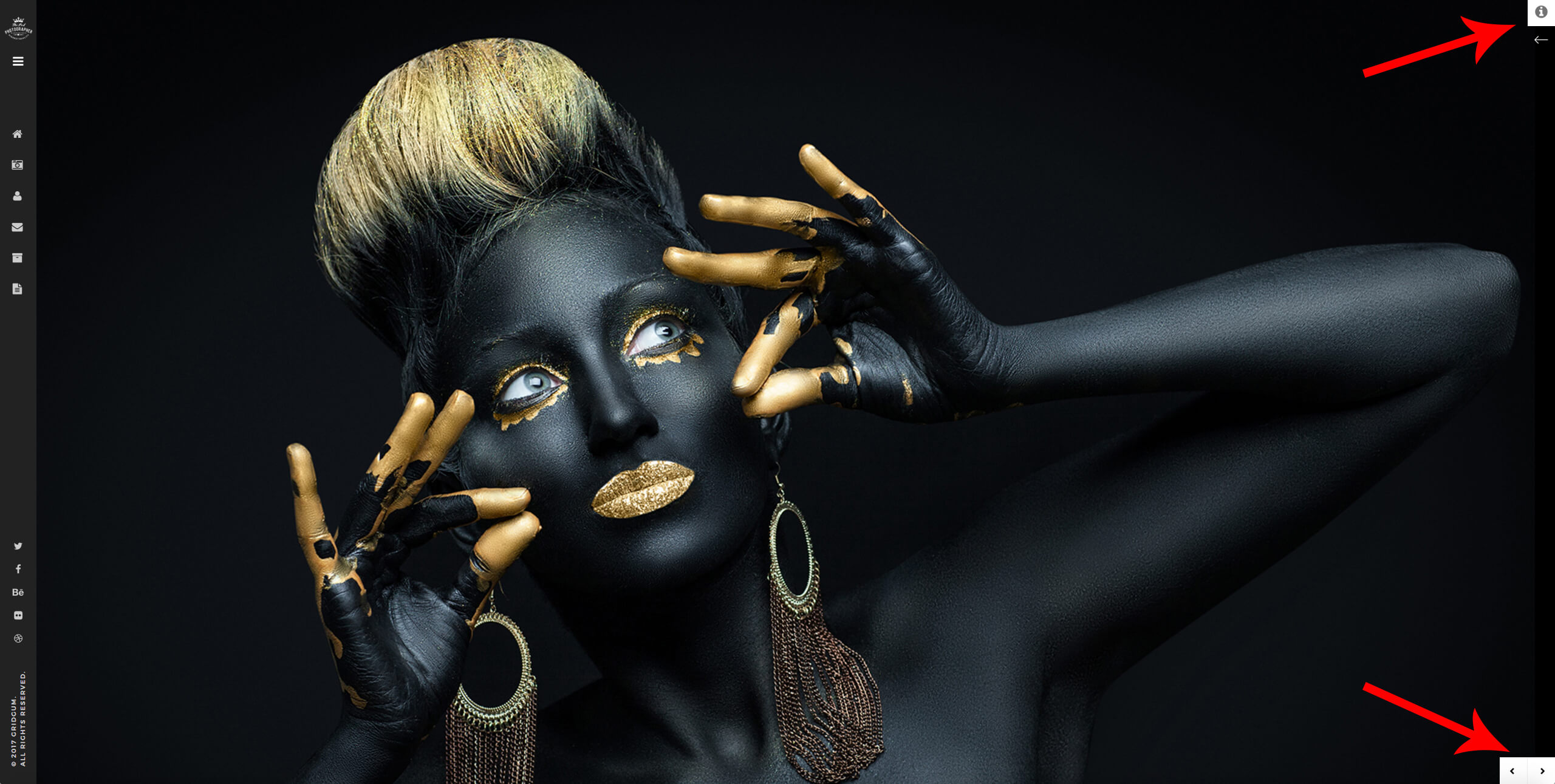 The demonstration page has three interesting buttons. By pressing either < or > icons, you can view every photo in this album or category. The two buttons on the top: by clicking on the arrow, you or your customer go back to the gallery category page and the "i" icon opens a detailed description, where you can add any related information that you feel is necessary.
View the picture below: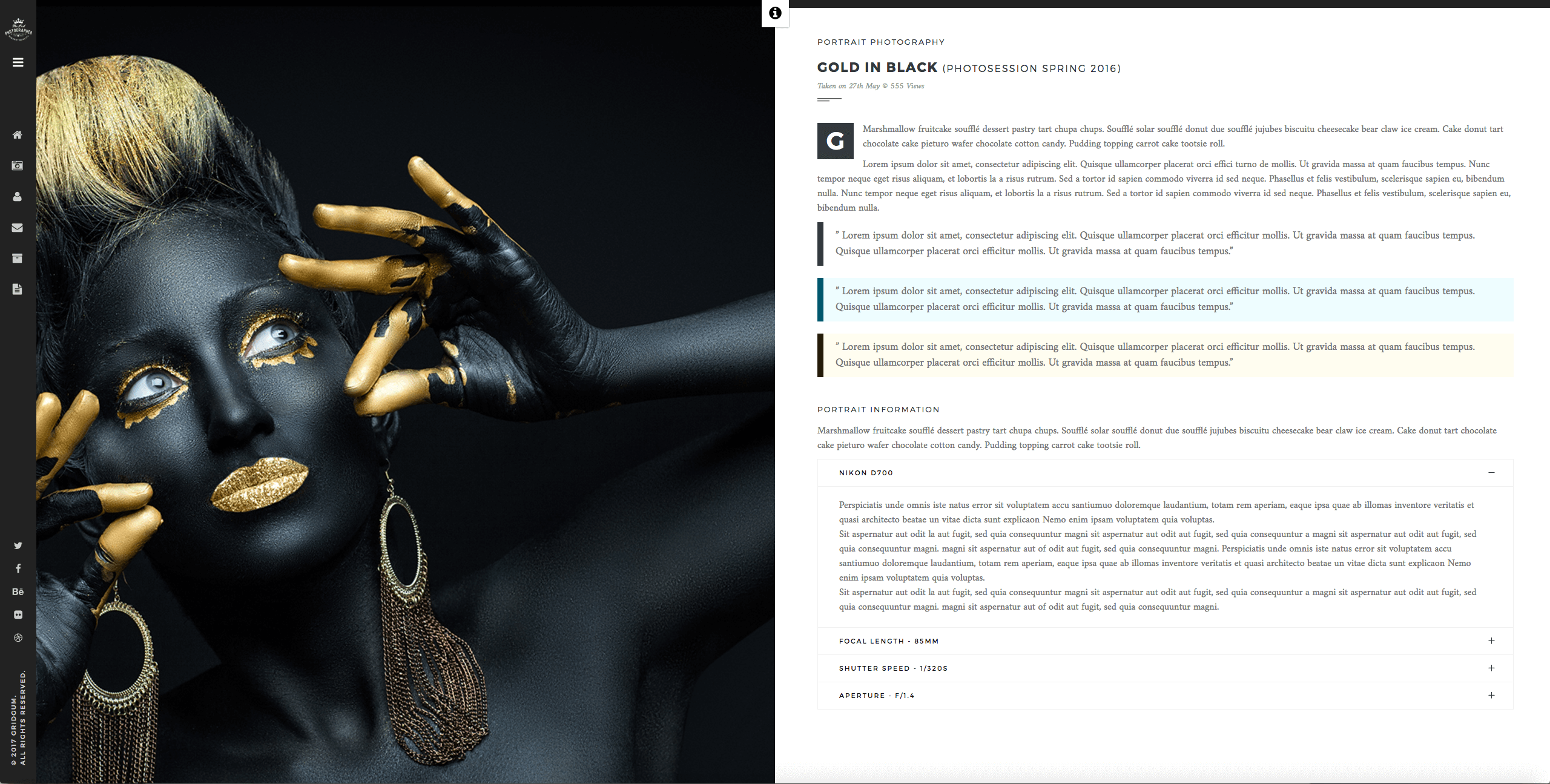 This info is also available by clicking "read more" on the photo gallery page, as you can see in Picture 1.
We tried to include all the details that would be enough and more so, for a starter or a professional photographer.  If you have questions about some things that are unclear or don't have any experience, don't worry we are here to help. Request some help by asking us any desired question in our COMMENTS' section above and you will get a step-by-step video tutorial on the requested topic.
Gridgum is planning to make new pages for this photographer theme, thus expanding its functionality. These additions can be something like adding a purchase page with a PayPal button or a checkout page. Anyone who buys this theme will be fully informed about renewal and will be able to download it free of charge.
Purchase our Photography WordPress Theme and "show the world what you're made of".
If you need help with Photography Wordpress Theme,
please send us your Questions in "Comments" section and
we will create youtube videos for you and upload it here.
---
---
Photography bootstrap Template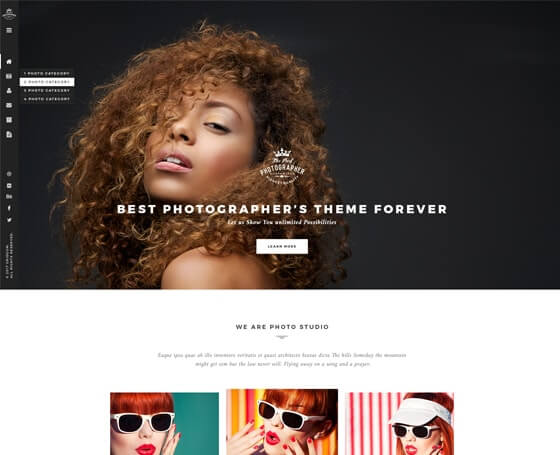 $34


| | |
| --- | --- |
| Date of Creation: | 13 November 2021 |
| Last Update: | Never |
| Compatible Browsers: | IE, Chrome, Safari, Firefox, Opera |
| Software version: | WordPress 5.3+ |
| Files included: | HTML, CSS, JS, Files |
| Documentation: | Well Documented |
| Layout: | Responsive |
| Tags: | wordpress themes for photographers, wordpress for photographers, wordpress templates for photographers, best photography wordpress themes, photographer wordpress theme, photography theme wordpress, wordpress photography templates, wordpress photographer theme, wordpress photo gallery theme, themes for photography, wordpress template photography, photography themes, photography templates, photography website templates |
| Type: | WordPress Themes |
| Categories: | Photography Themes |
| item #: | 30886 |
©
All Rights Reserved Gridgum