if you are looking for WordPress kid's website template, or website for kindergarten or any other children related business, that's what Gridgum designers has created for you. Our fully responsive template is full of plugins and widget that will make your online experience better than ever before. Our template is a WordPress template, which has a lot of benefits than other templates design. You can access all our WordPress templates by the following link: WordPress Themes Collection. WordPress templates are created with CMS system which permits you to have control on all settings and ..
Presenting our latest kid's WordPress theme, this kindergarten theme is your entrance step on the off chance that you are planning to have any action related with children, for example, kids minding, child's classes or other. This excellent and vivid site is made only for your business. Beginning with a beautiful menu bar that incorporates diverse administrations for your client, for example, Home, About, Services, Classes, Gallery, Parents, Blog and Contact. At that point comes our lovely slideshow which compress diverse administrations that you offer, all joined by HD pictures that are ...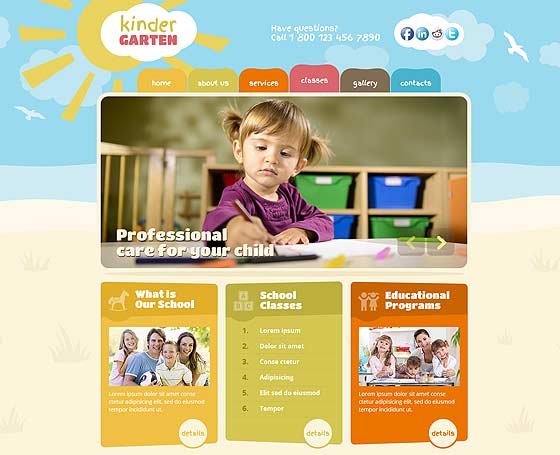 Kindergarten WordPress responsive theme, this template is one of our most popular products. We have created it before as premium bootstrap html template because of its popularity we decided to create same design in WordPress. It can easily be modified according to your needs. The features in this template are incredible and greatly fit for your need. This template is for customers who are concerned or interested in institutions like elementary school, kindergarten, kids studio and etc.