Information
Related Templates
Comments (0)
Taxi bootstrap website template
This is Taxi Bootstrap website template which can be purchased for a very decent price to have your own website. If you have never worked with templates and are not sure whether you will like or not then, please download our free versions of various templates that can be seen here: Bootstrap Templates Free Download
After gaining some experience and practice then you can switch to a premium version of Bootstrap template which has more features. One of the best things about Premium version of Bootstrap template is that it will be upgraded time by time whenever we will add some new features and pages in it. Therefore, if you are interested in paying a small fee for the finest template then please follow this link and look through our portfolio of Bootstrap themes: https://goo.gl/xJKj1v
This is Taxi Bootstrap template (theme) which means that it can be used for companies and businesses that offer taxi services. In past years, we had to go out on the street to catch a cab, then telephone system was introduced so we could make a call and now we have internet. Most of the people are searching the information they need on the internet, therefore, it is vital for companies to have websites and share their data. For taxi companies, it is an absolute must to have a website to let their customer know their contact information, price ranges and give an opportunity to order a cab online.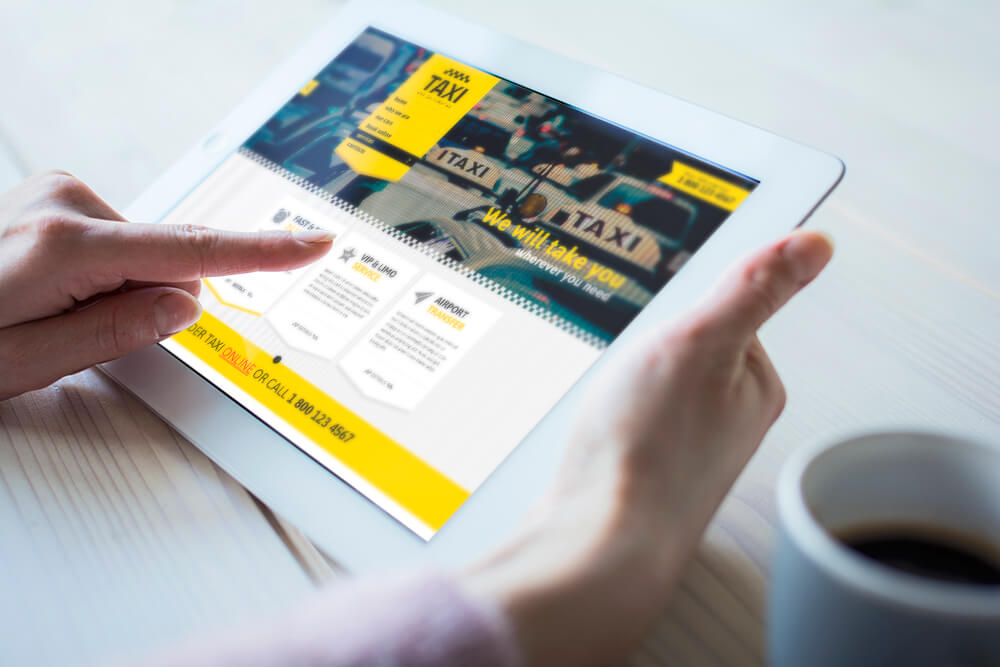 So if you have a taxi company and do not have a website then download this template and start operating through the internet! If you do not have any experience with Bootstrap and do not know how it works or what it then follows this link which will lead you to an article that explains everything mentioned above in a detailed way: https://gridgum.com/what-is-a-bootstrap/
The only thing that you will need is an HTML editor, for instance, Adobe Dreamweaver in order to alter the template's design based on your taste and preferences.
Since it is the 21st century and people are using a wide variety of devices, our templates and websites have to be responsive to our actions. Therefore, this Bootstrap Taxi template is responsive and can be accessed from any device like computers, laptops, tablets, mobile phones and etc. The main advantage of the responsive template is that it changes the design based on from which device it is opened, in other words, your website will always appear perfectly in your customers' eyes.
As you see from live preview this Taxi Bootstrap template compromises everything that any taxi company might need. It has 5 different sections which will help you to present your company information in a nice way. These sections are:
1. Home Page: this is the section where you distribute the most important, recently upgraded and demanding information. Homepage must look very good in order to make your customers stay on your website and use the services that are offered.
2. Cars: Customers are always interested in what is the quality of the service that is offered. In the taxi industry, cars play a very important role, to make your customers satisfied, cars should be in a good shape, clean and comfortable. So use this section to persuade your potential customers to use your service!
3. Book Online: Here your customers will be able to book online by filling out a very simple form. Sometimes customers do not want to make a call in order to order a cab, therefore, it is important to have an online booking option. Customers will be able to book cars not only in the moment they filled out the form but also for the future so they would be sure that they will have a cab on that specific date and time.
4. Services: Here you represent in an elaborate way what services you have because sometimes it is not the only taxi that companies offer. For instance, it can limo, or airport pick-up services, therefore, use this section to tell more about that.
5. Contact: In this section, it is possible to share the company's contact information like telephone number, email, and address. We also offer Google Map location tool that shows exactly where is your company located. If you do not how to set up the Google Map location, do not worry, just follow this link and read the suggested article:
As you see this Taxi Bootstrap Theme offers everything that taxi companies might need to preview it once again and then download it!
If you have any questions or remarks, please leave them in our comment section and support group will get in touch with you as soon as possible. If you are in need of explanation something, then our support team offers the video tutorial to fill out all your gaps!
Template package include:
all pages design in .psd format;
all original files;
working contact form released in PHP;
working photo gallery;
all content images (all images are legal and has bought from www.yaymicro.com)
$19


| | |
| --- | --- |
| Date of Creation: | 16 July 2015 |
| Last Update: | Never |
| Compatible Browsers: | IE, Chrome, Safari, Firefox, Opera |
| Files included: | HTML, CSS, JS, Files, Images, PSD |
| Documentation: | Well Documented |
| Layout: | Responsive |
| Tags: | taxi templates, taxi website templates, taxi website design, taxi service website template, HTML templates, HTML website templates, website templates, responsive website templates, html5 website templates |
| Type: | Bootstrap Templates |
| Categories: | Car templates, Miscellaneous |
| item #: | 22367 |
©
All Rights Reserved Gridgum