Information
Related Templates
Comments (0)
Trial Group - bootstrap website template
This is a Trial Group Bootstrap template that is perfectly suitable for consultancy businesses that offer various management solutions to different companies. This Bootstrap theme can be employed to launch a highly functional website with a minimum effort and for a very decent price. Nowadays Bootstrap templates are very popular among people who do not have thorough programming education or experience. So if you have never worked with Bootstrap templates, do not worry since they are easily managed. But if you still have doubts about Bootstrap themes and do not know what to expect from them, then try out Free Bootstrap templates that we offer. The collection of Free Bootstrap templates can be seen here: https://gridgum.com/themes/category/free/
After gaining some confidence and experience, you can purchase Premium Bootstrap themes that can be found here: https://gridgum.com/themes/category/bootstrap-themes/
Bootstrap themes offer a lot of benefits and features which makes them more attractive to customers. Having a Bootstrap theme means the minimum amount of coding since all the programming work is done already. You will just have to edit the template's design based on your preferences, tastes, wishes, and desires. The altering of the template's design can be done through any HTML editor, for instance using the Adobe Dreamweaver. Moreover, choosing our Bootstrap template means that you and your customers will never face the accessibility problem because a website can be opened through multiple compatible browsers like Internet Explorer, Google Chrome, Opera, Firefox, Safari and etc. Moreover, the provided Bootstrap theme has a responsive design which means that it can be opened through any device, like cell phones, personal computers, laptops, tablets and etc. The accessibility issue is very important because technology develops with a high speed and new gadgets are emerging very often. Also, responsiveness implies that the design of the website will be altered depending on which device is used. In other words, the website will be easily accessed with flawless design, no matter which device is employed.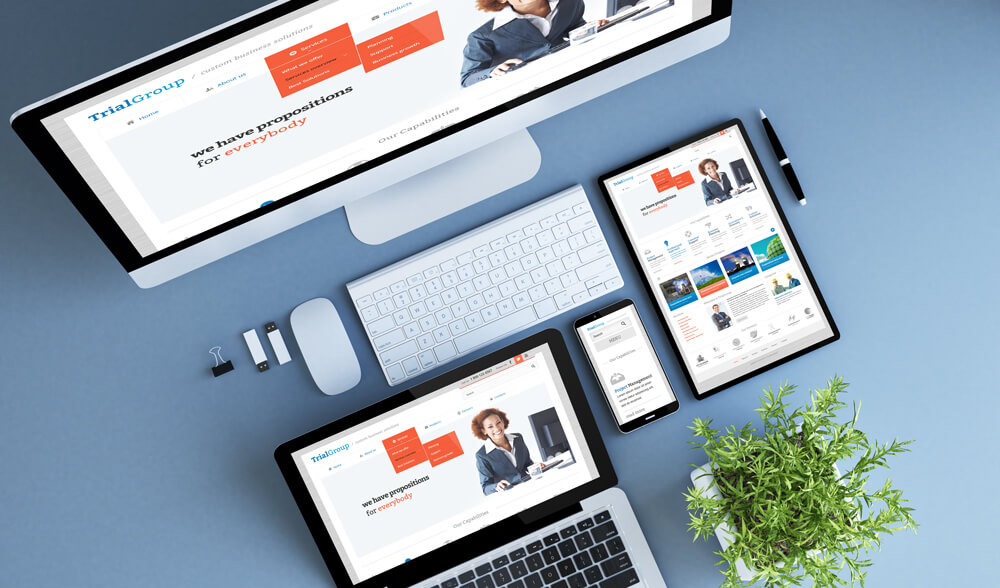 If you have a business that provides consultancy to various companies and does not have a website to represent your data, then this is your chance to have one by purchasing this website template. In this decade it is very important to have an online platform to distribute your company information and attract as many customers as possible. You might be one of the best problem solvers but people simply will not know about your company and activities. Internet it the best place where you can promote your business and increase your target market.
The Trial Group Bootstrap website template is designed by one of the best programmers of a web industry and offers everything that is needed to properly distribute your data. It has six different sections that can be used to represent the information in a very detailed manner. More precisely, these six sections are:
1. Home: On this page should be distributed the most important and recent information that would attract as many customers as possible. Presented information should cover the most important aspects of the company and its activities. Provided information should persuade viewers to stay on the website and look through all the pages.
2. About us: On this page should be a shared the history of the company, why and when it was created, what solutions it offers and etc. There is a separate section for testimonials as well as which can be covered by company achievements and positive feedbacks from customers. There is also space for representing the company team members, their names, positions, experience, and educational background. Customers love when they know to whom they hand in their problems. There can be also briefly described the methods that are employed.
3. Services: On this page should be described meticulously the services that are offered by a company. This page has three different sections: What we offer, Services Overview and Best solutions. These sections can be employed to reflect on every aspect of a service and differentiate between core and additional services.
4. Products: On this page should be covered by all the products that are offered by a company. These products can be shown altogether or categorized based on various features. There can be included the images of these products. If you like the pictures that are used in this Bootstrap theme, then feel free to use them since they are included in the charged price for the template.
5. Partners: On this page should be distributing information about the partnership and what steps should be followed to acquire one. There is also a separate section which can be used to cover all the partners that the company has an outline the best ones from them.
6. Contacts: On this page should share the contact information, like telephone number, street and email addresses and etc. There is included a Google Map location tool to show the company's exact location. If you do not know how to set up the google map location, then please read this article that explains the process in a very detailed way:
There is also incorporated the Contact Form which would facilitate the communication process between the company and its customers or potential customers.
As you might notice the provided HTML template has everything that is needed to launch a nicely designed and highly functional website. If you still do not understand fully what Bootstrap template is and how it works, then please read our articles about it that can be found here: https://gridgum.com/blog/category/bootstrap/
If you have questions, regarding any matter, please leave them in the comment section and our support team will answer them as soon as possible. To make smoother the explanation processes, the support group will offer video tutorials to fill out all your gaps.
The template contains:
All the photos are shown in the template
Fully Responsive
Home Page
About us
Services(Drop Down Menu)

Services overview
What we offer (Sidebar Menu)

Planning
Support
Business Growth
404 Page

Best Solutions

Products
Partners
Contacts
Search box
Computer Service bootstrap template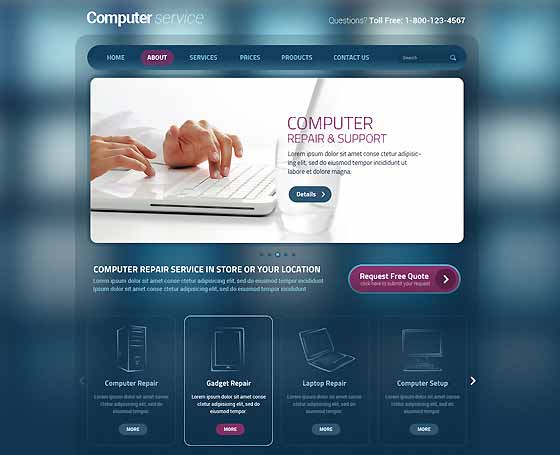 $3


| | |
| --- | --- |
| Date of Creation: | 12 May 2016 |
| Last Update: | Never |
| Compatible Browsers: | IE, Chrome, Safari, Firefox, Opera |
| Files included: | HTML, CSS, JS, Files, Images, PSD |
| Documentation: | Well Documented |
| Layout: | Responsive |
| Tags: | corporate, corporate website templates, corporate templates, business templates, HTML templates, HTML website templates, responsive website templates, responsive web templates, web templates, website templates, best website templates |
| Type: | Bootstrap Templates |
| Categories: | Corporate & Business, CSS Templates |
| item #: | 28176 |
©
All Rights Reserved Gridgum