Information
Related Templates
Comments (0)
VueAdmin - Bootstrap 4 HTML Admin Dashboard Template
VueAdmin is a powerful and professional Bootstrap 4 HTML Admin Dashboard Template, designed to provide a unique and comprehensive solution for creating dynamic and functional admin dashboards. The template is built on top of the latest version of Bootstrap 4, which offers several new features and improvements over the previous version. With its modern design, intuitive interface, and user-friendly features, VueAdmin is the ideal choice for developers and businesses looking to create a backend system that is both efficient and effective.
Bootstrap is a popular open-source framework for creating responsive and mobile-first web pages. With its wide range of pre-designed components, powerful layout system, and advanced styling options, Bootstrap makes it easy for developers to create professional-looking websites and web applications in no time. With version 4, Bootstrap introduces new features such as an enhanced grid system, improved typography, and support for Flexbox, which makes it even easier to create flexible and responsive layouts.
An admin dashboard template is a pre-designed web interface that is used to manage and control a variety of backend processes and tasks. These templates are typically used by businesses and organizations to streamline their day-to-day operations and provide a centralized platform for managing critical data and information. With VueAdmin, businesses and organizations can enjoy a range of features and tools specifically designed to make managing their backend processes as smooth and efficient as possible.
VueAdmin is built using HTML, CSS, and JavaScript and can be easily customized to meet the specific needs of your business. To get started, all you need is a basic understanding of HTML and CSS and a text editor such as Sublime Text, Notepad++, or Visual Studio Code. With these tools, you can easily modify the layout, design, and functionality of your admin dashboard to suit your unique requirements.
Whether you're a seasoned developer or just starting out, VueAdmin provides you with the tools and resources you need to create a professional and effective admin dashboard. And if for any reason you're not satisfied with this template, our website features a huge collection of free admin dashboard templates for you to choose from. And if you're looking for even more advanced features and customization options, our premium Bootstrap admin dashboard templates are the perfect solution.
And to make things even easier, all website templates on gridgum.com come with a 6-month free host account at our partner host company, m9host.com. So, you can get started creating your own dynamic and functional admin dashboard right away!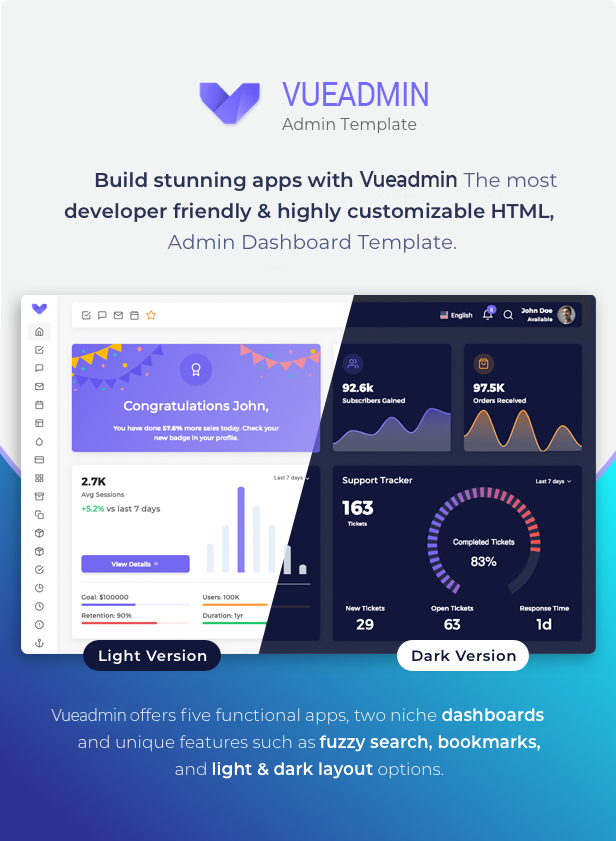 $11


| | |
| --- | --- |
| Date of Creation: | 12 February 2020 |
| Last Update: | Never |
| Compatible Browsers: | IE, Chrome, Safari, Firefox, Opera |
| Files included: | HTML, CSS, JS, Files, Images |
| Documentation: | Well Documented |
| Layout: | Responsive |
| Tags: | admin templates, template admin, admin dashboard template, html admin template, admin dashboard template, bootstrap dashboard template, dashboard html template, bootstrap dashboard |
| Type: | Admin & Dashboard |
| Categories: | CSS Templates |
| item #: | 31035 |
©
All Rights Reserved Gridgum