Information
Related Templates
Comments (10)
Astrology - responsive Joomla CMS Template
We would like to introduce the Joomla Astrology template which is a perfect match for people who would like to publish information about zodiac signs, horoscopes and etc. The Joomla template is very easy to operate since it has a content management system (CMS) that provides the administration panel to run the website fully. The administration panel can be used to delete and upload pictures, add descriptive and non-descriptive texts, add new pages and etc. The CMS of Joomla is pretty similar to the one of WordPress but still, there are some slight differences but the principal ones remain the same.
Even though the Joomla templates are easy to manage, you still might want to gain some experience in working with these themes, therefore we offer you the FREE Joomla template that can be found here: https://gridgum.com/themes/travel-free-joomla/
The free Joomla themes will help you to understand how the templates are working and if they meet your expectations. Moreover, we offer not only FREE Joomla templates but also themes with WordPress and HTML frameworks, the collection of those can be found here: https://gridgum.com/themes/category/free/
As it was mentioned above, working with the Joomla template is very easy, you just have to install it on the server because otherwise, it will not work. However, the installation process compromises just a couple of steps and takes only a few minutes. To go through the installation process successfully, we will offer you guidance that will explain everything in a very detailed manner. The guidance will be offered in a video tutorial format and will be uploaded in no longer than one week.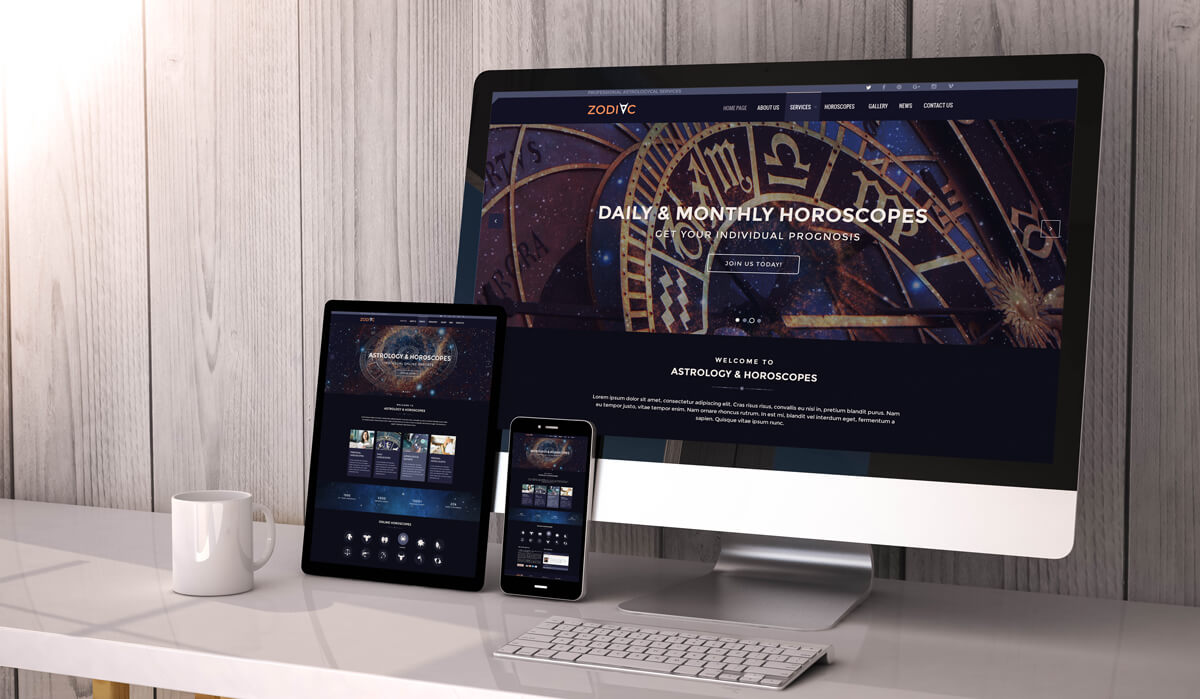 Astrology, horoscope, and information about destiny are very popular among people, therefore, it is very important to offer all of the above online as well. The Joomla template will enable you to launch a high-quality website with an authentic design in an extremely short period of time. The website will have enough space to present all of the information in a meticulous way. To be more precise it will have six different pages Home, Services, About Us, Gallery, Horoscopes, and Contact Us. You would be able to offer the horoscope and forecast the future for everyone regardless of his or her zodiac sign. You will also be able to publish the images on a separate page called Gallery. If you like the pictures that are already included in the template, feel free to use them as well since they are covered in the charged price.
Purchasing the suggested template means that customers will be able to check their horoscopes anytime they want from anywhere because the website will always be available for them. As it was mentioned above, Joomla templates are high-quality products and therefore the websites will never encounter accessibility problems. Your website would be compatible with many different browsers like Internet Explorer, Google Chrome, Opera, Mozilla Firefox and etc.
Moreover, the website will have a responsive design which means it can be opened on any device like mobile phones, computers, laptops, and personal computers. This feature is extremely important because more and more devices are created and customers are using those devices very actively. But the best thing about responsive design is that it is changed depending on which gadget is employed to open the website. The responsive design feature guarantees the fact that the website's design will always look flawless no matter from where it is accessed.
Purchase and use the offered Joomla template to provide professional astrological services online. Employ the Joomla theme to launch a highly functional website and stay tuned always with the internet audience. If you have any questions, please do not hesitate to ask them and leave them in a comment section. Our support team works very actively and will react to questions very briefly. Moreover, answers will be provided as video tutorials to explain everything in a very detailed manner.
All our Astrology templates can be seen here: https://gridgum.com/themes/tag/astrology-templates/
$27


| | |
| --- | --- |
| Date of Creation: | 21 February 2018 |
| Last Update: | Never |
| Compatible Browsers: | IE, Chrome, Safari, Firefox, Opera |
| Files included: | HTML, CSS, JS, Files, Images, PSD |
| Documentation: | Well Documented |
| Layout: | Responsive |
| Tags: | astrology templates, joomla, template joomla, joomla themes, astrology website templates, cms joomla, joomla cms, astrology website design, astrology, horoscope, zodiac, zodiac signs, astrological predictions, daily horoscope, weekly horoscope, monthly horoscope, yearly horoscope, love horoscope, career horoscope, financial horoscope |
| Type: | Joomla Templates |
| Categories: | Miscellaneous |
| item #: | 30943 |
©
All Rights Reserved Gridgum