Information
Video Tutorial
Related Templates
Comments (33)
WordPress Radio Theme
Needless to say that online radio themes are booming so much nowadays. Gridgum is honored to introduce our latest online radio station wordpress bootstrap template which is unique in its multiple colorful picture that will definitely please your customers. Starting with 7 basic options at the top of the page that tell your customer how the website is organized. Then, comes our beautiful slideshow full of HD pictures that tell your customer about different shows, programs and music of your website. The slideshow should generally highlight different services that you offer.
After that comes the beautiful card layout display, which indeed allow you to offer up to 14 different services of your online radio station. It is according to radio website designer the most used tool, so we managed to offer you with as much as possible so you can advertise for every single services, programs or show that you host. At the end we provide you with an opportunity to introduce with more words your radio to your audience. We are allowing you three short vertical displays that consist of welcoming people to your radio station, stating your mission and announcing your latest news.
Template has been create in WordPress CMS system. WordPress can make your life easier and do all the work for you. It is very easy to manage because it has website content management system (CMS). Of course it costs a bit more but if you are part of serious company who wants to have well managed website then this is the product you have been searching for.
GOOD NEWS !
New updates: Has been integrated Radio Stream Plugin ! see screen below:


Another benefit of this WordPress bootstrap Radio theme is that it is responsive which means that it can be opened by any device (PC, mobile phones, iPad) and design will look perfectly from every one of it. Of course the design will change a bit but that's again altered to be suitable to every device.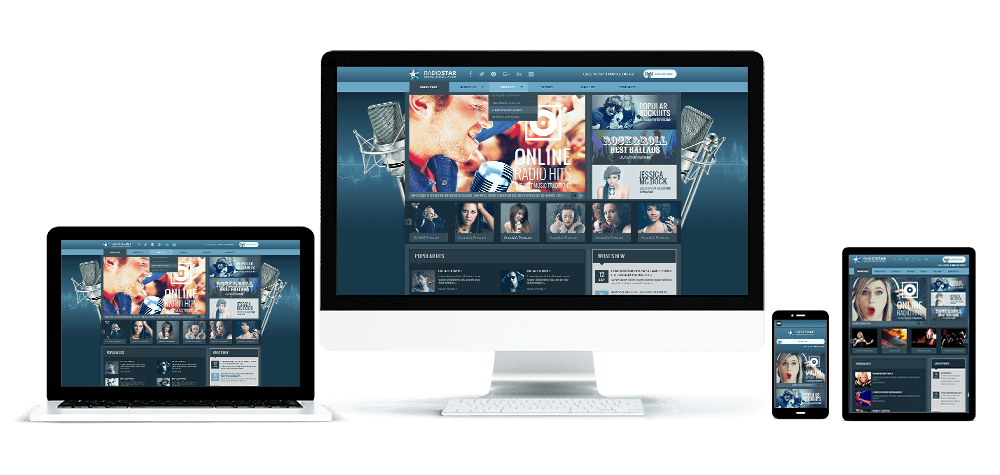 Last but not least, our templates packages include 1 month of free host account at www.m9host.com site. Adding that cost to the free pictures that are included in our templates, we are proud to be your cheapest pathway throughout an excellent successful business.
Below in a brief highlight of our website design:
Responsive background slideshow with HD pictures.
Pictures are included in the theme.
Animated menu.
Fully responsive.
Ability to Search
Social network logos, Facebook, Twitter and YouTube.
Vertical Page Display:
Main Page
About us
Our DJ's
Shows
Blog
Gallery
Contact
Card layout:
News Dimensions
Latino USA
Here and Now
The best of Car talk
Drum and Bass
Weekend Edition
Invisibilia
Metropolis
The radio hour
World Café
Song Travel
Microphone check
First listen
Morning edition.
Vertical List layout:
Popular DJ's
Latest posts
Main menu
Programs
Shows
If there are any customizations needed, please let us know and we will be happy to help you.
NOTE: TEMPLATE PACKAGE INCLUDES ALL ORIGINAL IMAGES WHICH CAN BE SEEN ON LIVE DEMO PAGE, BUT DO NOT INCLUDE WORKING RADIO STREAM PLAYER (PLUGIN), IT IS FOR PREVIEW PURPOSE ONLY. IF YOU WOULD LIKE TO USE RADIO STREAM PLUGIN PLEASE CONTACT US.

If you need help with BlueRadio Wordpress Theme,
please send us your Questions in "Comments" section and
we will create youtube videos for you and upload it here.
---
---
Online Radio Station WordPress theme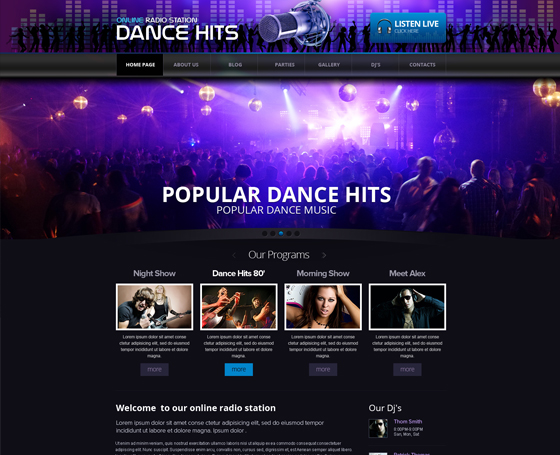 $43


| | |
| --- | --- |
| Date of Creation: | 6 May 2016 |
| Last Update: | Never |
| Compatible Browsers: | IE, Chrome, Safari, Firefox, Opera |
| Software version: | WordPress 4.9+ |
| Files included: | HTML, CSS, JS, Files, Images, PSD |
| Documentation: | Well Documented |
| Layout: | Responsive |
| Tags: | radio website template, radio templates, radio station templates, radio station website template, radio station WordPress theme, radio station WordPress, WordPress radio station theme, WordPress radio station, template radio, WordPress templates, wordpress radio theme, Internet Radio Station Templates, WordPress bootstrap, WordPress bootstrap themes |
| Type: | WordPress Themes |
| Categories: | Radio Themes |
| item #: | 28422 |
©
All Rights Reserved Gridgum