Information
Related Templates
Comments (0)
Infinite
business & finance Multipurpose Bootstrap Template
We would like to present the brand new Business and finance multipurpose bootstrap template. The suggested template can be used by various firms, for example, that offer financial and consulting services to organizations for improving the performance and efficiency. However, the offered template can be used by not only business consultancy firms but also creative agencies, and by companies that would like to have an online store. The Bootstrap template can be employed to launch a very sophisticated, authentic and highly functional website.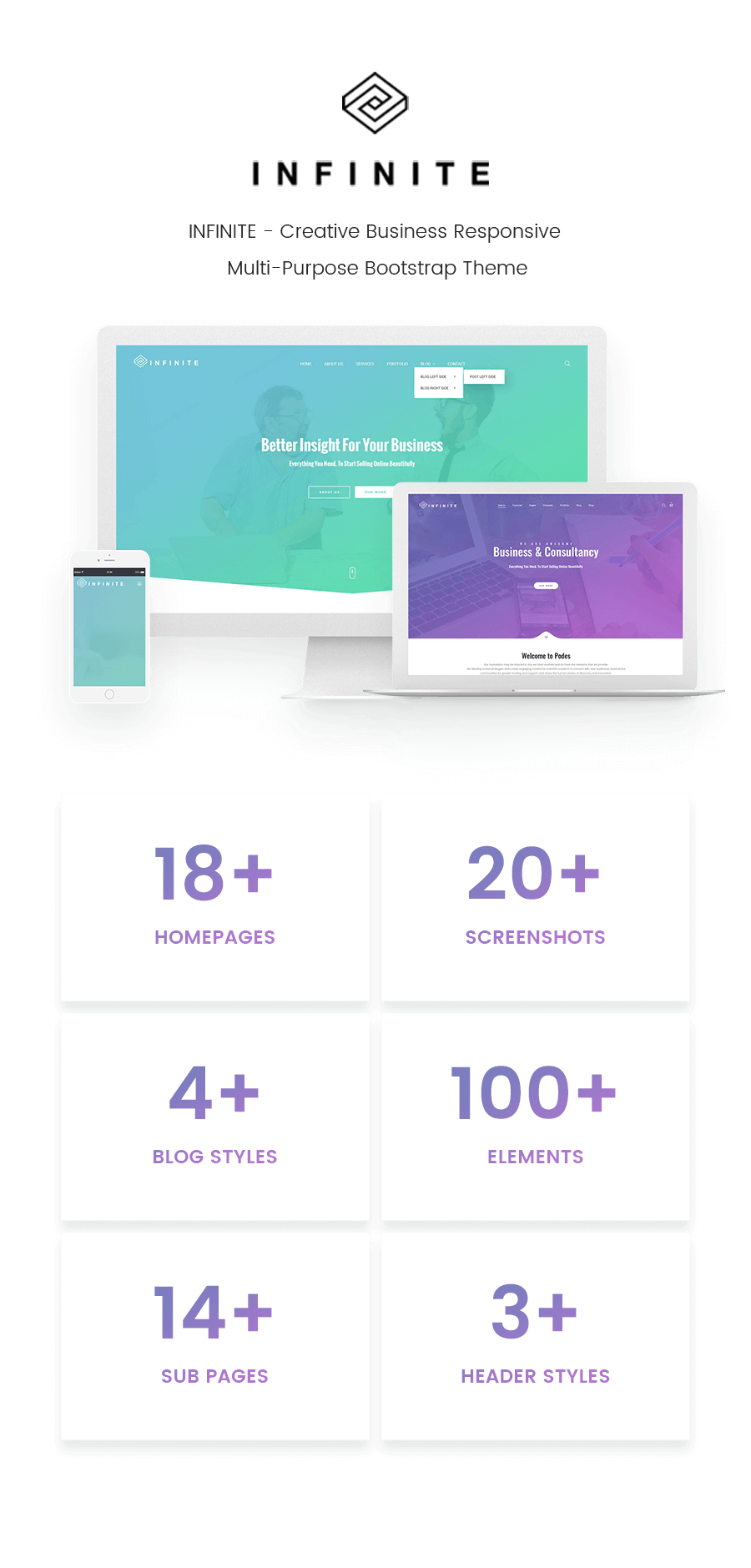 If you have never worked with Bootstrap templates and do not know how to run them, then feel free to use at first, our Free Bootstrap templates that can be found here: https://gridgum.com/themes/category/free/
Working with free Bootstrap templates will help you to understand how these themes work and what outcome they deliver. When you will gain more confidence, then feel free to switch to Premium Bootstrap themes that can be found here: https://gridgum.com/themes/category/bootstrap-themes/
The design of the template was created by one of the best web designers and can be employed by businesses and firms with various services. Nowadays, everything is digitalized therefore having a website is a must for any company. The internet creates an opportunity to acquire higher awareness and a bigger audience that increases the number of potential customers.
The design of a website can be adapted to anyone's taste and preferences since it is created with different variations. The whole website design is suggested in three different colors which are green, yellow and blue, the color should be chosen by you. Moreover, there are six different versions of Home Page which depends on what kind of company you have and what services are offered. Not only Home Page is available with various designs but also service page, which comes with three different versions and again it should be chosen by you which one to employ.
As you might notice there is more than enough space to describe the company specifics and services in a very detailed manner. But additionally, we also created a page, All Components, that can be used however you want and include whatever information you would like. The template also has a separate page for a Blog where can be published the interesting and engaging information related to a company and its services. The Blog will definitely increase the website traffic and higher number of webpage viewers. As you might see, there can be constructed different versions of a website since there is a wide choice of design options.
To alter the already existing design based on your preferences, taste, and wishes, you will just need any HTML editor, for example, Adobe Dreamweaver. If you do not know program languages and do not have a rich experience with coding, do not worry, since you will need the minimum amount of those.
As it was mentioned above, the suggested template is a very high quality and therefore your website will never face the accessibility problems. The website will be compatible with various browsers like Google Chrome, Internet Explorer, Opera, Mozilla Firefox and etc. Moreover, the website design will responsive which means that it can be opened through various devices. In this decade, technology develops at a very high speed and new devices are created very often. Therefore, it is extremely important for a website to be reachable by different devices, like personal computers, laptops, tablets, mobile phones and etc. But the best thing about responsive design is that it will be altered based on the device that is used to access the website.
As you see, the offered Bootstrap template offers a lot of benefits and requires a minimum amount of time and financial resources to launch a high-performance website. So if your company still does not have an official website, then feel free to purchase this template and have one.
If you have any questions, please do not hesitate to ask and leave them in the comment section and our support team will respond to them as soon as possible. To have smooth and easy communication processes we will offer the video tutorial to answer all of the questions in a very detailed way.
$21


| | |
| --- | --- |
| Date of Creation: | 27 February 2018 |
| Last Update: | 14 March 2018 |
| Compatible Browsers: | IE, Chrome, Safari, Firefox, Opera |
| Software version: | Bootstrap 4.x |
| Files included: | HTML, CSS, JS, Files |
| Documentation: | Well Documented |
| Layout: | Responsive |
| Tags: | business, business templates, business template, multipurpose templates, multipurpose themes, multipurpose, corporate, corporate website templates, corporate templates, best bootstrap templates, Best bootstrap themes, bootstrap themes, bootstrap css, bootstrap website templates, bootstrap html, bootstrap, bootstrap responsive, bootstrap 4 |
| Type: | Bootstrap Templates |
| Categories: | MultiPurpose Themes |
| item #: | 30946 |
©
All Rights Reserved Gridgum