Information
Related Templates
Comments (0)
"ColoRadio" - Simple bootstrap template
Introducing our most recent and advance radio template with Radio stream player. This template is full of new innovative picture and layout that will guarantee you a better success. Starting with a beautiful option tab that will tell your customer how your website is organized. Our slideshow comes with crazy and colorful pictures that show how recent your music and programs are, and how they can cope with the current generations that is leaning towards tech and house music. The slideshow has a main idea to deliver the highlight of your website and we made sure that it will deliver its purpose.
Then, our card layout each accompanied by beautiful pictures that are basically advertisement for different programs and show that our radio host. This will allow your customer to be updated with different programs and shows that your radio offer. At the end, we offer a listen live tab that are crucial for your customer who just want to go live without needing to go to specific other page; our template is capable then to listen live from the home page. At the end, we will provide you with the vertical layout display which will let you to update your customer with the most recent news and updates.
Last but not least, our templates packages include 1 month of free host account at www.m9host.com site. Adding that cost to the free pictures that are included in our templates, we are proud to be your cheapest pathway throughout an excellent successful business.
Below in a brief highlight of our website design:
Responsive background slideshow with HD pictures.
Pictures are included in the theme.
Animated menu.
Fully responsive.
Social network logos, Facebook, Twitter and YouTube.
Pages:
About
Programs
Our DJ's
Photo Gallery
Conact
Card layout:
Jesica's Line
Fashion Time Program
Rock-N-Roll Program
Dj Crocodile
One of your choice
Vertical List layout:
Online Radio Station
Welcome to Coloradio
Our programs
Our DJ's
Most popular Programs
Latest News
Future Events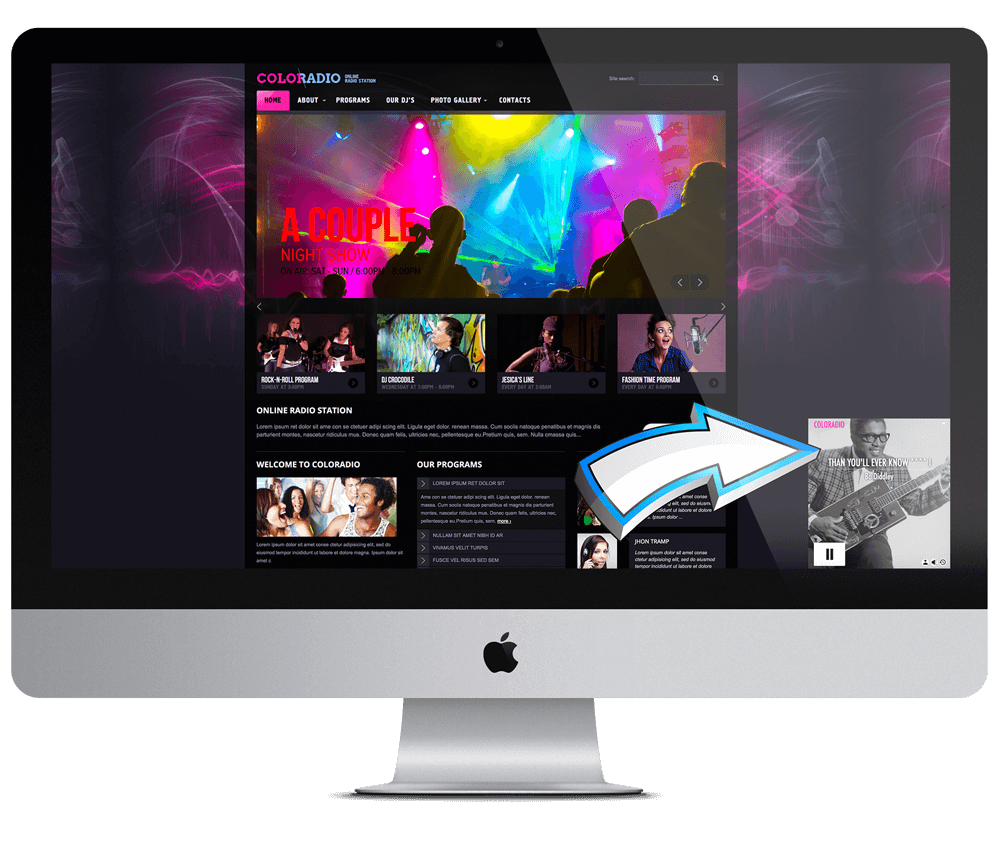 As you might have noticed, at the right corner of bottom page there is a radio streaming player which is newly created in HTML5. However, we want to outline that the HTML5 radio player has to be bought separately from the template since the price of the theme does not cover the player. If you want this HTML5 Radio Player to be present in your website, feel free to purchase it from here: https://gridgum.com/themes/radio-player/
Music Band - HTML bootstrap template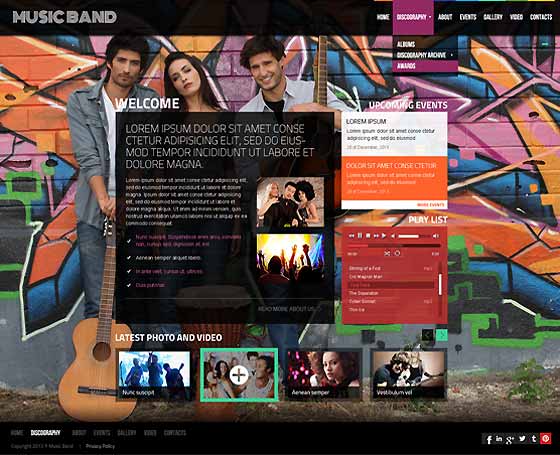 $9


| | |
| --- | --- |
| Date of Creation: | 27 April 2016 |
| Last Update: | Never |
| Compatible Browsers: | IE, Chrome, Safari, Firefox, Opera |
| Software version: | Bootstrap 3.x |
| Files included: | HTML, CSS, JS, Files, Images, PSD |
| Documentation: | Well Documented |
| Layout: | Responsive |
| Tags: | radio website template, radio templates, radio station templates, internet radio website templates, online radio website templates, template radio, HTML templates, HTML website templates, responsive website templates, web templates, website templates, Internet Radio Station Templates |
| Type: | Bootstrap Themes |
| Categories: | Radio Themes |
| item #: | 28173 |
©
All Rights Reserved Gridgum