Information
Related Templates
Comments (0)
Flextop - eCommerce HTML Bootstrap Template
We are happy to introduce our new Bootstrap e-commerce template that can be purchased and used by anyone who wants to have an online store where will be offered computers, gadgets, clothes and etc. Nowadays, it is very convenient to have an online store because it is the easiest way to attract as many customers as possible and make easy transactions. Flextop HTML template has a lot to offer, by purchasing this theme one can easily launch a highly functional website that can be accessed by various browsers like Google Chrome, Opera, Mozilla, Internet Explorer and etc. In other words, your shop will be open to anyone at any time. If you have never worked with Bootstrap themes and do not know what outcome to expect, feel free to try out our Free Bootstrap templates that can be found here: bootstrap templates for free
After gaining some experience, you can switch to professional themes, so-called Premium Bootstrap themes which have a lot more to offer. The collection of Premium/Professional Bootstrap themes can be found here: Bootstrap website templates
Nowadays, HTML Bootstrap is very popular in the market since they provide a lot of benefits. First of all, it does not need deep knowledge of programming since the most of the work is already done. You will just need any HTML editor, for instance, Adobe Dreamweaver to alter already existing design based on your preferences, taste, and desire. Secondly, Bootstrap templates have a responsive design which means that it can be accessed through any device like computers, laptops, cell phones, tablets and etc. But the best thing about responsive design is that it will change based on which gadget is used to access the website.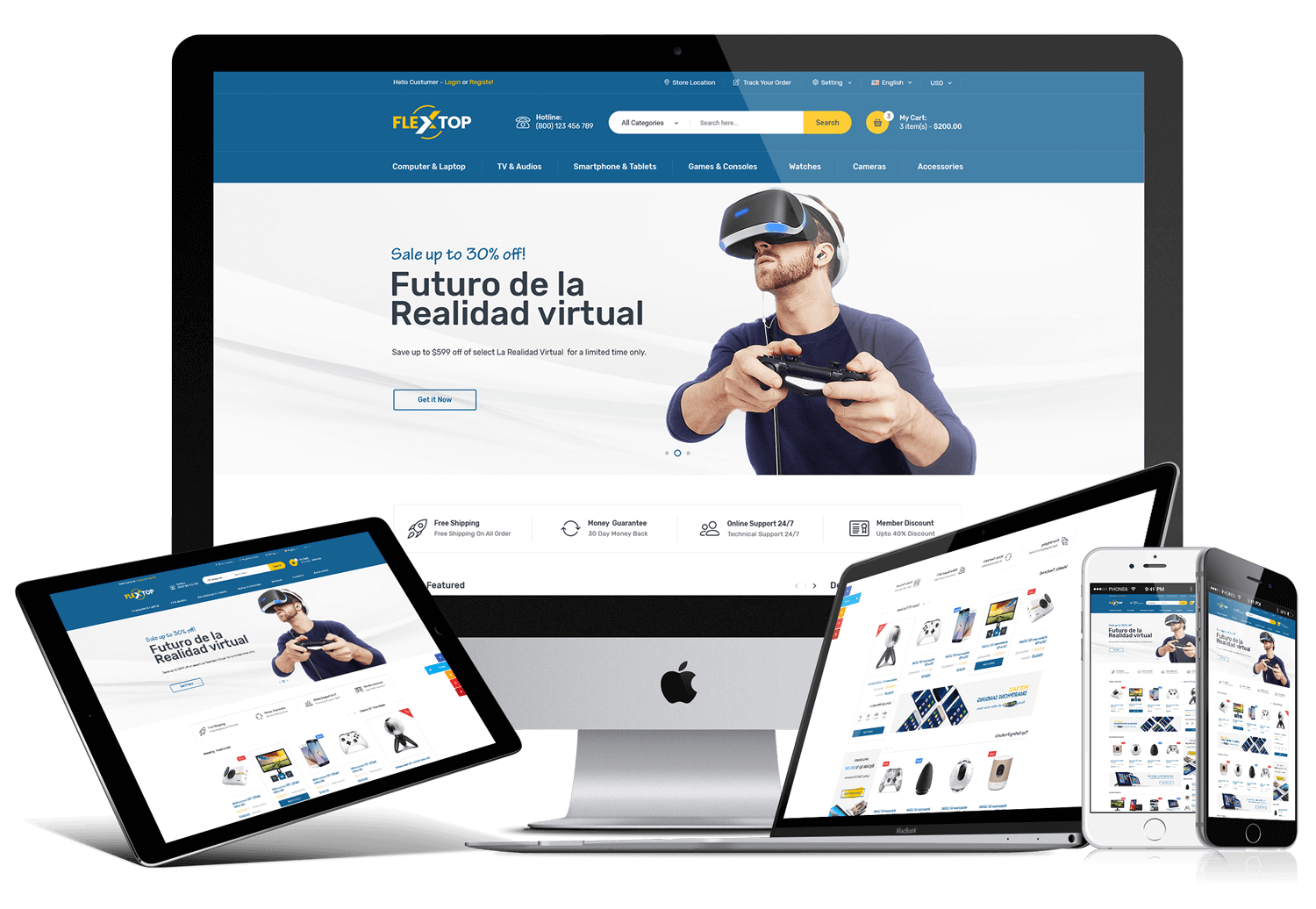 As it was mentioned above, the provided Bootstrap theme is for people or companies who want to have their own online store and offer their product to customers. The template has all the necessary features to launch a high-quality website with all the necessary pages and even more. To be more specific these pages are:
1. Main Page: This is the section where all the pages and important information are presented. When the customer will access the website, this is the first thing that he/she will see. Moreover, when the website is opened, automatically will show up the "News Letter" window, were customers can subscribe to your mailing list and receive information about updates of new products and arrivals.
At the upper part of the page, there are provided two buttons, one for currency and other for language. Using these buttons your customers will be able to receive information in their desired language and currency. Also, customers can create their own accounts in order to purchase products and afterward to track them. Each customer will have a cart to see what products he/she is about to buy. The button My Cart has also pop up quick view, to briefly look through the products that are in it.
On the main page, there is also separate space for banners which can be used to represent the newest gadgets or simply use it as a space for advertisements.
We also incorporated the slow slideshow on the main page, which allows presenting better products to the potential customers. The presented pictures will slowly interchange when customers will view the website.
2. Computer&Laptop; TV&Audios; Smartphones&Tablets; Games&Consoles; Accessories: These pages should be employed to distribute the products that you are selling with thorough descriptions, price, and images. When you point the cursor on the page big drop down menu will appear, which shows all the devices that are offered. By clicking the button, you will be re-directed to the page where are distributed all the products. There are two versions of the layout of listing, see below:
Product Listing 1: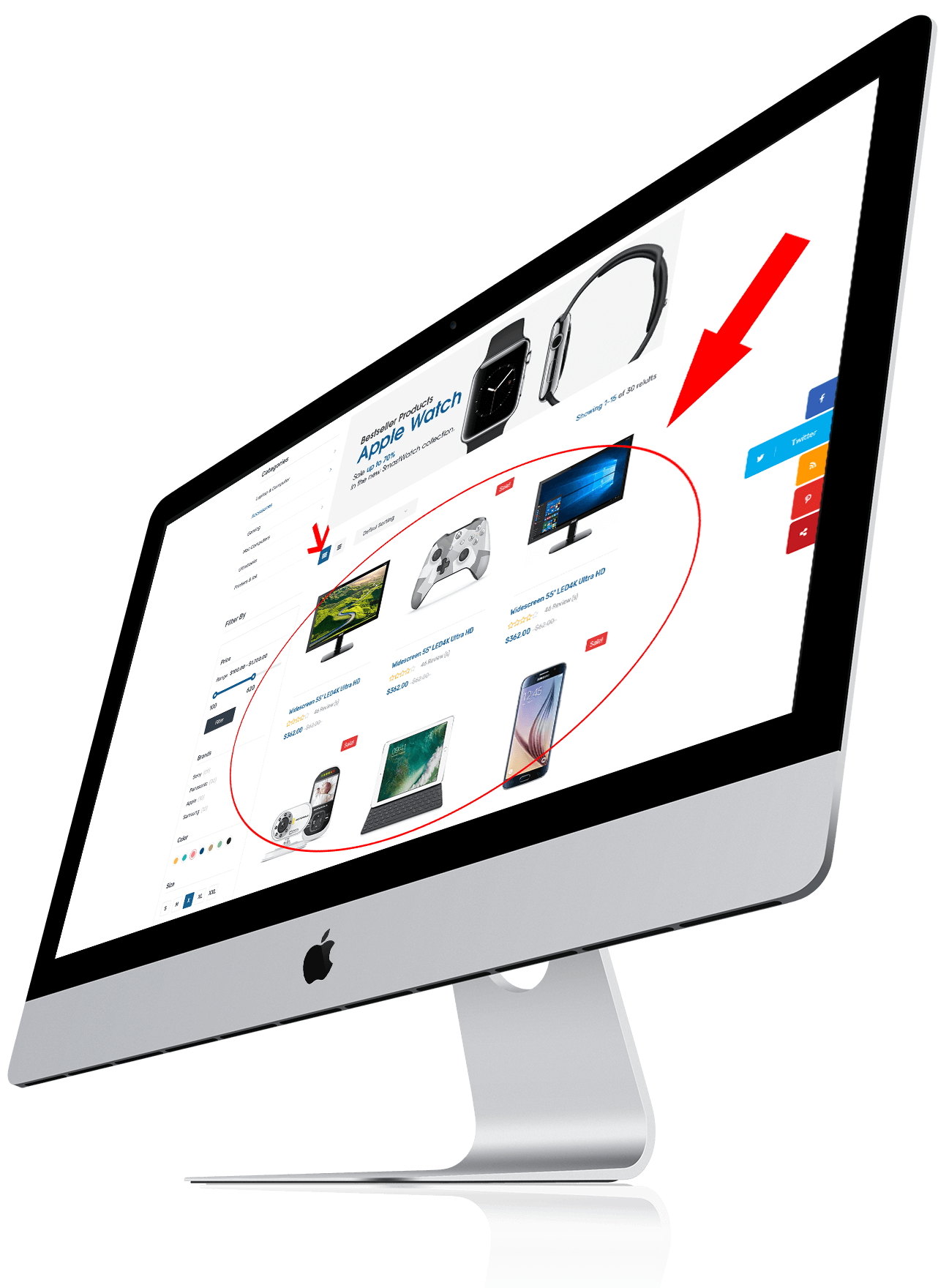 Product Listing 2
: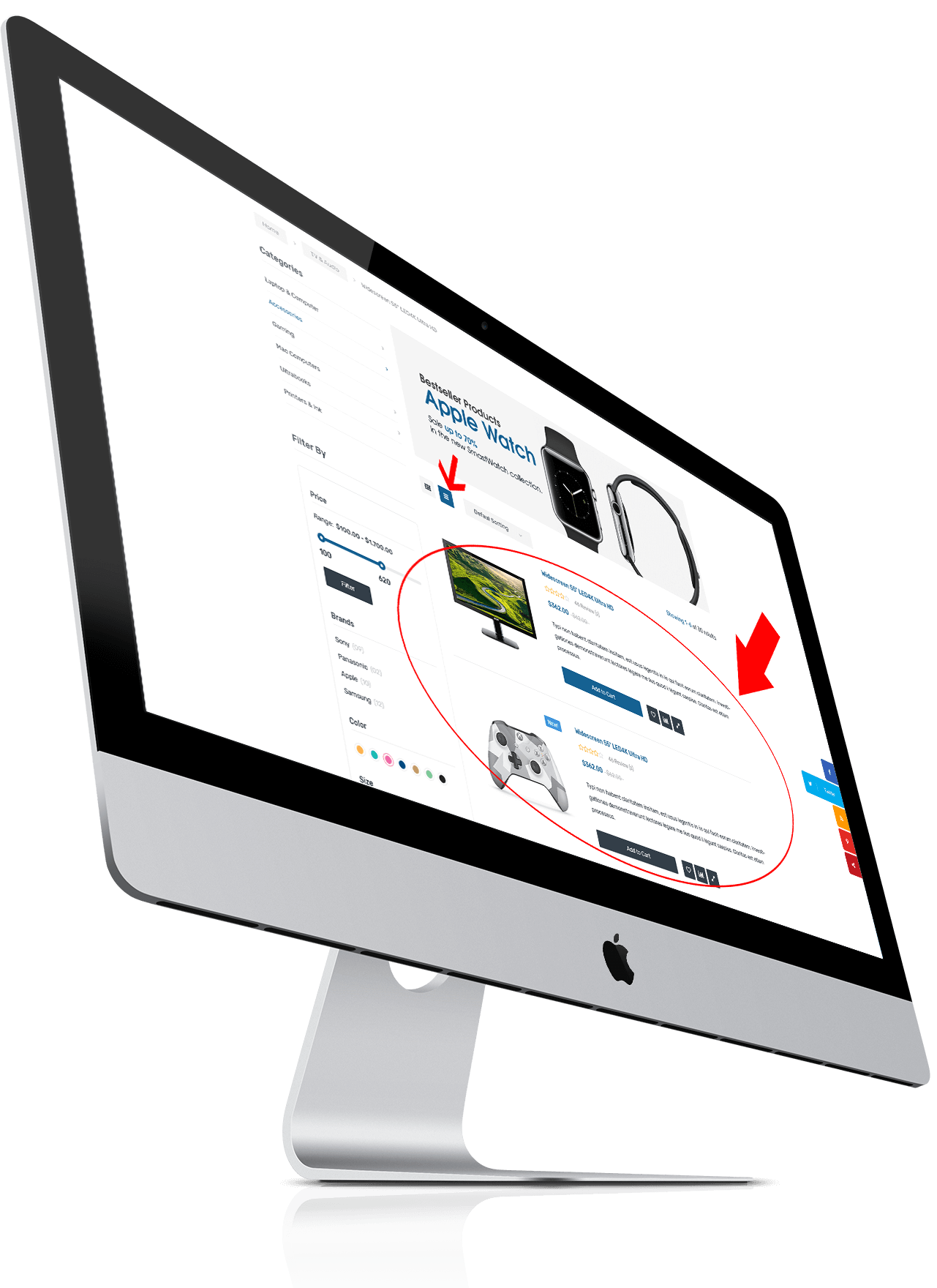 And customers can also sort the products based on their price or popularity, this choice is entirely on them. In this page is also incorporated the filter which will help customers to find the desired product. The product list can be filtered by price range, Brands, Color, and Size. We decided to include the Color and Size as well while the e-commerce Bootstrap template can also be used to open the online garment store. By clicking on the specific product, the customer will receive a thorough description of it and also images from multiple angles.
3. Pages: Here are included all the pages that have been discussed above like home page, product listing page, product description page, shopping cart and check out page. It also includes the Blog where you will be able to post some interesting articles related to your online store and activities. A blog can have different layout designs, for instance, it can have left or right sidebars and posts displayed either on the left or right side.
We also included 404 Page which might be useful for you, if there will be some pages of the website still going under the construction.
4. Contact Us: On this page should be represented in the contact information like the email address, telephone number, street address and etc. We also incorporated the tool which will makable customers to leave the messages for you easily. There is also included the Google Map location tool that can be used to show the exact location of the store. If you do not know how to set up the Google map location, please follow this link and read a detailed article about it: https://gridgum.com/How-to-Set-Google-Map-Location-in-Bootstrap-Template/
As you see this Flextop E-commerce Bootstrap Template has everything that is needed to launch a highly functional e-commerce store. In the near future, we also plan to create the woo-commerce theme, add some new pages and offer different design versions of the home page.
If you have any questions, feel free to leave them in the comment section and our support team will answer them very quickly. We will offer a video tutorial to respond to your questions fully and facilitate the explanation processes.
$19


| | |
| --- | --- |
| Date of Creation: | 30 December 2017 |
| Last Update: | Never |
| Compatible Browsers: | IE, Chrome, Safari, Firefox, Opera |
| Files included: | HTML, CSS, JS, Files |
| Documentation: | Well Documented |
| Layout: | Responsive |
| Tags: | ecommerce templates, ecommerce website templates, template ecommerce, store template, online shop template, shop template, HTML templates, HTML website templates, website templates, responsive website templates, bootstrap 4 templates, bootstrap 4 themes, bootstrap 4, best bootstrap templates, bootstrap themes, bootstrap css, bootstrap website templates, bootstrap html, bootstrap, bootstrap responsive |
| Type: | Bootstrap Templates |
| Categories: | CSS Templates, Miscellaneous, MultiPurpose Themes |
| item #: | 30931 |
©
All Rights Reserved Gridgum