Information
Related Templates
Comments (0)
Flobule - Flowers & Plants Delivery, Multi Stores UI Kit for Mobile App
UI Kit contains high-quality mobile application design best suited for any business connected to Flowers delivery. It contains 226 beautiful screens for 3 mobile applications: Stores (Flower stores registration at Marketplace), Drivers (Drivers registration and delivery), and Frontend (Where customer find and buy flowers) sides and there's more to come!

The kit would be very useful for people interested to learn more about Sketch. The prototype is fully interactive and linked which will give you the opportunity to explore and interact with the product in a more exciting way!
The design can be used to develop or demo applications for Android or iOS. Build your dream application faster! Please do not hesitate to reach out to us with any questions you might have!
Driver Side: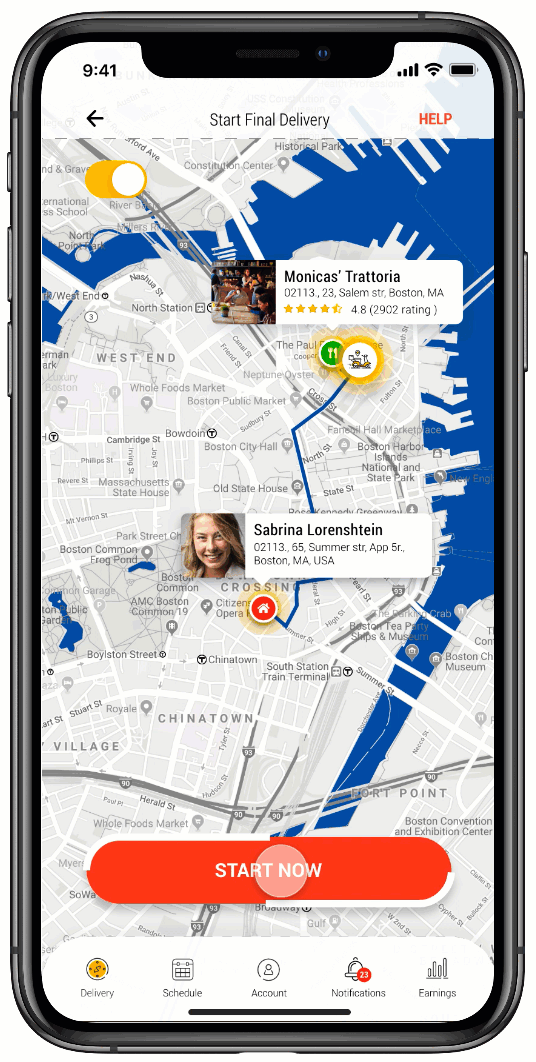 Key Features:
81 Customer, 88 for Driver & 57 for Stores' side Premium Ready-To-Use Screens
Available in Sketch and Adobe XD Formats.
High Resolution. 325×2000 Resolution for iOS
Every element is editable
Fully Layered, Grouped & Named appropriately
100% Scalable Vectors
Roboto Font
Easy to customize and edit
Well-Documented Help File
Screens Include:
---
CUSTOMER SIDE
01. Welcome (black & white logo)
02. Welcome (colored logo)
03. Language
04. Slide 1
05. Slide 2
06. Slide 3
07. Slide 4
08. Slide 5
REGISTRATION / MENU / PROFILE
09. Login
10. Registration
11. Edit Phone for Verification
12. Verification
13. Manu
14. Profile information
15. Set Address
16. Add a New Address
17. Personal Information
18. Change Password
PAYMENT METHODS / ORDER HISTORY
19. Payment Methods
20. Debit Card Settings
21. Add a New Card
22. PayPal Settings
23. Add aNew PayPal address
24. Apple Pay
25. Promocode
26. Order History
27. Order Paid
28. Order Declined
29. Tracking History
30. Order Delivered
31. Sorender Act (confirmation request)
32. Sorender Act Confirmed
SUPPORT / FAQ / SHARE / EARN
33. Support
34. Comments
35. FAQ
36. Active FAQ Box
37. Share & Earn
38. Page Sharing
GENERAL SETTINGS
39. General Settings
40. Address of Delivery
41. Terms
42. Privacy
43. MessengerPrivacy
44. Communication
FLOWERS DISCOVERY / STORES LISTING
45. General Categories
46. Select Delivery Address
47. Home Page
48. Flowers in Box (vertical layout)
49. Flowers in Box (horizontal layout)
50. Flowers in Box Without Top Categories (vertical layout)
51. Flowers in Box Without Top Categories (horizontal layout)
52. Bouquets
53. Products' Big image
54. Stores listing
55. Funeral Compositions
56. Search Result
57. Filters
58. Stores location on the Map
SINGLE STORE PAGE / SHOPPING CART
59. Store Page with Products by Categories
60. Store location
61. Store reviews
62. Products in single category
63. Buy page
64. Product review
65. Shopping Cart
66. Add delivery time
67. Payment filed
68. Add Payment Methods
69. Pay by card
70. Placed Order successfully
71. Invoice
72. System waiting
73. Driver Accepted order
74. Driver Page
75. Driver Starts Delivery
76. Driver ask confirm delivery
77. Surender Act for confirmation
78. Surender Act confirmed
79. Invoice history
80. Page for review
81. Store review
82. Products review
83. Driver review
DRIVER SIDE
WELCOME
84. Welcome
85. Language
86. On Board (slide 1)
87. On Board (slide 1)
88. On Board (slide 1)
89. On Board (slide 1)
LOGIN / REGISTRATION
90. Login
91. Registration
92. D=Send Verification Code
93. Verification
94. Reset Password
WIZARD / REGISTRATION
95. Quick Registration Info
96. 1st Step of Wizard (Choose account type)
97. 1st Step of Wizard (Personal info)
98. 2nd Step of Wizard (Company information)
99. 3rd Drive License
100. 4th Transport registration (Bike)
101. 5th Transport registration (Car)
102. Payout Method
103. Add New Credit Card Info
104. Add PayPal
105. Add Bank Info
106. Congratulation
MENU / PROFILE
107. Menu
108. Profile
109. Company info
110. Personal Info
111. Add Drive License
112. Change Password
TRANSPORT REGISTRATION
113. Choose Transport Type
114. Compact Van Registration
115. Sedan Car Registration
116. Motorcycle Registration
117. Scooter Registration
118. Bicycle Registration
MY WALLET
119. Wallet home page
120. Withdraw & History
121. Set Payout Method
122. Credit Card as Method of Payout
123. Add Card info
124. PayPal as Method of Payout
125. Add a New PayPal
126. Wire Transfer (Bank info) as Method of Payout
DELIVERY PROCESS
127. Start Page
128.Turn On
129. Online with info window
130. Select End Time Today
131. Start Now
132. 2 New Orders (Requests) Page
133. 1 New Order
134. Popup Win
135. Popup Win 2
136. Start direction
137. Click After Destination
138. 1st destination Pickup Process
139. 1st destination Picked up products
140. 2nd destination popup win
141. Popup win about incident
142. Help
143. System waiting answer
144. Surrender Act
SCHEDULE / EARNINGS
145. Set working days
146. Set Start and End Times
148. Set non-Working Days
149. Earnings (empty)
150. Earnings with balance and order history
151. System waiting popup
SETTINGS / MESSENGER / SUPPORT / FAQ
152. General Settings
153. Terms of Use
154. Privacy
155. Messenger
156. Chat
157. Support 24/7
158. Support (add comments)
159. FAQ
160. FAQ (opened section)
FLOWER STORES / STORES' SIDE
WELCOME / ON BOARD
161. Flowstore start page (black logo)
162. Flowstore welcome button (color logo)
163. Language
164. On Board (slide 1)
165. On Board (slide 2)
166. On Board (slide 3)
167. On Board (slide 4)
168. On Board (slide 5)
FLOWER STORE REGISTRATION / MENU / PROFILE
169.Login
170.Sign up
171. Language
172. Send Verification code
173. Verification
174. Reset Password
175. Menu
176. Profile info
177. Add Store
178. Add Type of business
179. Sole Proprietorship
180. Add Personal info with signature
181. Change password
MY WALLET
183. Wallet home page
184. Withdraw & History
185. Set Payout Method
186. Credit Card as Method of Payout
187. Add Card info
188. PayPal as Method of Payout
189. Add a New PayPal
190. Wire Transfer (Bank info) as Method of Payout
SALES
191. Order History (empty)
192. Order History
193. Invoice (paid) with button (confirm of cargo transfer)
194. Invoice (Declined)
195. Surrender Act confirm request
196. Popup about shipper confirmation
197. Request filed (Try again)
198. Surrender Act Confirmation Request from Shipper
199. Surrender Act confirmed
200. Invoice with stamp "Delivered"
201. Shippers' Review
ADD PRODUCTS
202. Add Product by Categories
203. Add a New Product
204. Ready Store with Categories and Products
$38


| | |
| --- | --- |
| Date of Creation: | 9 May 2020 |
| Last Update: | Never |
| Software version: | Sketch v 65.1 |
| Files included: | Images, Sketch |
| Documentation: | Well Documented |
| Layout: | Responsive |
| Tags: | flowers, flower store, mobile, mobile app, flower mobile app, mobile application, ui kit, ux, uiux, delivery, flowers delivery |
| Type: | UI Design |
| Categories: | Mobile Application, Sketch Templates |
| item #: | 31048 |
©
All Rights Reserved Gridgum