Information
Related Templates
Comments (0)
Handyman Bootstrap Website Template
This is a Handyman Bootstrap Website template that can be purchased by businesses and companies that offer home renovation, carpeting, roofing and all other house repairing services. This is a great chance to launch a highly functional website through Bootstrap theme for such a decent price. So if you are operating in the above-mentioned industry and do not have a webpage then do not hesitate and download this Bootstrap theme. If you do not know what Bootstrap is and how Bootstrap templates are operated, then follow this link and read an article which explains everything in a detailed manner: https://gridgum.com/blog/category/bootstrap/
There are many people who have no experience in web developing and have never worked with Bootstrap templates, therefore, we suggest them to try out our free bootstrap templates which can be previewed here: https://goo.gl/p2cWPT
Work with Free Bootstrap themes and decide if that is the outcome and product you have been expecting. Afterward, if you want to work with more professional templates, you can switch to Premium/Professional Bootstrap Templates and Themes that can be found here:
https://goo.gl/xJKj1v
Free and Premium(professional) templates are very high-quality products but of course later, one has more features and functions, for instance, it will be updated whenever author of this template add some new items and pages in it. The decision is entirely up to you what type of bootstrap theme will be chosen but in both cases, you will be extremely satisfied.
In this decade it is significantly important to have an online platform and be connected with the internet audience. The Handyman website template will give an opportunity for businesses to present their company data to a large number of people and in this way increase the number of potential customers. Properly functional website with nice design will guarantee high website traffic and consequently increased number of people who are aware of the websites owner's business activities. If you download the Handyman HTML template, you will be able to launch a website very easily since all the core work is already done and presented in the Bootstrap theme. You will just need an HTML editor, for instance, Adobe Dreamweaver, to alter the template's design based on your preferences, wishes, desires, and taste.
The Bootstrap website templates are very demanded products on the market because they offer a lot of features and are traded for a very affordable price. One of the best advantages of bootstrap is that it has a responsive website design. Responsive design implies that the website can be accessed from any device like computers, laptops, mobile phones, tablets and etc. This feature is very important because nowadays technology is developing with a very high pace and new gadgets are evolving, therefore, a website must be accessed from any device to avoid viewers' frustration. But the best thing about responsive design is that it alters the website's design depending on which device is used to access a website. To better perceive the responsiveness feature click on the button "Live Preview"- You will be redirected on an official preview page of the template, on the upper side of the window there are three icons, computer, tablet, and mobile by clicking on each of them you will how the website design is changed.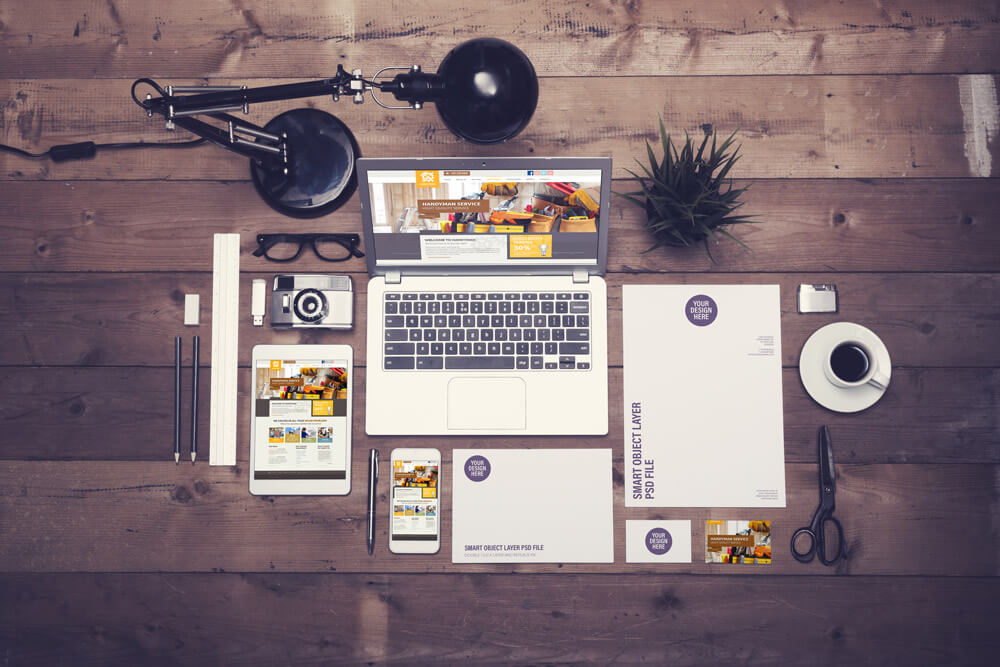 As it was outlined above the Handyman responsive website template can be purchased and used by businesses that offer different house repairing and renovating services. The template has seven different sections that can be employed to reflect meticulously on company data. These seven sections are:
1. Home: This is the main page of the website where should be posted the most relevant and recently upgraded information. Use this page wisely and persuade viewers to preview the rest of the pages as well.
2. About us: In this section, you should tell about company history, when and why it was created, who are your partners and etc. Present your team members, reflect on their experiences and projects they have worked on. The more information you present the more trust customers will have in your company.
3. Services: In this section should be outlined the services that are offered by companies. Include a thorough description of each service with its price range, convince potential customers that your company is the best problem solver on an entire market.
4. Useful Topics: This page can be used as a blog to present all relevant and useful information that is related to the company's activities and services. This section has a lot of space which can be used as you want, post anything that you can consider important.
5. Testimonials: In this section can be presented all the testimonials and recommendations that the company has received. The distributed information will increase the credibility and validity of the company in the eyes of customers.
6. Gallery: On this page can be presented various images of the company, its activities/services, staff members and etc. If you like the images that are included in the template, you can use them as well since they are impounded in the charged price.
7. Contacts: Here can be presented contact information like telephone number, email address, street address and etc. We also included the Contact Form to facilitate the communication process between a company and its customers. To present the exact location of a company we incorporated in the template Google Map location tool. If you do not know how to set the Google Map location, then please read the suggested article:
If you have any questions, please leave them in the comment section and our support team will get back to you as soon as possible. To have a smooth explanation process, the support group will offer video tutorials to fully answer the questions.
Handyman Services Bootstrap Theme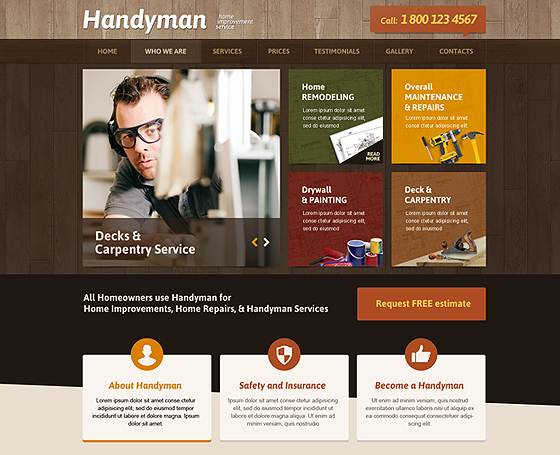 $18


| | |
| --- | --- |
| Date of Creation: | 4 December 2015 |
| Last Update: | Never |
| Compatible Browsers: | IE, Chrome, Safari, Firefox, Opera |
| Files included: | HTML, CSS, JS, Files, PSD |
| Documentation: | Well Documented |
| Layout: | Responsive |
| Tags: | handyman website template, handyman template, handyman templates, handyman website design, Best bootstrap themes, best bootstrap templates, css templates, template css, HTML templates, responsive web templates |
| Type: | Bootstrap Templates |
| Categories: | Miscellaneous |
| item #: | 25211 |
©
All Rights Reserved Gridgum