Information
Related Templates
Comments (0)
If you run a hospital or any medical center business and still looking for a for a hospital website template, here's what Gridgum has for you. Our most recent hospital website design template starts with 7 most common tabs at the top right corner which tells the customer how your website is organized. After that comes our colorful and meaningful medical slideshow accompanied by various HD picture. Pictures of the slideshow presents different service that your hospital template offers. In this case we have chosen it to become picture of nurses, doctors and patients.
After that comes our card design which basically go more in depth about services you might offer. In our case we have chosen to tell about our 24/7 medical assistance, our pediatric clinic, the family medicine general partite and the hospital medicine. At the end we provide you with an opportunity to introduce with more words your hospital to your customers. We are allowing you three short vertical displays that consist of welcoming people to your website, stating your accomplishment and missions and announcing your latest news.

Last but not least, our templates packages are accompanied by 1 month of free host account at www.m9host.com site. Adding that cost to the pictures that are included in our templates, we are proud to be your cheapest way throughout a successful business.
Below in a brief highlight of our website design:
Responsive background slideshow with HD pictures.
Pictures are included in the theme.
Animated menu.
Fully responsive.
Ability to Search
Social network logos, Facebook, Twitter and YouTube.
Vertical Page Display:
Home page
About us
Services
Patient care
Ressources
Careers
Contact us
Card layout:
Family medicine general practice
Hospital medicine
Pediatric clinic
24/7 medical assistance
Vertical List layout:
Welcome to ProMedical company
Directory
Services
Who we are
Popular services
Latest news
If there are any customizations needed, please let us know and we will be happy to help you.
Plastic surgery bootstrap theme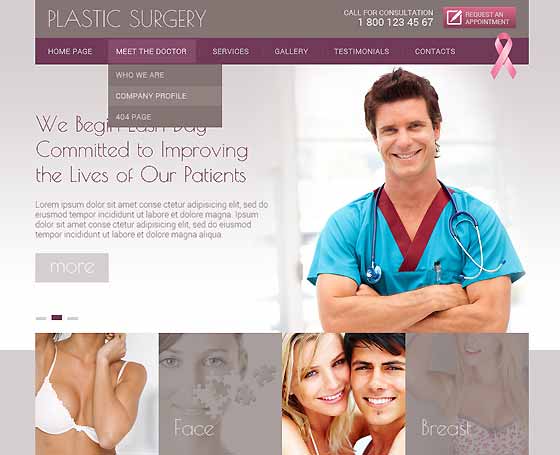 $17


| | |
| --- | --- |
| Date of Creation: | 31 May 2016 |
| Last Update: | Never |
| Compatible Browsers: | IE, Chrome, Safari, Firefox, Opera |
| Software version: | Bootstrap 3.x |
| Files included: | HTML, CSS, JS, Files, Images, PSD |
| Documentation: | Well Documented |
| Layout: | Responsive |
| Tags: | medical website templates, medical website design, medicine template, hospital website templates, hospital template, best medical website design, medical web design, medical templates, medical template, template medical, doctor website template, doctor template |
| Type: | Bootstrap Themes |
| Categories: | Medical Themes |
| item #: | 28942 |
©
All Rights Reserved Gridgum