Information
Related Templates
Comments (0)
Military Bootstrap Website Template
Introducing our military academy responsive bootstrap template. If you are about to launch your military academy or upgrading your website, here is what we have for you. A beautiful template starting with 6 general page information which highlights a different section of your website. Beside that comes our beautiful slideshow which has as the main objective to deliver different aspects and purpose of your school with a military color background that keep your audience aware of the seriousness of your business.
After that comes our card layout display which introduces various activity whether academic such as "our principals" and "military exercises" or fun activities that you can also advertise on, like "football team" in our template. In the end, we provide you with an opportunity to introduce with more words your school to your audience. We are allowing you three short paragraph that consists of welcoming people to your academy, stating your mission and announcing your latest news.
Last but not least, our templates packages include 1 month of free host account at www.m9host.com site. Adding that cost to the free pictures that are included in our templates, we are proud to be your cheapest pathway throughout an excellent successful business.
So if you are new in the web development or this will be your first website, we recommend you to download the free bootstrap theme. After gaining some experience, then you can upgrade your website and purchase some premium version of Bootstrap template which can be seen and purchased here: Bootstrap templates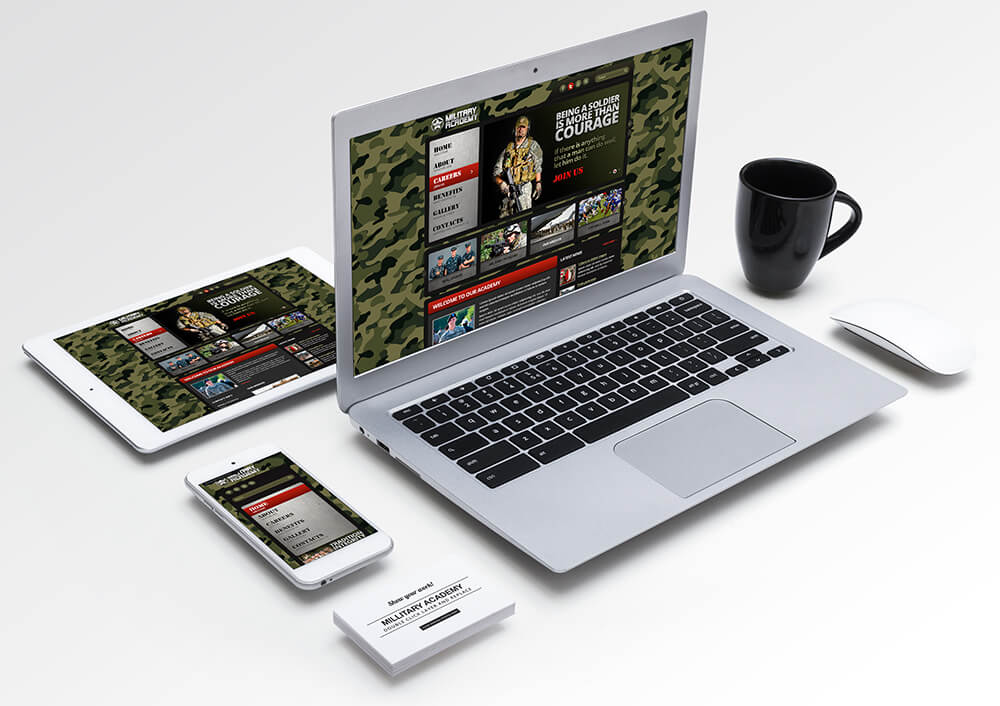 Below is a brief highlight of our website design:
Responsive background slideshow with HD pictures.
Pictures are included in the theme.
Animated menu.
Fully responsive.
Ability to Search
Social network logos, Facebook, Twitter.
Vertical Page Display:
Home Page.
Careers
Benefits
Gallery
Contacts
Card layout:
Our mission
History of Academy
Football Team
Our Principals
Real stories
Military express.
Vertical List layout:
Welcome to our academy
Latest news.
Contact information's
Our mission.
If there are any customizations needed, please let us know and we will be happy to help you
$9


| | |
| --- | --- |
| Date of Creation: | 1 May 2016 |
| Last Update: | Never |
| Compatible Browsers: | IE, Chrome, Safari, Firefox, Opera |
| Files included: | HTML, CSS, JS, Files, Images, PSD |
| Documentation: | Well Documented |
| Layout: | Responsive |
| Tags: | military template, military website templates, military web templates, education templates, education website templates, university templates, college templates, university website templates, college website templates, responsive web templates, army website template |
| Type: | Bootstrap Templates |
| Categories: | Education Templates |
| item #: | 28283 |
©
All Rights Reserved Gridgum