Pizzeria Website Templates
It is undoubted that Pizzerias and Italian restaurants are all the rage nowadays and will be so many more years to come. This is business that is sort of bound to be successful. So, if you are thinking of opening a pizza shop or restaurant or if you already own one, these templates are perfect for you. Gridgum's web designers created the templates listed below considering every little detail of pizzeria and restaurant business. The templates listed below are fully responsive and easily manageable by future admins.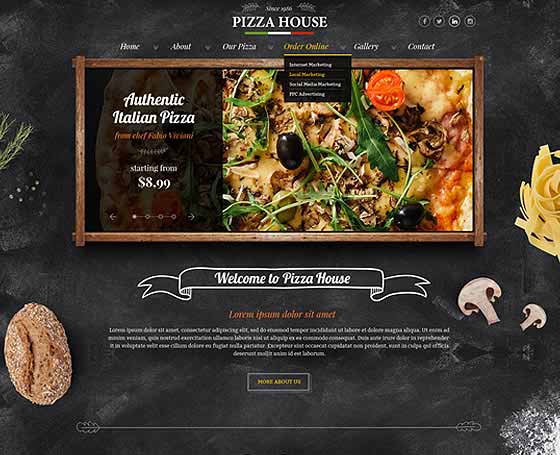 We want to introduce you the latest Pizza and Beer Houses HTML Bootstrap Template, which is created with bootstrap HTML, CSS and Javascript Framework. Pizza bootstrap template is made for the customers who already have this kind of a business, for instance: Pizzeria, Pizza restaurant, Beer pub or Italian restaurant. We thought for a long time which type of template to make, or create CMS template (wordpress joomla) or simple bootstrap template. Our choice stopped on HTML bootstrap template, because the Pizza restaurant, this business does not include many products ...
This is Pizza Bootstrap template which is suitable for businesses and companies which produce pizzas. Nowadays, internet is the place where most of the time the information is gained therefore use the chance and create your own website. Demonstrate your product and tell to potential customers why your pizza is the best with highest quality. This template can be used by a restaurant that offer pizzas or chain of bakeries and etc. If you have no experience with html bootstrap and have never dealt with templates, then start with free version of Bootstrap templates, which can be previewed here...