Information
Related Templates
Comments (0)
The Pizza Bootstrap theme (template)
This is Pizza Bootstrap template which is suitable for businesses and companies which produce pizzas. Nowadays, the internet is the place where most of the time the information is gained therefore use the chance and create your own website. Demonstrate your product and tell potential customers why your pizza is the best with the highest quality. This template can be used by a restaurant that offers pizzas or a chain of bakeries and etc.
If you have no experience with HTML bootstrap and have never dealt with templates, then start with a free version of Bootstrap templates, which can be previewed here: https://goo.gl/uMQ4wg
If you have never created a website using the template, then our team will help you with every step of this relatively easy process. We are offering you two different articles which will explain in a detailed manner the steps to build up the website. There are:
After reading these articles you will not feel confused anymore but if you still do please ask the questions and we will be more than happy to assist you.
If you still prefer to have Premium version of Bootstrap template, then follow the distributed link and look through the full collection of premium themes: https://goo.gl/xJKj1v
One of the best things about Premium templates is that once you paid for it you will get the upgraded versions every time we add some new pages or features in it.
To edit the Bootstrap template, you will have to acquire any HTML editor like, Adobe Dreamweaver, which will readjust the theme based on your preferences and wishes. If you have some questions about Bootstrap, how it works and please follow this link, which will forward you the detailed article about Bootstrap: https://goo.gl/i2B2ZU
The Bootstrap template is fully responsive which means that it can be accessed from every device like mobile phones, tablets, and computers. The best feature of the responsive template is that it changes its design based from which device it is accessed. In other words, your website's design will always look perfect, to ensure you please see the images distributed below: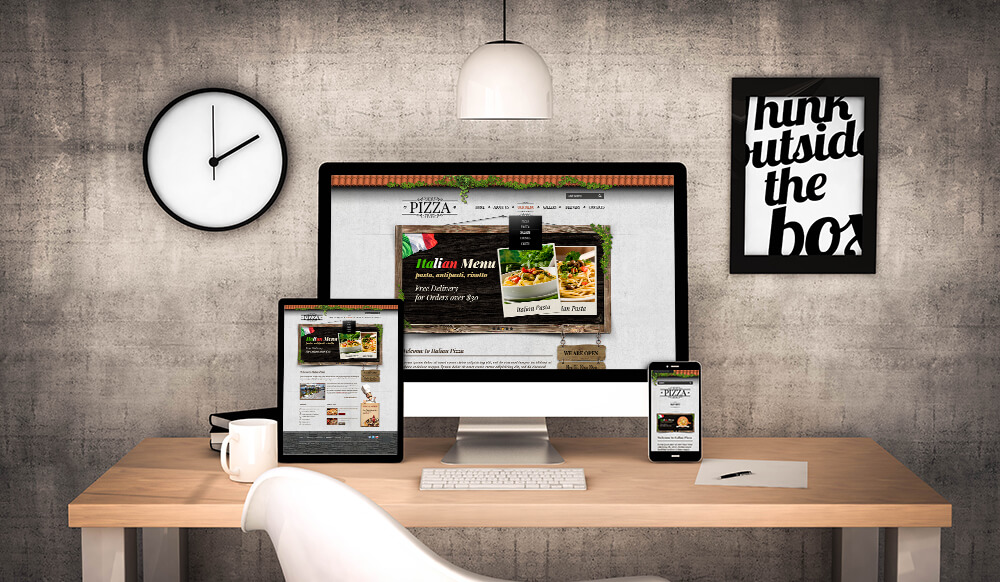 To better demonstrate the meaning of responsive template and how it alters the design please click on the button "Live Preview". On the upper side of template there are distributed three icons computer, iPad, and iPhone and by clicking on them you will see how this exact theme will appear on those devices.
The Pizza Bootstrap theme is suitable for companies and businesses that produce pizzas, the provided template will give an opportunity to deliver all the important information to potential customers. It has 6 different sections to represent all the data:
1. Homepage: here you can post the most recent and upgraded information about your company. The homepage is the first impression on customers so try to make it as impressive as possible.
2. About us: Here you can post about your company, why it was created, who are your partners, customer segment and etc.
3. Menu: The most important section of the whole template, here you will be able to represent the products that you offer. Describe them in a detailed way, include the ingredients prices and etc.
4. Gallery: Here you can demonstrate your products through the pictures. It is always better to include also image content because it increases the credibility in the quality of the product.
5. Delivery: If you offer also the delivery service then you can dedicate this section to that service. You can demonstrate the places where delivery services are available and of course the price range of that service.
6. Contact: Here you can share your contact information like phone number, email, address and etc. We also offer the contact form to make the communication process easier between you and your customers. There is also included the Google Map location tool that shows your exact address.
If you do not know how to set up the Google Map location, then please follow this link which will show the detailed article about it: https://goo.gl/dYNXQn
As you see this Pizza Bootstrap Template has everything that is needed for companies and business that offer pizzas to their customers. It also includes the content images so all the pictures that you see can be used without any additional charges.
If you have some questions, please leave them in the comment section and our support team will get back to you as soon as possible. To make the explanation process smooth, we offer the video tutorials to answer your questions and fill out all the gaps.
Pizza Website Template package includes:
all original files;
all pages designs in .psd (Photoshop) format;
working contact form released in PHP;
all content images (all images are legal and has bought from www.yaymicro.com) included
Photo gallery section;
$5


| | |
| --- | --- |
| Date of Creation: | 16 July 2015 |
| Last Update: | Never |
| Compatible Browsers: | IE, Chrome, Safari, Firefox, Opera |
| Files included: | HTML, CSS, JS, Files, Images, PSD |
| Documentation: | Well Documented |
| Layout: | Responsive |
| Tags: | pizza website template, pizza templates, pizzeria website templates, template pizza, pizza site template, pizza html template, pizza website design, Best bootstrap themes, best bootstrap templates, restaurant website templates, pizza restaurant website templates, cafe templates |
| Type: | Bootstrap Templates |
| Categories: | Cafe Restaurant Theme |
| item #: | 22355 |
©
All Rights Reserved Gridgum