Information
Related Templates
Comments (8)
Travel Agency HTML Bootstrap Template
Traveling is very important for most of the people on earth. We all have only one life and most of us wish to see many parts of our world! Therefore, there are many companies who want to offer these services to people. Technology is evolving very fast and people are already lazy to go and reserve flight tickets, hotels, car rentals or even cruises, therefore we decided to make it easier as for companies as well as for their customers! We created one of the most amazing and beautiful for people or companies exactly in this situation.
If you use our template as your website, you can give your customers the ability to search for flight tickets, hotels car rentals or cruises, maybe all of them if you offer all of these services. Moreover, they can also have the ability to buy their selected service with your help!
We have updated template, the last update includes: a new (2nd) version of the home page (with video background)


We want to mention that we also have a WordPress version of this template, where everything is already functional. If you are inexperienced we recommend you the WordPress version, which can be seen here:
https://gridgum.com/themes/travel-agency-wordpress/

This template was created with Bootstrap and HTML frameworks. It is responsive and has flexible design layouts. You or any viewer of this template can see it from different devices like PC, laptop, tablet or smartphone and it will change design according to the screen size so that it looks perfect on each one of them. It has a very beautiful text slideshow and includes 13 HTML pages. It has flight, cruise hotel or car rental pages that are functioning amazingly.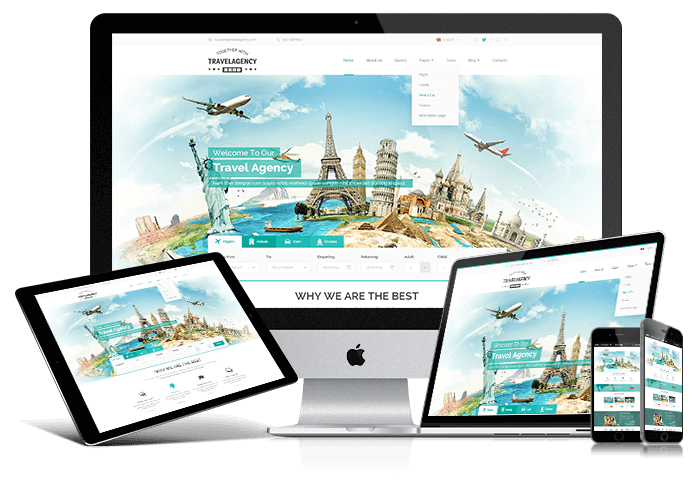 We would also like to mention that it has its own blog, where you have the ability to view all of the posts on either the left side or right side of the page, the choice is yours! The same thing is happening for the blog post itself. Though, if you have a wish to view it on the full page, you have the possibility of that too.
The travel template gallery is perfect with Masonry working script. You also have the ability to choose the language for the website. There is a listing of the languages, however, if you do not see one that suits you, do not worry - you can add it easily!
In conclusion, this template is one of the best travel agency bootstrap responsive template(theme) on the entire web. Moreover, anyone who wants to buy this template has the ability to get free hosting on www.m9host.com
If you have any questions or concerns, please do not hesitate to reach out to us by writing us in the comments section! Our amazing support team will record a special video tutorial specially for your needs. However, we would also want to mention that this template has step by step documentation on how to customize each section.
Travel agency website template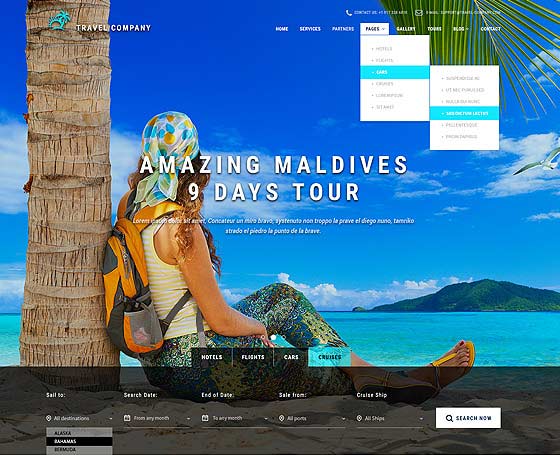 $20


| | |
| --- | --- |
| Date of Creation: | 4 March 2016 |
| Last Update: | Never |
| Compatible Browsers: | IE, Chrome, Safari, Firefox, Opera |
| Software version: | Bootstrap 3.x |
| Files included: | HTML, CSS, JS, Files |
| Documentation: | Well Documented |
| Layout: | Responsive |
| Tags: | travel agency website template, tourism website templates, travel template, Travel website templates, travel agency website templates, travel site templates, travel agency template, template travel, travel html templates, Best bootstrap themes, best bootstrap templates, HTML templates |
| Type: | Bootstrap Templates |
| Categories: | Travel Themes |
| item #: | 27004 |
©
All Rights Reserved Gridgum