Information
Related Templates
Comments (0)
Wild Horse - HTML5 Bootstrap website template
We would like to represent a brand new Wild Horse HTML 5 Bootstrap template. This suggested template can be used by various companies who are interested in Equestrianism (More often called Horse riding). It is a great fit for the businesses that are involved in Horse club and breeding. This highly developed template is created by bootstrap, CSS, JS, and HTML5 (jQuery) frameworks.
In the XXI technology is advancing so rapidly and significantly that the most important part of the template is that it should definitely be responsive. The reasons are that, in this time and age, people not only use computers to look up information on the Internet, also they use iPads, Notebooks, Cell Phones, Androids and etc. Thus it is very important that the site is responsive. Let us recall what does responsiveness mean. Responsive means that the design and dimensions of the website will greatly adjust the devices which it is opened by. There will be no changes; it will look like as amazing as it is.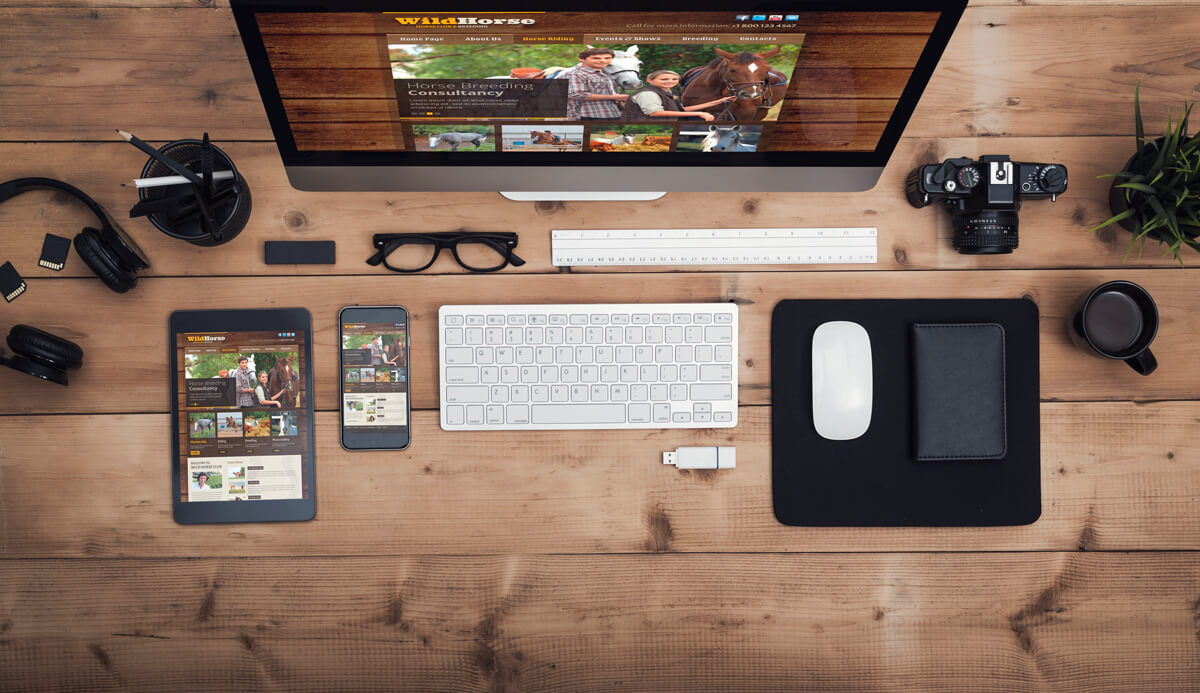 ---
Now lets briefly discuss the pages every step of the way.
Home Page- As you can see on this very first page here is an amazing slideshow. Here you can use as many pictures as you wish. Below the slideshow, there is given Membership, Riding, Breeding, and Photo Gallery Frames and all of them have a little description below the pictures. Under this frames there is a section which says "Latest News" and there is shared all the new information which is interesting to the viewers. Also, next to it there is a little welcome speech for visitors.
About Us- the category name shows directly that here should be considered all the details, which companies offer. As you can see the very first thing is "Little About As", here is given all the necessary information about the company. Next to it is "What we Offer", a list of all the products they are offering to the customers. Under those there is "Our Stuff", here is all the colleague's photos and a little description about what they are doing. Next to there is "Services" and the name directly shows that under that should be written all the services, which are offered by this company.
Horse Riding- On this page, you can see two very important information, which is: "About riding "and "Our Horses". Under "About Riding" can be written useful information to visitors such as: Who can help you to study riding, what are the rules, which should be obeyed, and etc.
Events and Shows- The page gives you the opportunity to know every future planned event and even the previous ones. Under the "Most Popular Show" is written about the event, which is considered to be highly demandable and popular among visitors. Moreover, there is a section, which says "Coming Soon" here will be posted all the planned events, and next to it there is "Event's Archive", here is all the past horse riding completion.
Breeding- It is simply a gallery page where you can upload photos under categories and also show all at once.
Contacts- On this page here is given all the necessary information, which will help the customers to track down the company. Here is given a Google Map location also, street number, phone number, email address and contact form.
However, in previous times customers had a problem setting up the Google map location, thus we recommend you to visit this page https://gridgum.com/How-to-Set-Google-Map-Location-in-Bootstrap-Template/, where are written articles about how to set up Google map location.
Looking back at Gridgum's statistics there were a lot of incidents when clients had problems working around HTML5 bootstrap. Thus, our team worked hard to solve this problem and make convenient for the users and we created a huge collection of Free Bootstrap templates. You can visit that page and download one of the themes and try to manage to work with it. This collection can be seen here: https://gridgum.com/themes/category/free/html5-templates/
In the end, if you come across with a problem just even simplest one, do not hesitate, just write about it in the comment section and our team not only respond as soon as possible, they will also create a video tutorial just for you.
$19


| | |
| --- | --- |
| Date of Creation: | 11 July 2015 |
| Last Update: | 11 July 2015 |
| Compatible Browsers: | IE, Chrome, Safari, Firefox, Opera |
| Files included: | HTML, CSS, JS, Files, Images, PSD |
| Documentation: | Well Documented |
| Layout: | Responsive |
| Tags: | responsive web templates, web templates, website templates, bootstrap templates, responsive website templates, HTML templates, HTML website templates, html5 website templates, HTML5 Themes, pet website templates, templates for animals, template animals |
| Type: | HTML5 Templates |
| Categories: | Miscellaneous |
| item #: | 22300 |
©
All Rights Reserved Gridgum