Information
Related Templates
Comments (0)
Business - bootstrap 4 Website Template
First and foremost, we would like to mention that Gridgum team has promised you when they put up this free PSD website template: https://gridgum.com/themes/business-free-psd/, that they will create HTML one. Thus, we have full field our promise and created the Bootstrap HTML version of the business template, which is a landing page. Also, we will continue to create free PSD pages and also, add more pages to this template too. This is a great opportunity for the beginner designers to see the how we created HTML version from PSD. But if you do not have any experience and want to get familiar with bootstrap, you can go and visit our free bootstrap templates section here: https://gridgum.com/themes/category/free/ and download as many as you want for trying out your experience.
This Business template is created by new technology - Bootstrap 4, which is highly demanded nowadays. There is not a huge difference between Bootstrap 3 and 4, but as it is the new version the demand is high. We tried our best to make this template as cheap as possible for our customers.
As any other our templates, this one is responsive too. Responsive indicates that the design and dimensions of the template will perfectly adjust the device, which it is opened by.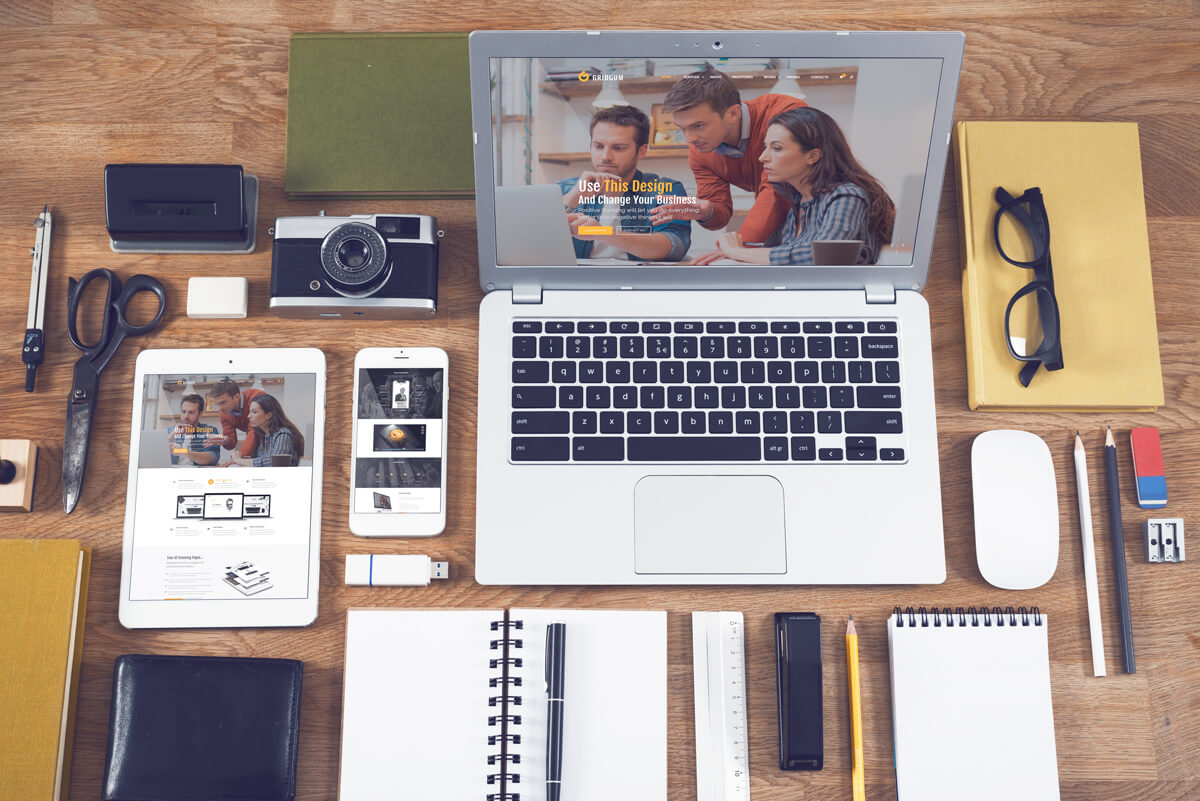 Now let us discuss every section of this template.
Home- As you can see, here given a slide show. Its pictures are not limited, thus you can upload as many as you wish.
Services- In this section, you can briefly discuss what are the services, which you are offering to the customers. However, you can make it any others section which you like.
About- here you should briefly discuss the history of the company, when and by whom it was created. Also, write about the achievements, which the company had, and etc.
Pricing- In this section, you should put up the example of several products prices. In this case, as you can see we gave an example of three things: Free trial, Standard, and Premium. Under this, there come several things, which is an example of how you should fill this section fully. At the end of this section, there is a YouTube video, it is just for an example, to see how it will look like because most of the customers put up videos. There is also "Latest post" in this section, where you can see the posts, which are newly written and popular. Under that, there is a testimonial, where customers write their opinions about this site.
We always take into account things, which will satisfy the needs of our customers. Thus, we can proudly say that our support team is the best.
If you have any questions or find some difficulty understand the template, please write it in the comment section and support team will respond as soon as possible. To make it clear for you, they will create step-by-step video tutorials too.
$7


| | |
| --- | --- |
| Date of Creation: | 6 June 2018 |
| Last Update: | Never |
| Compatible Browsers: | IE, Chrome, Safari, Firefox, Opera |
| Software version: | Bootstrap 4.x |
| Files included: | HTML, CSS, JS, Files, PSD |
| Documentation: | Well Documented |
| Layout: | Responsive |
| Tags: | business, business templates, business template, bootstrap 4 templates, bootstrap 4 themes, bootstrap 4, bootstrap themes, bootstrap css, bootstrap website templates, bootstrap 5 templates, bootstrap 5, bootstrap html, bootstrap, bootstrap responsive |
| Type: | Bootstrap Templates |
| Categories: | CSS Templates, MultiPurpose Themes |
| item #: | 30974 |
©
All Rights Reserved Gridgum