Information
Related Templates
Comments (0)
Cleaning - free Bootstrap HTML Template
Now it is time to represent new Free Bootstrap template - Cleaning. This template is created by CSS, JS, HTML5 (jQuery) and Bootstrap frameworks.
This template is free of charges; it indicates that we do not expect you to pay any amount of money when you download it.
Moreover, we do not request any backlinks or advertisement from our customers for using this free template for commercial and non-commercial reasons.
Nowadays everyone wants to live not environmentally safe place but also it should be absolutely clean. Thus, this theme is a great fit for the businesses that are offering on the marketplace cleaning products, cleaning services, maid services and etc. The theme has a high-quality design because our incredible team worked on it very hard.
In this time and age, people have different types of devices, which are used in their everyday lives. Thus, nowadays temples priority is that it should be responsive and this theme is truly responsive. Let's explain what does it mean. Responsiveness indicates that design and dimensions will look exactly the same, as incredible as it is no matter which devices a person uses. It will greatly adjust the device.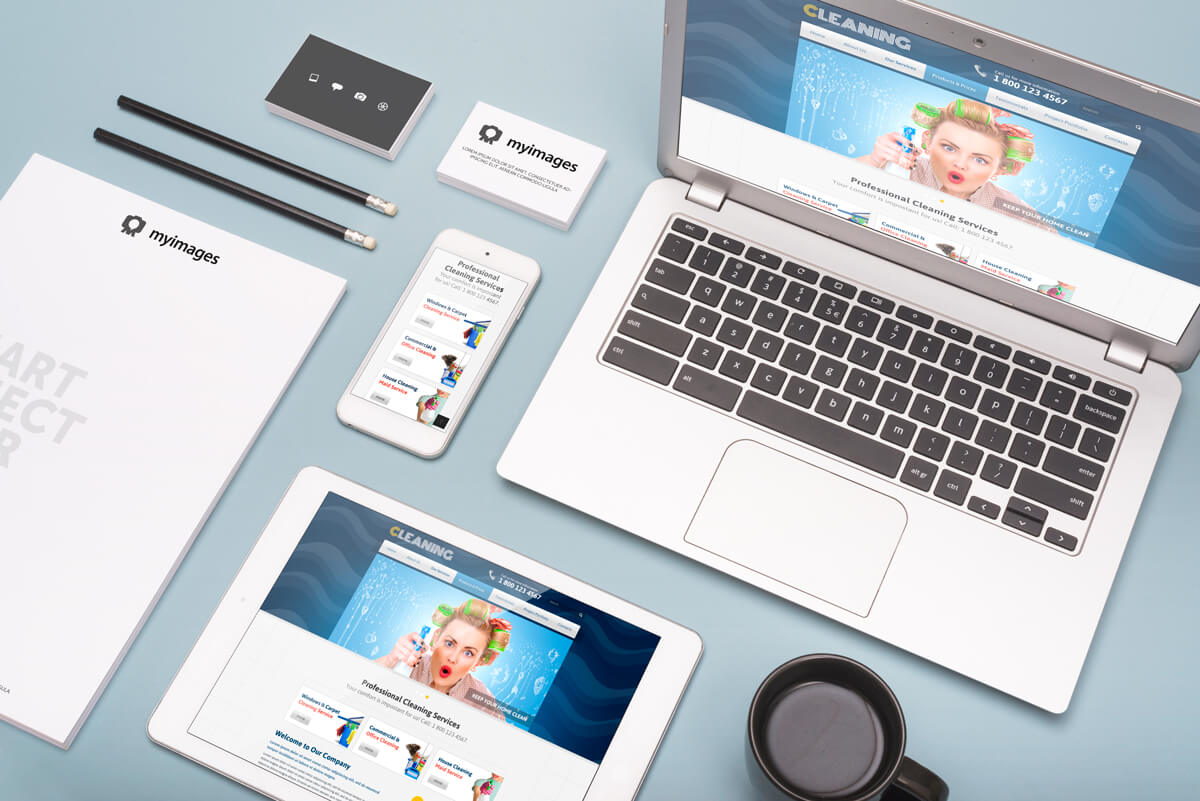 Although it is a great fit for the businesses that are offering on the marketplace cleaning products, cleaning services, maid services, some customers do not find the themes opportunities enough to use it for their business,
in this case, we can offer a wide range of other free bootstrap templates and you can see all of them here:
https://gridgum.com/themes/category/free/
Now lets' review the theme in the detailed form
Home - As you can see on this page here is a great slideshow where you can put up as many pictures as you want to. Bottom of the slideshow where you can see a title "Professional Cleaning Services" here you should indicate all the services which your company is offering to the customers. Under that, there is a welcoming word, which can be short and specific. In the end, you have some articles about the latest news and from here on the right, there is also a list where you indicate the services.
About Us - On this page, as you can see you can write about What you are offering, Put up some pictures and write about a brief description about your staff members and also you can write welcoming words for the customers.
Our Services - This page is for the services, which the company is offering. Here you can put up some pictures to make the website look more attractive to the customers and also write a little description of each service.
Products & Prices - A company can provide services and product on the marketplace at the same time. Here you should write about the products, which you are selling such as cleaning products, gloves, buckets and etc. Also as it can be concluded from the title you should also provide the pricing information.
Testimonials - Here is all the information from the customers who are making some comments and suggestions about the company. This page is very important every future customer will look for this comments to decide whether to buy your products or not.
Project Portfolio - The Portfolio page has categorized the photos. Here you are able to put up photos in categories depending on what in this photo, what does it indicate and also it can put every photo together.
Contacts - As you can see here is indicated every existing source, which can help you to find the place. Telephone number, Street address email and contact form all of this is here. Moreover, the page gives Google Map location to make easier to find the place.
However, if you find some difficulty setting the Google map we have a lot of articles written about I and It will definitely help you to solve this problem, just read the articles here: https://gridgum.com/How-to-Set-Google-Map-Location-in-Bootstrap-Template/
There has been a lot of situation when the template is downloaded from the person who has no experience how to work with it. Thus we provide a lot of articles about how to work with the template. One of the most problematic and popular among customers is the article about "How to publish bootstrap template on the server" which can be seen and read here: https://gridgum.com/How-To-Upload-Bootstrap-Template-On-The-Server/
We can proudly say that our support is the best in the entire marketplace. If you have any question please write it in the comment section and our team will not only give a detailed answer but they will also create a step-by-step video tutorial for every problem you have.
Free
Download
| | |
| --- | --- |
| Date of Creation: | 6 April 2018 |
| Last Update: | Never |
| Compatible Browsers: | IE, Chrome, Safari, Firefox, Opera |
| Files included: | HTML, CSS, JS, Files, Images, PSD |
| Documentation: | No documentation |
| Layout: | Responsive |
| Tags: | free html templates, free html website templates, free html5 templates, bootstrap templates free download, bootstrap free templates, free bootstrap website templates, free website templates, free responsive website templates |
| Type: | Free template |
| Categories: | Free CSS Templates, Free HTML5 Templates |
| item #: | 30958 |
©
All Rights Reserved Gridgum