Information
Related Templates
Comments (23)
Professional computer repair Bootstrap Template
Your new website will quickly adapt to any gadget with any screen size the user has in hand right now. Text and images are flexible as well, so they will render correctly. This will boost your conversion as your visitors will not be restricted by any limits in terms of their location and device.
With the computerized era, that is the 21st century, it is not so unexpected that repair of personal computers and gadgets is a highly developing and successful business. Our computer service template will allow your business to take on a more sophisticated image, furthermore, it will make customer relationships simpler, as it the means for better informing and establishing communication with potential customers. If you are in a computer repair related market or business and still don't have a website than Gridgum has got you covered. Our PC repair template has the menu located at the upper right corner with 7 main categories for Home, Services, 24H Repair, Prices, Testimonials, Blog and, of course, Contact. These 7 categories are created considering every little aspect and detail of this business. We think it's quite clear what each one stands for, so we won't bore you with the details. Below the main menu, you can see our stunning slideshow. After that are all the service details in the same order as the main menu on top of the homepage. With this sort of design, it is easier for the website's visitors to navigate through the site and quickly find exactly what they are looking for.
This is a responsive Bootstrap template, which means this website changes its design to adapt to different devices, so it actually looks good on any one of them, like PCs, laptops, Smartphones, and Tablets. Gridgum has support like no other template provider. If you purchase this template and find out, that some things are unclear or you are having trouble customizing or managing it, please let us know by leaving a question in the comments section above and we will answer you with a video tutorial explaining everything thoroughly.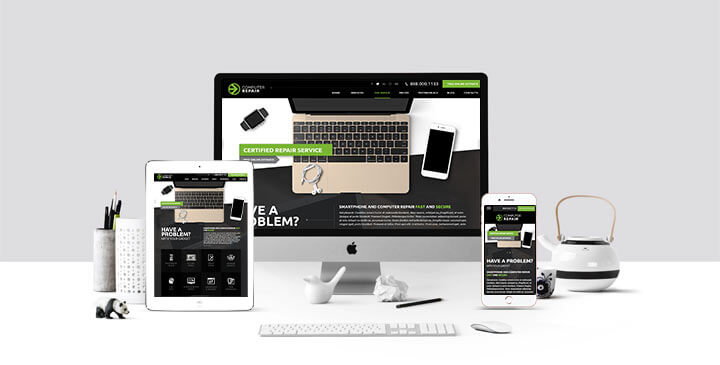 Our website template packs consolidate 1 month of free host account at www.m9host.com site. It should be noted, that the template package does NOT include the content images that you see on the demo preview page.
Below is a brief highlight of our website design:
Responsive background slideshow.
Animated menu.
Fully responsive.
Social network logos, Facebook, Twitter, and YouTube.
Pages:
Home
About us
Product
Prices
Contact
Card layout:
iPhone
Hard disk
Cartridge
Laptop
TV and Monitor
Vertical List layout:
What we do
Who we are
Testimonials
If there are any custom changes needed, please let us know and we will be glad to help you!

$19


| | |
| --- | --- |
| Date of Creation: | 1 March 2017 |
| Last Update: | Never |
| Compatible Browsers: | IE, Chrome, Safari, Firefox, Opera |
| Software version: | Bootstrap 3.x |
| Files included: | HTML, CSS, JS, Files, PSD |
| Documentation: | No documentation |
| Layout: | Responsive |
| Tags: | computer repair html template, computer repair template, computer repair website template, pc repair template, pc repair website template, Computer service template, computer service website template, computer service website templates, computer template, HTML templates, HTML website templates, best bootstrap templates, bootstrap themes, bootstrap css, bootstrap website templates, bootstrap html, bootstrap, bootstrap responsive, bootstrap 3 |
| Type: | Bootstrap Templates |
| Categories: | Computer Repair Themes |
| item #: | 30880 |
©
All Rights Reserved Gridgum