Information
Related Templates
Comments (0)
DJ MixMaker responsive Bootstrap Theme
Gridgum is pleased to announce the addition of a new Bootstrap theme – DJ MixMaker. As it is clear from its title, this template is made especially for DJs and has everything that a beginner or a professional might require.
It has 6 main menu items:
Homepage – with a centered slide show and a horizontal list of upcoming events, where visitors will be able to listen to your music. Below "upcoming events" there is a section for awards, where you can input all of yours.
About – Has sections "little about DJ" and "what I do" both of which you can use to introduce yourself to potential listeners. At the bottom of the page, it has a special place for testimonials.
Music/Events has a drop-down menu for "My Music", "Events", "Downloads" and "New Music". This main menu page is where you can upload all your new tracks, so people will be able to listen by online music mp3 player whenever they want. It also has a section entirely based on events.
Services & Gallery – we think it's quite clear what these pages' content can be and doesn't require elaboration, and finally,
Contact us - a section that holds all your contact information, a map to your location and most importantly, a contact form, so your listeners and event makers have no trouble reaching you.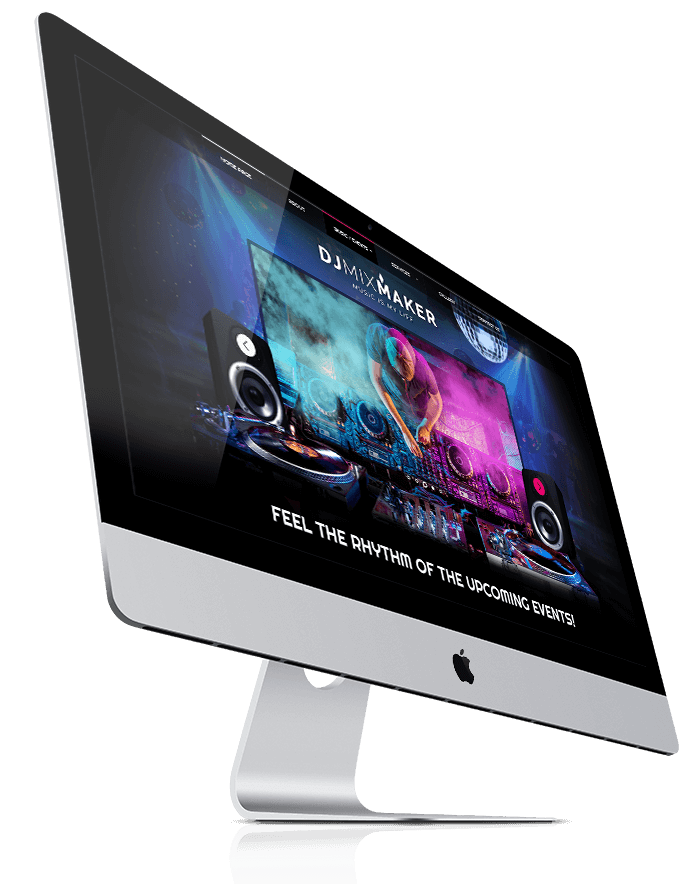 Trendy music styles were always changing and in the 21st-century electronic music is all the rage. We think having one's own website, makes one look more sophisticated, regardless of the type of job or career. This Bootstrap theme includes all the images that you see on the demo Preview page.
This is a Bootstrap theme, for those of you who don't know Bootstrap isn't like your everyday, average front-end framework. It is a very popular, mobile-first and device responsive framework.
Nowadays, all computerized pocket-size devices have gained more popularity than PCs and laptops. Moreover, people like to gain information as quickly and easily as possible, so Bootstrap is the perfect framework due to its responsiveness. It has the ability to change its layout and design according to a device's screen size, so it looks good and works well on any device.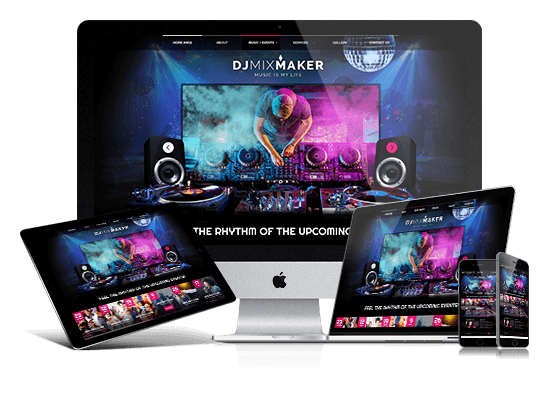 Bootstrap is a fairly easy system to manage, but if you still have any doubts (especially if this is your first time buying a website) on whether or not to purchase this template, we suggest you read our template shopping guide article here: https://gridgum.com/a-perfect-guide-to-template-shopping/ 
Also, if you do not have much experience in bootstrap, we would recommend for you to read the following article as well: https://gridgum.com/How-To-Upload-Bootstrap-Template-On-The-Server/
If you feel like you still lack the experience necessary, try out a free Bootstrap template first and purchase one, only after you think you are ready. You can see our Free Bootstrap Themes here: https://gridgum.com/themes/category/free/
After all of this, if you still have some questions or need help with anything related, our team is glad to provide full life support service to anyone who purchases one of our templates. This life support service includes making special video tutorials upon your every request. All you need to do is leave a comment in the Comments section above and Gridgum's team will do its best to leave you satisfied with step-by-step video tutorial answers to your every question.
Note: All Preview images are included in the template package.
$19


| | |
| --- | --- |
| Date of Creation: | 24 May 2017 |
| Last Update: | Never |
| Compatible Browsers: | IE, Chrome, Safari, Firefox, Opera |
| Files included: | HTML, CSS, JS, Files, Images, PSD |
| Documentation: | Well Documented |
| Layout: | Responsive |
| Tags: | dj templates, dj website templates, music website templates, music templates, Best bootstrap themes, Best bootstrap themes, best bootstrap templates, responsive website templates, website templates, night club website template, Music Themes, showcase your music, customizable layouts, professional DJ |
| Type: | Bootstrap Templates |
| Categories: | Music Themes |
| item #: | 30893 |
©
All Rights Reserved Gridgum