Information
Related Templates
Comments (0)
Freelancer - Bootstrap 4 Website Template (Theme)
In the 21st century and in this decade, everything is digitalized, and online space has never been this huge as it is now. The Internet has been the most frequently employed source to gain and spread information all around the world. The number of websites is increasing tremendously on a daily basis since it is the most convenient, easy, and fast way to advertise various products and services. Therefore, we are very excited to present the new Bootstrap 4 template that can be employed by web studios, design studios, freelancers, and many more to launch the website in a very easy way.

Nowadays, Bootstrap 4 templates are very popular on the market because they deliver a lot of benefits to their customers. By employing the Bootstrap theme one can easily create a website by investing a minimum amount of effort, money, and time. By acquiring this theme, you will acquire a foundation of a website that can be developed and re-designed base on your preferences. One does not need a thorough knowledge of programming or long-term experience with coding to deal with the Bootstrap templates. In order to alter the already existing design of the website, one has simply to download any HTML editor like Adobe Dreamweaver and change the framework based you his/her taste, wishes, and desire. If you are interested in Bootstrap template and want to gain more detailed information about it, please follow this link and read our articles about it: https://gridgum.com/blog/category/bootstrap/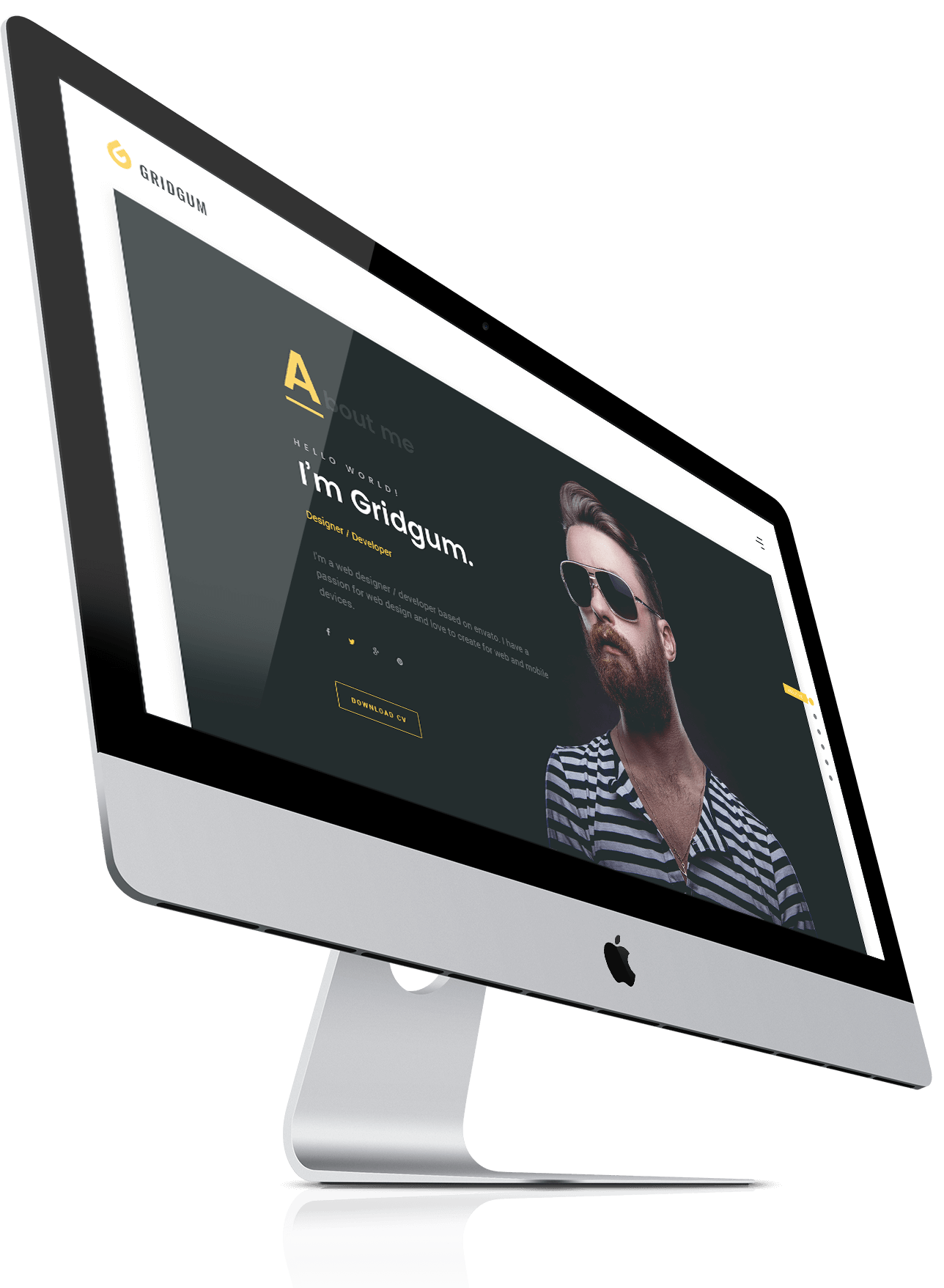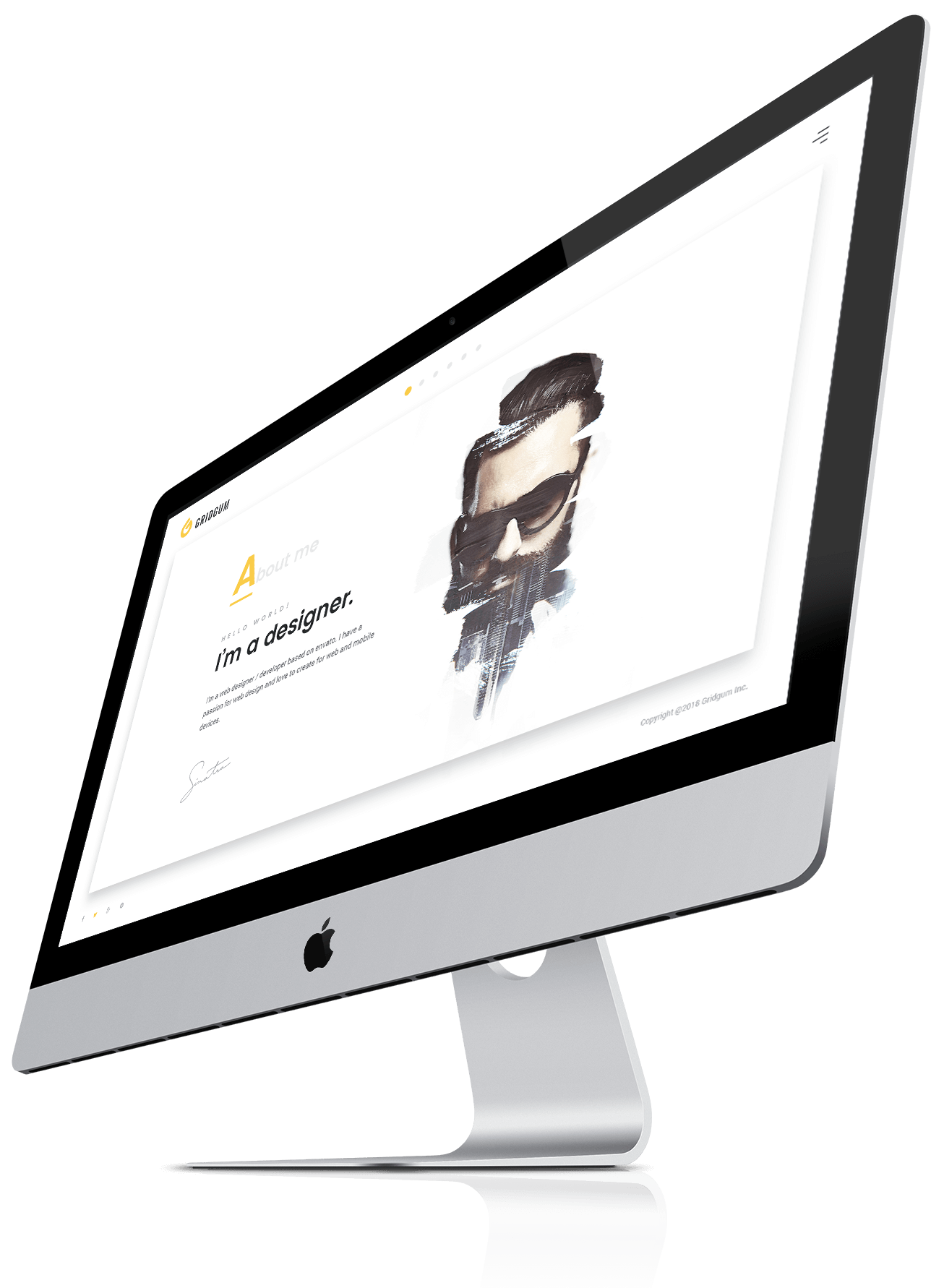 As it was mentioned about the provided Bootstrap website template can be used by various design studios, web designers, and freelancers to present their works and services. The given theme can be transformed into a personal website which will help to position yourself on the market and make you popular. Thousands of web designers are using websites and the internet to spread the word about themselves and show their portfolios to as many people as possible. So if you want to expand the horizons and increase the number of customers, the best option is to buy this HTML template and launching the website. The template has various distinctive pages that can be used to reflect on every detail of you as a designer or the company you work for. One can describe the services that are provided in a very detailed way, show the past projects and current portfolio. It also provides an opportunity to have a personal blog to discuss interesting matters with the viewers. Blogging is a very important part of advertising since it increases the traffic on your website, in other words, more and more people will visit your website. As a designer, you constantly have to be in touch with customers and the contact information has to be available to anyone who desires to use your services and "Freelancer" Bootstrap template also solves that issue. There is a separate page for contact information where customers will see all the details that are necessary to found you or your company.
The design of the template was created by one of the best designers of web space and therefore it is very sophisticated, authentic, and modern. Moreover, it is very simple and easily navigated so the viewers will never be confused and always find the desired information. The HTML bootstrap has a responsive design which means that website can be reached by any device like mobile phones, tablets, computers, laptops and etc. Also, the design of the website will be altered based on which device is used so on any screen the website will look flawless and decent.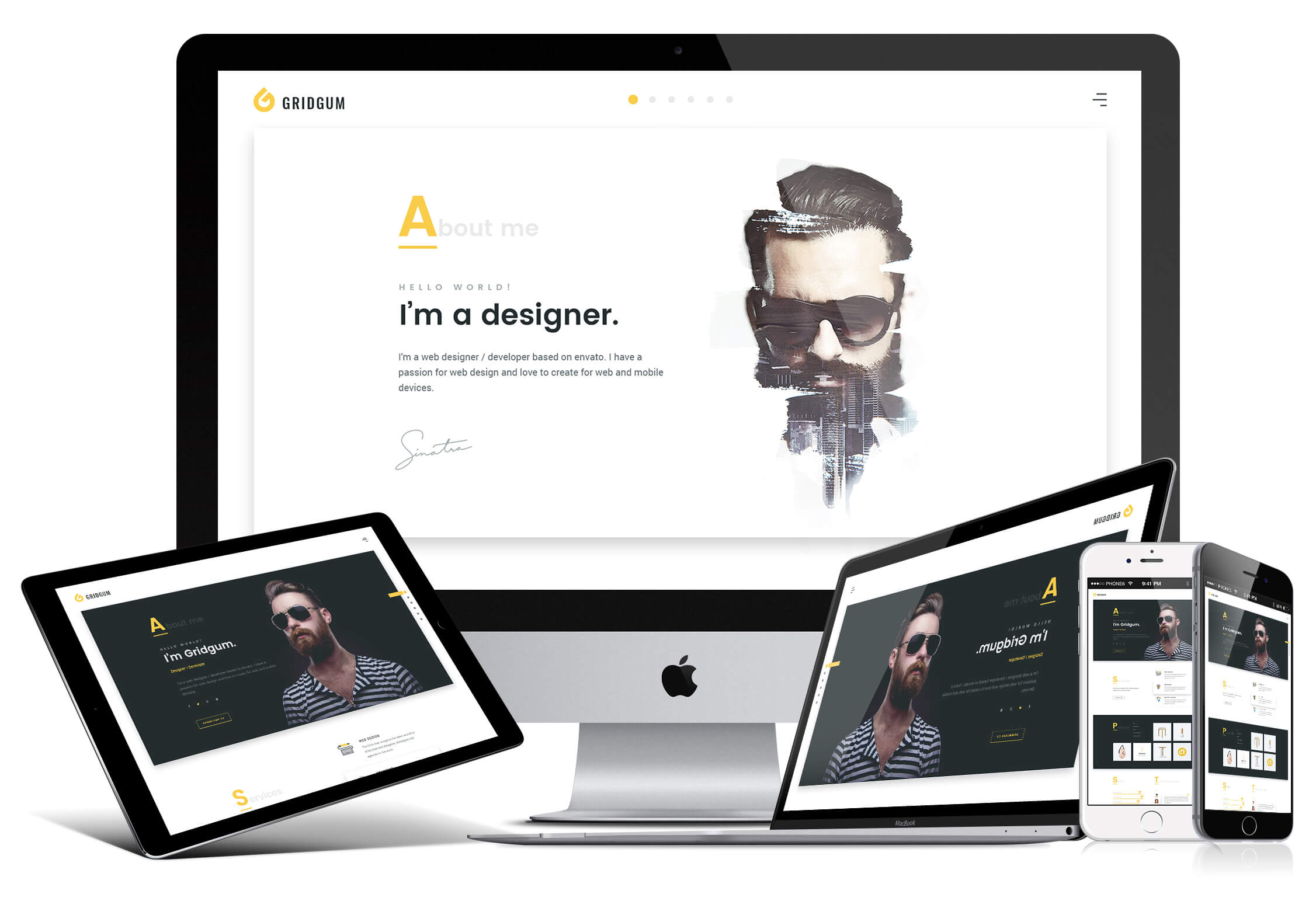 As a web studio, designer, or freelancer desiring to be highly demanded on the market must have an official website with all the important information. By acquiring our Freelancer - bootstrap template, we can assure you that the website will never have accessibility problems since it is compatible with various browsers like Internet Explorer, Google Chrome, Mozilla Firefox, Opera and etc. Launching a website means getting new opportunities, new potential customers, and new projects from all around the world so do not miss the chance and download the provided Bootstrap website template.
If you have never worked with Bootstrap templates and do not know how to run them, then feel free to use first, our Free Bootstrap templates that can be found here: https://gridgum.com/themes/category/free/
Working with free Bootstrap templates will help you to understand how these themes work and what outcome they deliver. When you will gain more confidence, then feel free to switch to Premium Bootstrap themes that can be found here: https://gridgum.com/themes/category/bootstrap-themes/
If you have any questions, please leave them in the comment section and our support team will answer them as soon as possible. To make the explanation processes smoother we will offer video tutorials that answer all the questions in a detailed way.
$17


| | |
| --- | --- |
| Date of Creation: | 17 January 2018 |
| Last Update: | Never |
| Compatible Browsers: | IE, Chrome, Safari, Firefox, Opera |
| Files included: | HTML, CSS, JS, Files |
| Documentation: | Well Documented |
| Layout: | Responsive |
| Tags: | creative, personal, personal page, landing page templates, landing page design, landing page html, HTML templates, HTML website templates, website templates, bootstrap 4, portfolio, portfolio templates, bootstrap 4 themes, bootstrap 4 templates, best bootstrap templates, bootstrap themes, bootstrap css, bootstrap website templates, bootstrap html, bootstrap, bootstrap responsive |
| Type: | Bootstrap Templates |
| Categories: | CSS Templates, Landing Page Templates, MultiPurpose Themes, Portfolio |
| item #: | 30935 |
©
All Rights Reserved Gridgum