Information
Related Templates
Comments (0)
Web studio - Creative Agency Bootstrap Template
We are happy to introduce our new Bootstrap template which is created by the latest Bootstrap 4, CSS and JS frameworks for creative agencies, web design studios, web developers, and all the companies with design-related services. The Bootstrap 4 theme can also be used by individual designers who would like to present themselves and their portfolios. The template design is very modern, authentic, and sophisticated because it was created by one of the best web designers. The provided HTML theme can be used to launch a highly functional website with a minimum amount of effort, time, and money. If you have never worked with website templates before and want to gain some experience, feel free to use our Free Bootstrap themes
After gaining some confidence in the suggested product, you can switch to Premium (professional) website templates, that have way more to offer. The collection of Premium HTML Bootstrap website themes and templates
Nowadays, Bootstrap 4 is very popular since they are traded for a very decent price and yet provide a lot of benefits. For instance, you do not have to have a thorough knowledge of programming or huge experience in coding. In other words, the fundamental work is already done, you just have to alter the design based on your preferences, tastes, and wishes. The website's design can be changed via any HTML editor, for example, Adobe Dreamweaver, PhpStorm, Brackets, or any other HTML editor.
As it was mentioned above, the suggested theme is for creative agencies and designers who are willing to present their works online, to as large an audience as possible. The template has all the necessary pages to reflect on all important information and deliver the necessary data to potential customers. The theme has six different pages and these pages are: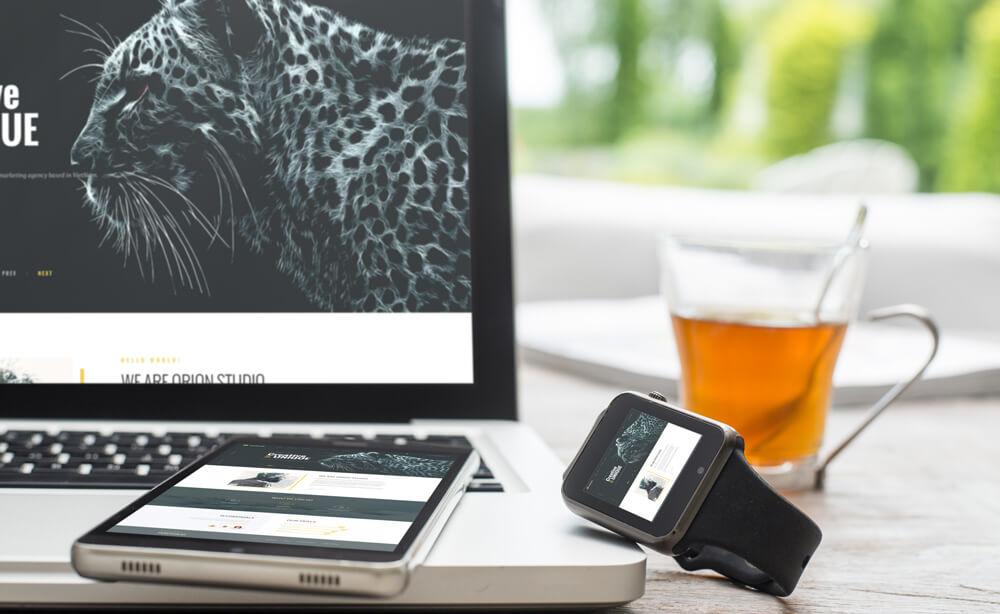 Home – On this page should be provided the most important and engaging information to make the viewers stay on the website as long as possible. One can use various creative images to raise the interest of customers. The images that are compromised in this Bootstrap template can also be used since they are already included in the charged fee.
About Us – On this page should be presented the company or agency history, for example, when and by whom it was founded. You can also include the mission and vision statements, future goals, and some fundamental principles. The more information is delivered more satisfied customers will be. Viewers like it when there is all the necessary information available since it increases the validity of the company.
Portfolio – In this section should be presented your portfolio which is a collection of past and current works. You can present as many works as you wish because there is no space limit. The projects can be classified based on categories, for instance, web, photography, game design and etc., or all projects can be presented together. The decision and the naming of categories are entirely up to you.
Services – On this page should be presented detailed information about the services you or your agency is offering. Include all the important details and persuade potential customers, you are the best service provider and problem solver. You have this space to position yourself as an agency that everyone wants to hire.
Blog – This section can be used to create a blog about the services that the agency is offering. But of course, it should also be about the activities and news that are related to the agency's interests and services. The post can be either right or left side the design is entirely up to you. Having an interesting and engaging blog will also help to increase awareness of your works among customers, so use this space to advertise yourself.
Contact – On this page should be presented the contact information like telephone number, email address, street address and etc. We also included the form via which customers will be able to send messages easily which will facilitate the communication processes. There is also provided with Google Maps which can be used to present the exact location of the company. If you do not know how to set up Google Maps, feel free to follow this link and read a detailed explanation:
https://gridgum.com/How-to-Set-Google-Map-Location-in-Bootstrap-Template/
If you purchase this Bootstrap 4 template, your website will always be easily accessible from various compatible browsers like Opera, Google Chrome, Internet Explorer, Mozilla Firefox and etc. The website will have a responsive design which means that it can be accessed through any device like personal computers, laptops, tablets, cell phones and etc. But the best thing is that the design of the website will be altered based on the device is employed. In other words, the website's design will always look flawless no matter which gadget is used to access it.
If you have any questions, please leave them in the comment section, and our support team will get back to them and answer them as soon as possible. The support team will offer video tutorials to make the explanatory processes as smooth as possible.
Black & white labels Bootstrap WordPress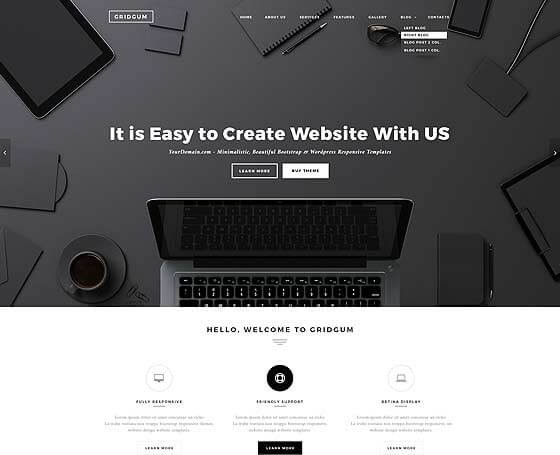 $18


| | |
| --- | --- |
| Date of Creation: | 9 January 2018 |
| Last Update: | Never |
| Compatible Browsers: | IE, Chrome, Safari, Firefox, Opera |
| Software version: | Bootstrap 4.x |
| Files included: | HTML, CSS, JS, Files |
| Documentation: | Well Documented |
| Layout: | Responsive |
| Tags: | creative, portfolio templates, portfolio website templates, template portfolio, HTML templates, HTML website templates, multipurpose templates, agency, bootstrap 4, bootstrap 4 themes, bootstrap 4 templates, best bootstrap templates, Best bootstrap themes, Creative agency, bootstrap themes, bootstrap css, bootstrap website templates, bootstrap html, bootstrap, bootstrap responsive |
| Type: | Bootstrap Templates |
| Categories: | CSS Templates, Miscellaneous, MultiPurpose Themes, Portfolio |
| item #: | 30933 |
©
All Rights Reserved Gridgum