Information
Related Templates
Comments (0)
Hotel "Delvatore" - Bootstrap 4 Theme
First and foremost, we can ensure you that this website has a magnificent design in the entire web. Our team has looked over every competitive hotels' designs and depending on that we tried to create the most creative and unlike hotel design. The Bootstrap Hotel website template gives us two versions: Summer hotel and winter hotel. It can be seen on the home drop-down menu (see the screen below).

The difference among those is not huge but we would like you to see and have an idea how it would appear on the screen.
This is a simple bootstrap template, thus it will be a great fit for Motels because those have a few rooms and the admin can control it easily with the help of this site. However, if it is a Hotel with a lot of rooms and services, the programmer should do some coding, put up a Booking system and after that the size of the Hotel will not be vital, it will convenient for all the Hotel businesses.
However, if you do not have any experience and find difficult to work around HTML Bootstrap, we have a Free website templates section created for that and you can go there, download one of them and try to gain some knowledge. The Free bootstrap templates can be downloaded from here: https://gridgum.com/themes/category/free/
If you look on the left top you will see two buttons, which changes the currency (Us, Euro, Pound Sterling, Georgian Lari and etc.) and the language (UK, German, Georgian, Russian). Furthermore, next to those buttons, on the right corner, you will see a "Sign in", social media links and Search box. If you click on the "Search" on the top there will appear this search box, where you can write anything, which you are looking up for. Under those, which we have mentioned above, is a Menu field that consists of Home, About us, Our rooms, Pages (here is every page which is created now for this template), Blog (Left and Right sidebars with posts.), and Contact.
As you can see, on the home page, here is a Booking form, however it definitely needs to be programmed. The "Booking" form consists of: Check in, check out, number of adults, kids, and type of the room and availability button.

Under this you can see a title "Little about us", here is used a slide show and text too. When the slides are changed the written text also changes. Although it is a "Little about us" section, you can use it anyways, which you choose. This little section gives you huge opportunities because you can use as many pictures as you wish and text too.
When you scroll down, you will see three rooms, which are given, as an example. This is a great choice because the clients should see how the hotels' rooms look like, prices are breakfast included or not, Wi-Fi and room accessibility. However, if you click on "See Room Details" it will transfer you to the detailed page, and see all the information about that specific room.
Below "Our rooms" there is "Best Places Around The Delvatore", here the owner of the hotel should and can indicate the places, which are around his/her hotel, for instance: Parks, Spa, playground, Shopping center, Casino, Beach, Aquapark and etc. In our opinion, this section has a significant influence on the hotels' owner, because there has been a situation when people come over because of the places which are around the hotel.
The most important part of every site is the section "What Client says" because every future customer reads this comments and after that, they decide if they want to spend their time in that specific Hotel or not.
At the end of this template, there is "Latest News" section, where is put up the news. If you click on the articles' title it will transfer you to the blogs' post page. As we have mentioned above, this template is also given for Winter Hotel, only the pictures are different, the rest of it is the same.
If you put the mouse over the "Pages" button, there appears the drop-down menu, which consists of all the pages which are created for this template, such as:
About us
Rooms
Reservation
details
404 page
The "About us" page provides all the information about the Hotel and its team members, the manager, what the hotel consists of, the privileges of the team members and etc. Moreover, here is given the number of clients, rooms, staff members and awards.
Now, let's move to the "Our room" page. Every customer is interested in the type of the rooms, which the hotel provides.
Thus, our team decided to create this page because of its vital reasons. The hotel should provide detail information about their rooms for instance: The pictures, accessibility, connection to the Wi-Fi, room types, pricing, is the breakfast included or not and etc.
After clicking on "View Detail" button, you will be redirected on Rooms' detailed page, where can be seen pricing information, car availability, Google map location, reviews about this room and etc.
The most important page of this template is the "Reservation" section. Here the customer should pick out the room, which suits her/him best. You can pick the check-in and check-out day, the number of adults and also the number of kids, and most importantly the room type and after that, you will click on the button "Check Availability" and there can be seen all the rooms where you wish to stay in and are available too.
Moreover, here are one very interesting and important buttons before the "Default Storing".

The buttons change the listing of the product given below. The blue color indicates the listing, which is active at that moment. The products can be seen in a Horizontal or Vertical way.
Vertical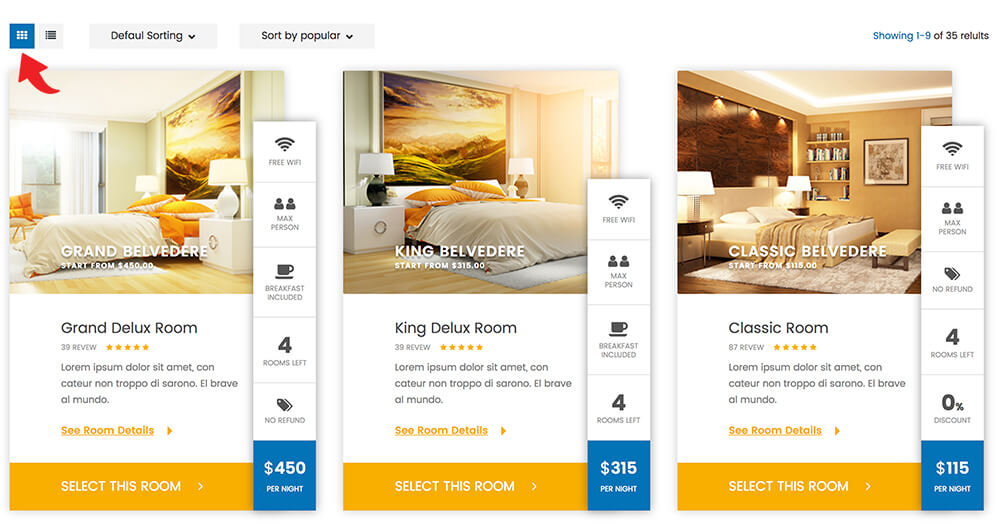 Horizontal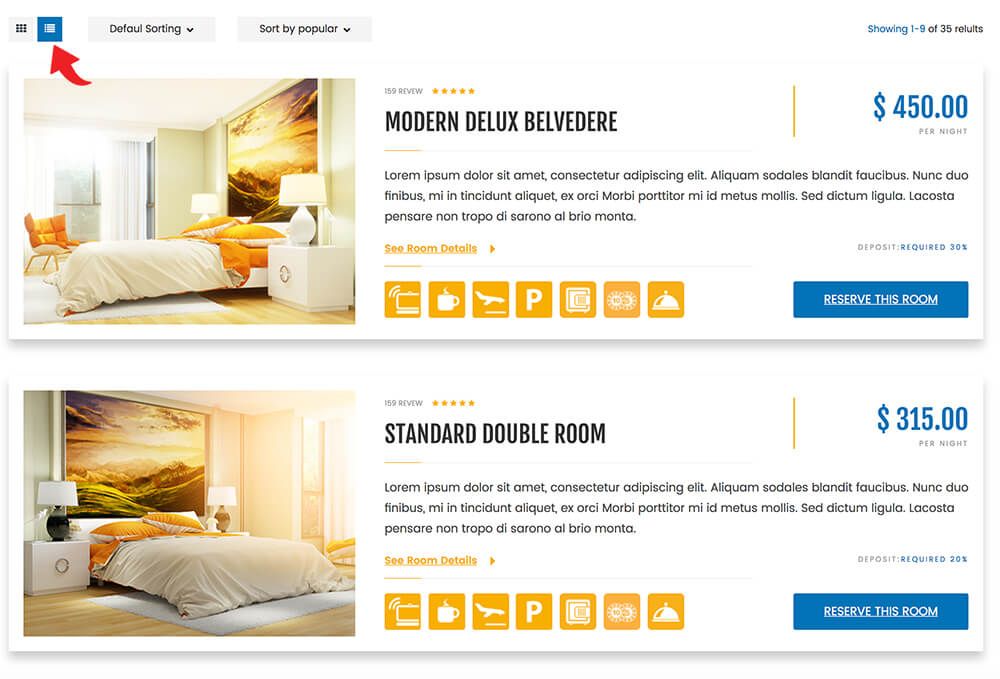 The last page, which is given on the drop-down menu, is "404 page", this is activated when a person is looking something which does not exist here in this template.
Now lets' move to the Blog page.
As you put your mouse on the Blog button there appears a drop-down menu, which consists of Left and Right side posts and blogs.
We tried to give an opportunity to the customers that's why we created left and right sidebars for the posts and blogs.
Last but not least, we have a Contact page. Our team worked on it very hard and they really tried to create an original one. Thus, here is given all the information to track down the Hotel. For example Email, Skype, Facebook, Twitter, Call, and Address. Furthermore, there is a Contact form to send an email and most importantly Google map location to make it easier to find it. In case if you do not know how to set google map location, we offer you to read one of our best article about this. Click and read: How to set google map location
However, looking over the statistics, most of the customers found difficulty to publish the site and how to put up it on their server, we have a special article written for that, which is "How to publish Bootstrap template on the server" and please read it and see the video which explains it step-by-step, here: https://gridgum.com/How-To-Upload-Bootstrap-Template-On-The-Server/
Although, if you come across with any other problems, please do not be shy about it and write on the comment section and our team will give an answer as soon as possible, and if it is not enough, they will create a video tutorial explaining everything clearly.
$17


| | |
| --- | --- |
| Date of Creation: | 27 April 2018 |
| Last Update: | Never |
| Compatible Browsers: | IE, Chrome, Safari, Firefox, Opera |
| Files included: | HTML, CSS, JS, Files |
| Documentation: | Well Documented |
| Layout: | Responsive |
| Tags: | hotel template, hotel website templates, hotel booking template, hotel booking website templates, booking website template, hotel reservation template, themed hotels, theme hotel, bootstrap 4 templates, bootstrap 4 themes, bootstrap 4, Best bootstrap themes |
| Type: | Bootstrap Themes |
| Categories: | Hotel Themes |
| item #: | 30965 |
©
All Rights Reserved Gridgum