The 5 best Calendar Plugins for WordPress Websites / 9 April 2018 - 19:17:22
The Best Calendar Plugins for WordPress Templates
We would like to offer an article about the best Calendar plugins for WordPress websites. Nowadays, there are many calendar plugins that come with a wide variety features therefore it is hard to choose the right one. Therefore, we decided to show you some of the best ones, starting from the simple ones and ending with ones with booking, scheduling and etc. features. It is entirely up to you what kind of plugin to choose, the advanced one or simple. Below you will find the best 5 plugins with short descriptions so that you can easily choose from them.
1. The Events Calendar
The Events Calendar plugin is a very potent event management system for all of the WordPress websites. It provides a wide variety features and is easy to use since it has a very intuitive layout that goes smoothly with WordPress administrative area. The suggested plugin allows you to include the events very easily and monitor them. Moreover, you can present Google Maps for your site locations. The Events Calendar's settings page allows you to have a full control on managing and controlling events that are included in the calendar. The best thing about above mentioned plugin is that it is integrated with WooCommerce so you can sell some tickets online as well. If you got interested in the Events Calendar, please click on the link and visit the official website: https://wordpress.org/plugins/the-events-calendar/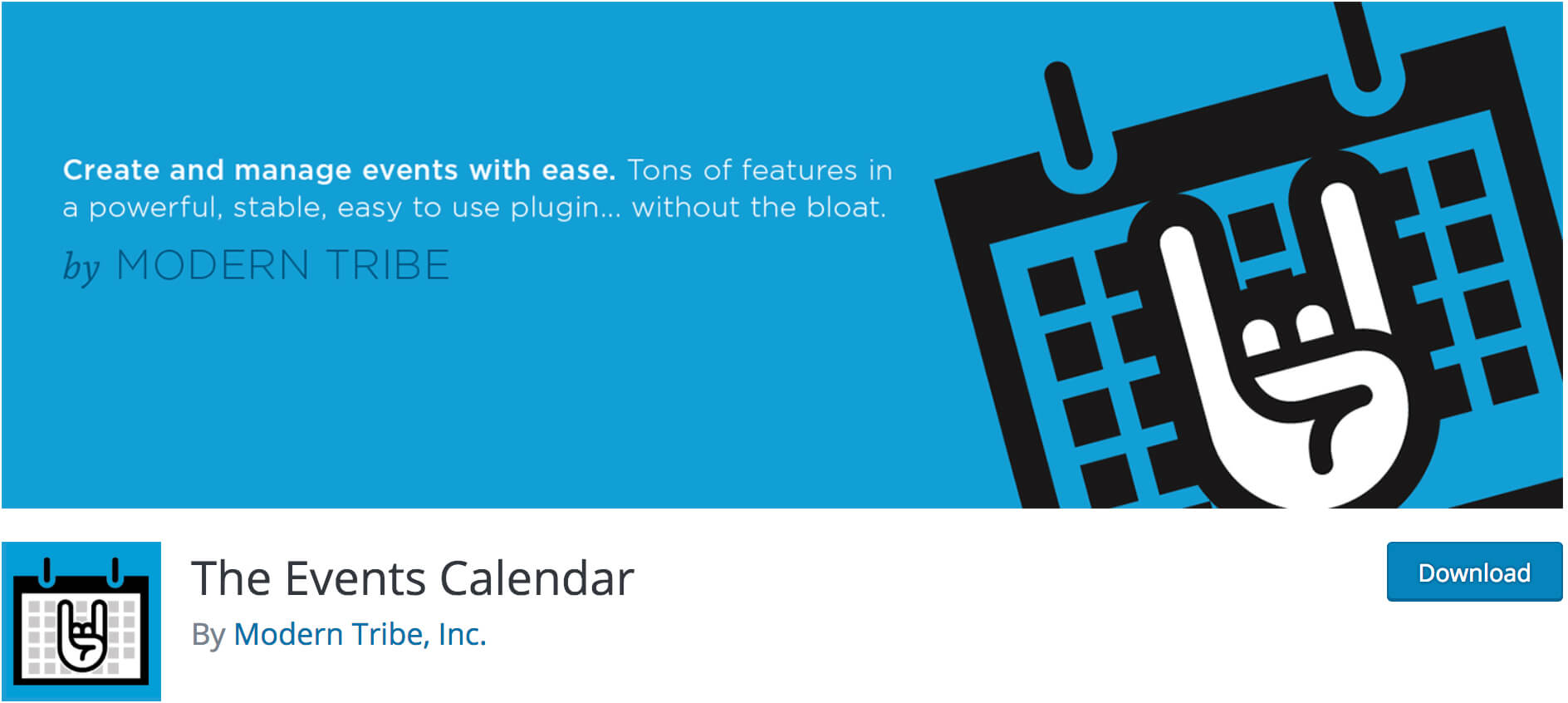 2. All in One Event Calendar
The suggested plugin is a highly influential event management plugin for WordPress websites. It can be easily employed even by the people who do not have any coding or programming background. Since it has clean and neat interface you can easily add desired events and differentiate them into categories or tags. All in One Event Calendar also offers the Google Map tool to present the site location of the events, so you will also know where and when is the event. You can also alter the calendar theme color based on your preferences. Moreover, you can add events from other calendars as well which support iCal format. Unfortunately, it does not have ticket selling option but you can include the URLs to third party what offer the ticket selling services. If you want to gain more information about the provided plugin, please click on the following link: https://wordpress.org/plugins/all-in-one-event-calendar/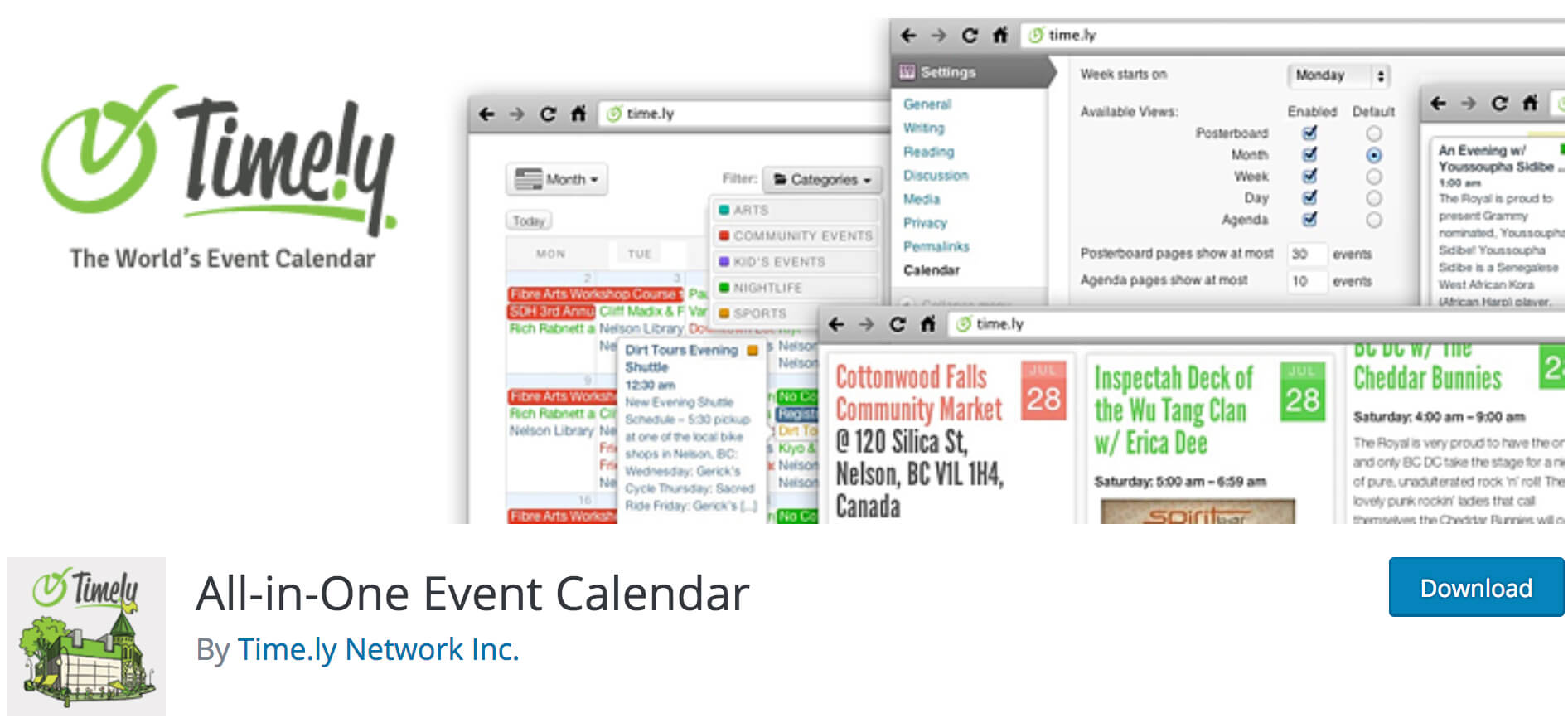 3. My Calendar
My Calendar is a great plugin for WordPress websites which is offered for FREE. It keeps up with various calendars, locations, event groups and etc. My Calendar plugin is also accompanied with a short code generator by which you can easily add calendars to your posts, pages, sidebars and etc. The suggested plugin is very easy to use and has a very wide-ranging settings page. You will be able to monitor every part of the calendar on the front-end. It compromises six different built in skins for calendar exhibit. If you are an advanced user, then there is also a style editor where you can upload your custom CSS. My Calendar plugin works well also with Google Map in every event page and event pop-up. If you got interested in the suggested plugin, then please click on the provided link and gain more information about it: https://wordpress.org/plugins/my-calendar/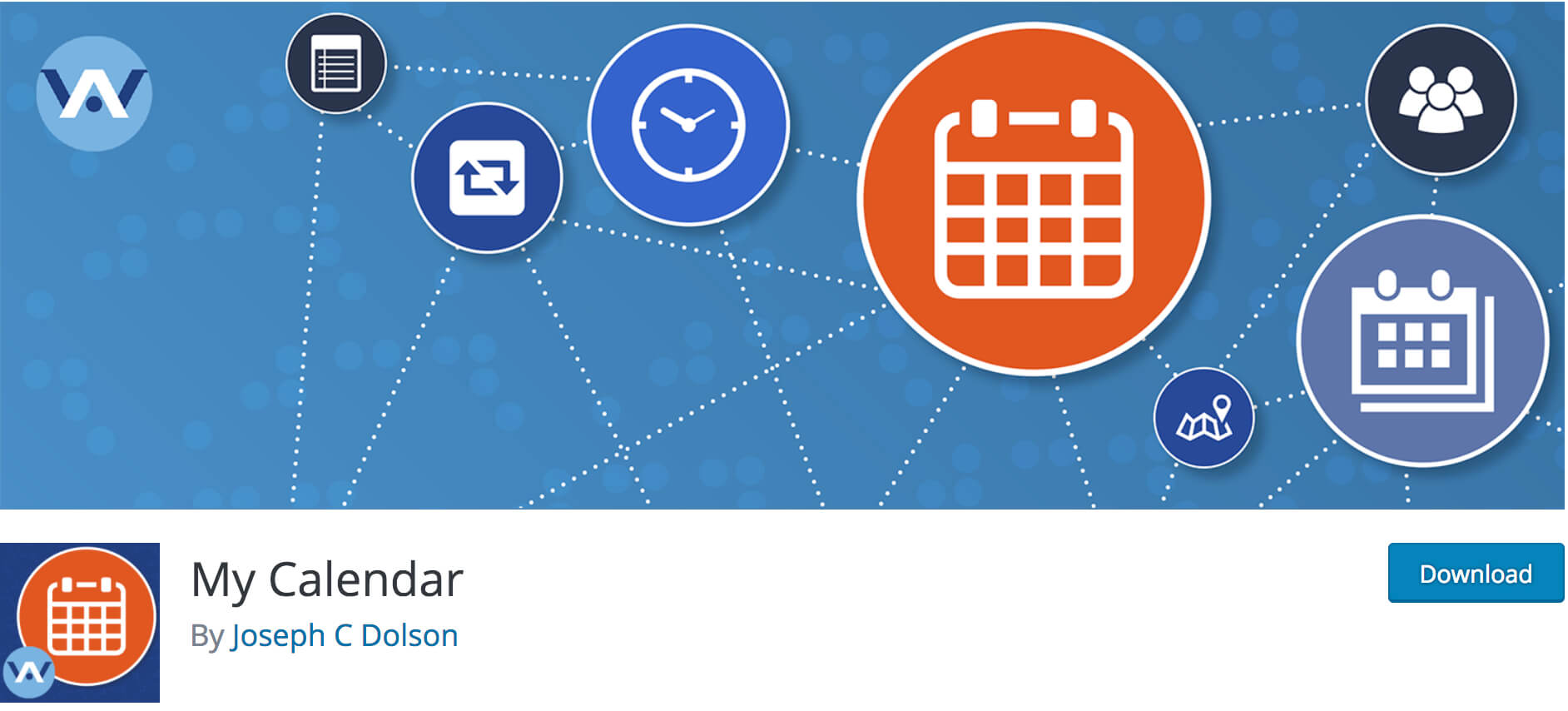 4. Simple Calendar
The Simple Calendar is Google Calendar plugin that can be used for WordPress websites. One will be able to manage and control the events by using Google Calendar. The suggested plugin will display chosen events on your website very easily, you will just have to deliver the URL of Google Calendar feed. My Calendar comes with a wide-ranging set of features that help to control calendar in a very easy way. You can publish calendar events on your website by using very simple short codes. Moreover, you can edit the calendar appearance through custom style sheets. Simple Calendar does not include the ticketing system but if you want to sell the tickets just include the URLs of the third parties which offers the ticket selling services. If you want to acquire the given Google Calendar plugin, please click on the provided link: https://wordpress.org/plugins/google-calendar-events/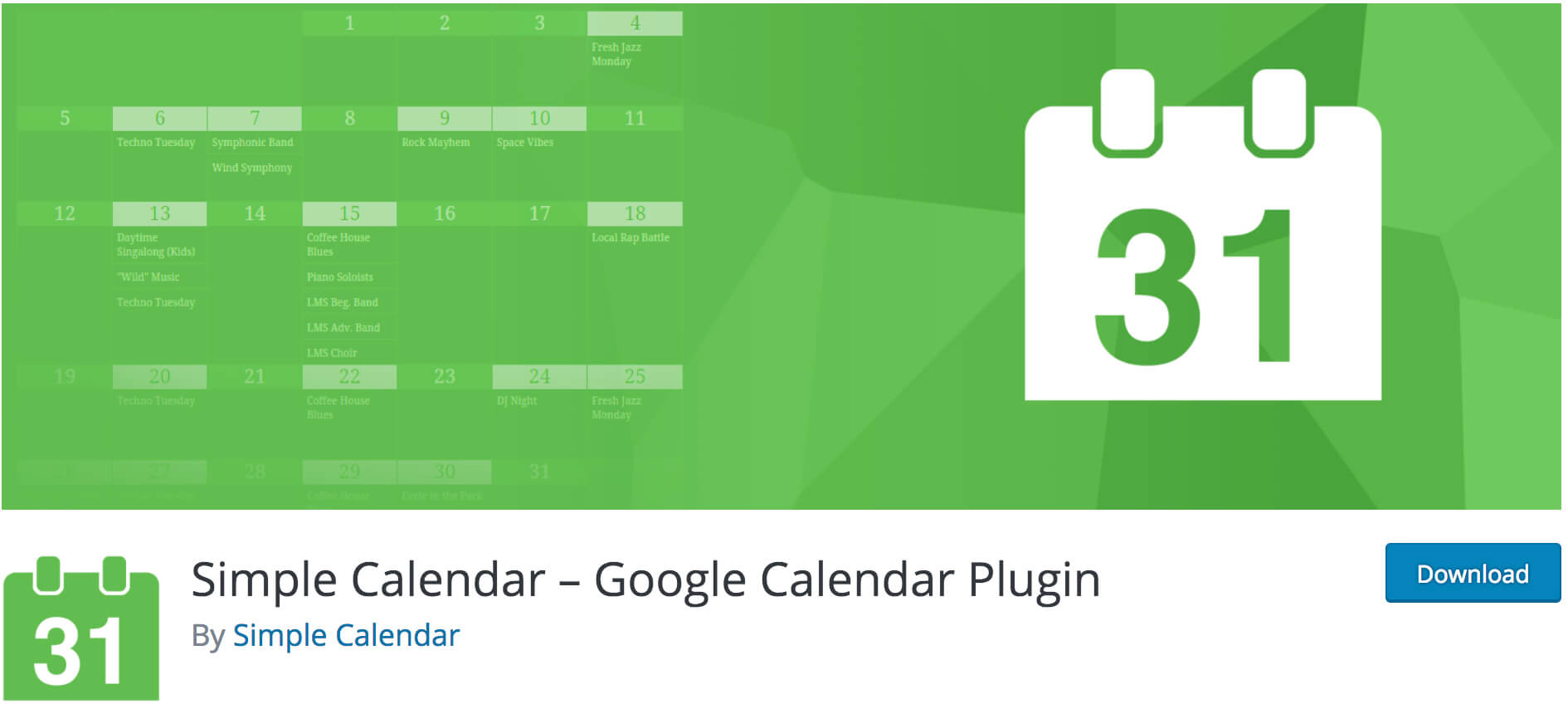 5. Booking Calendar
Because of the plugin name it is highly intuitive that it can be used as a booking management plugin for WordPress websites. It enables you to supplement a calendar on the front-end of the website where viewers can propose their booking requests. Afterwards, it is up to you whether to accept the offer or decline it. By using the suggested plugin, you will be able to avoid the spam since it compromises the CAPTCHA support. Moreover, you can manage who can add a booking in the administrative area and who cannot. The con of the Booking Calendar plugin is that in the free version of the plugin you cannot supplement new input fields for the booking form. If you got interested in the offered plugin, please click on the following and visit it's official page: https://wordpress.org/plugins/booking/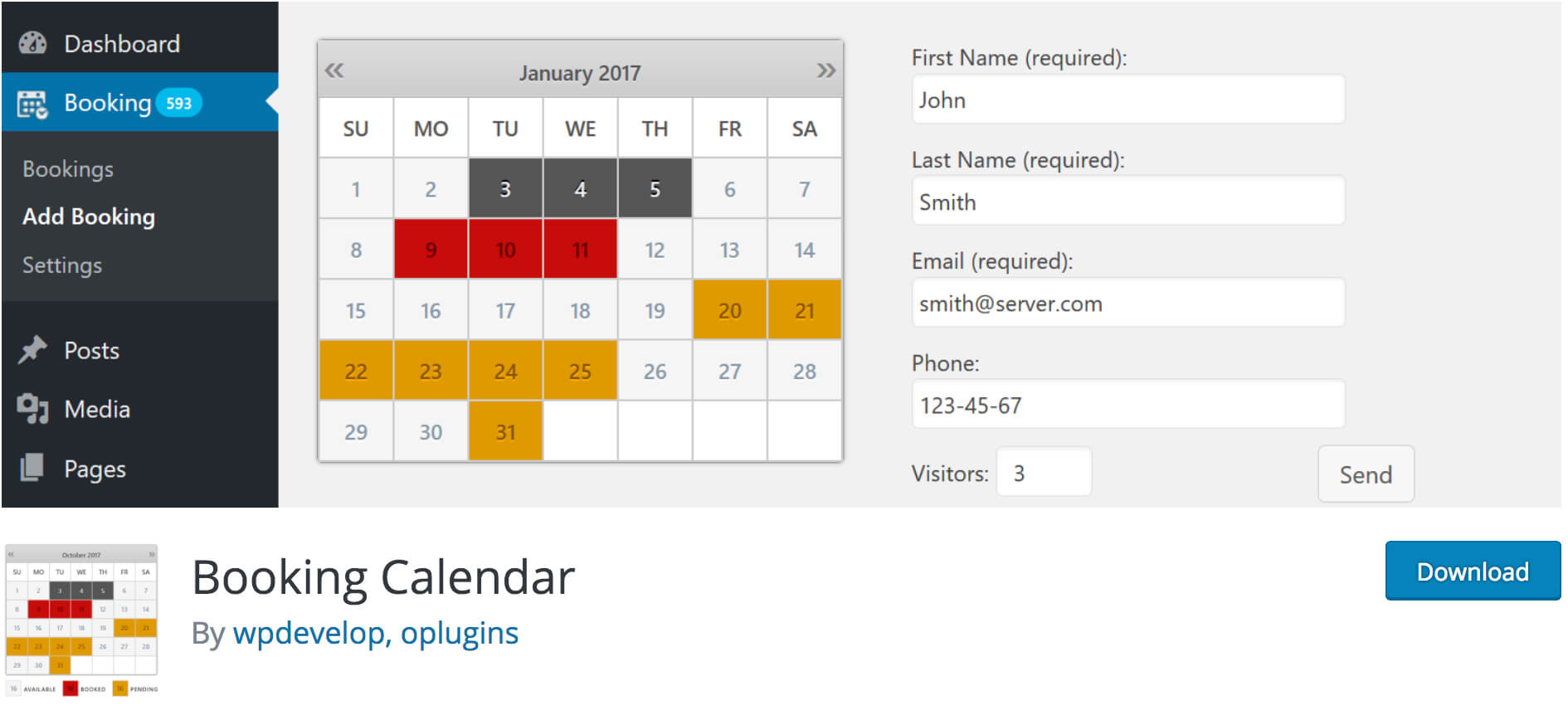 We hope that the provided article will help you to choose the calendar plugins wisely. There is a wide variety of the calendar plugins therefore you have to be careful during the selection process. We would like to assure that the above suggested plugins are one of the best on the current market.
---
Share:
Tags:
WordPress Plugins