How to study Java programing / 30 August 2018 - 04:04:36
How To Learn Java Online
More than 15 years Java is one of the best programming languages and creates tough competition for the other languages. Programmers who have a deep knowledge of Java never face the unemployment issues since they are highly demanded. Moreover, most of the current applications are created through it which increases the demand even more. Java is extremely flexible, extensible and system modular programming language, therefore in this article will be presented the several free sources for mastering the Java. Nowadays, there are various sources that can be used to learn Java, however, not all of them are equally good. In this article is outlined the 5 best Java online courses which are available for free:
1. Coursera
Coursera is one of the most popular online platforms for free online courses in which the Java programming is also included. The best thing about Coursera is that the videos are available in various languages like English, German, Russian, French, Spanish, Chinese and etc. If none of the provided languages is your native, then one can also use the subtitles. There you can find various courses like Java for Android, Java Fundamentals, Java for advanced levels and etc. The video content is created in a very meticulous way and covers all of the important aspects. If you are interested in Java and want to learn it from Coursera, then please click on the provided link: Java Programming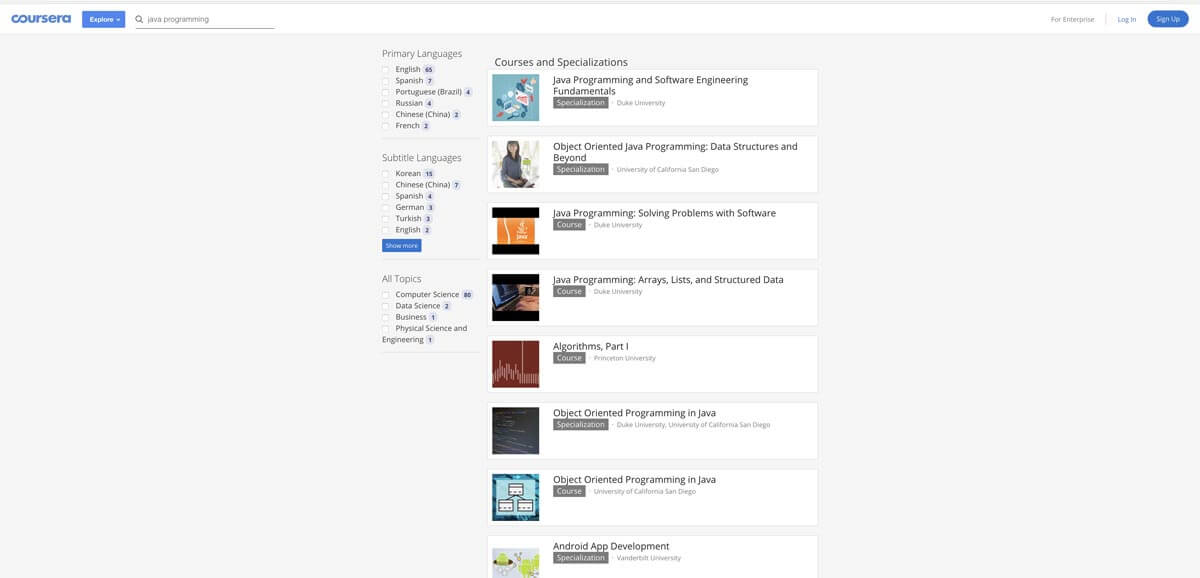 2. Code Academy
If you have never learned Java before and are on a beginner level, then the Code Academy is the best place to start from. Code Academy offers free Java programming courses where one can learn the basic and fundamental elements of it. During the study process, you will work on seven different projects which also compromises the process of creating a calculator. As it was mentioned above, the syllabus covers various aspects like data structures, object-oriented programming, control flow, and conditionals. Code Academy offers a lot without requiring anything in return, therefore it is one of the best study platforms for Java. If you are interested in Code Academy, then please click on the following link and visit the official webpage: CodeAcademy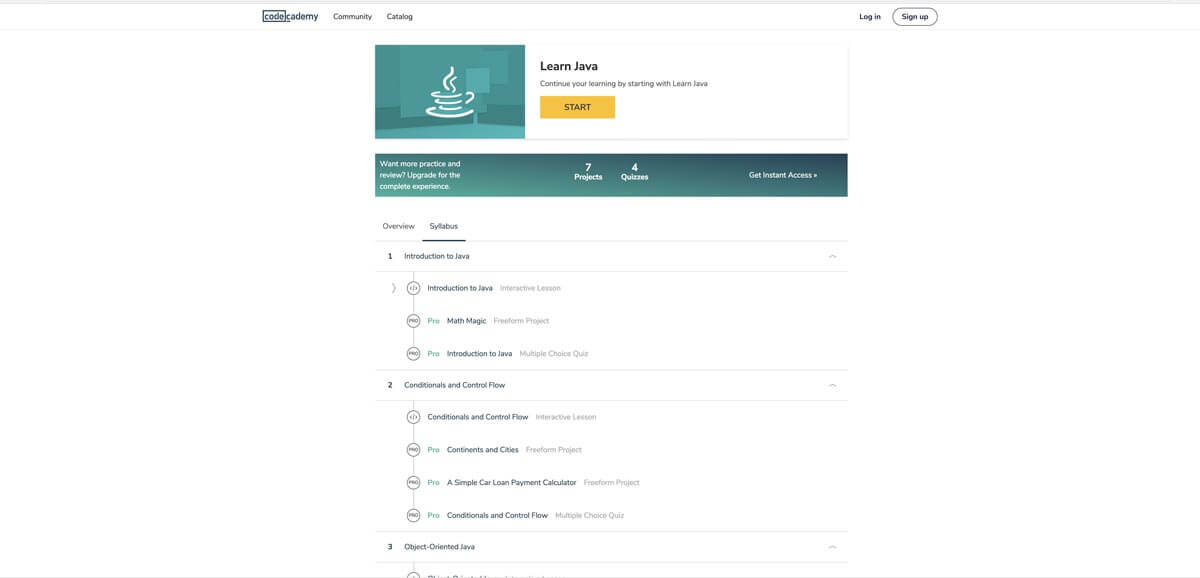 3. Learn Java
Learn Java is an online learning platform that can be accessed without installing anything on your computer but rather by directly opening the website through the browser. Learn Java offers the various interactive tutorial that compromises short and efficient exercises to learn Java from scratch. The offered video tutorials have very detailed content and cover the basics of Java. The language that is used in video tutorials is very easy to understand since they are designed for beginners. However, if you already have some knowledge of Java and want to deepen it, Learn Java also offers the advanced courses. If you want to learn more about Learn Java and its content, then feel free to visit the official website which can be found here: https://www.learnjavaonline.org/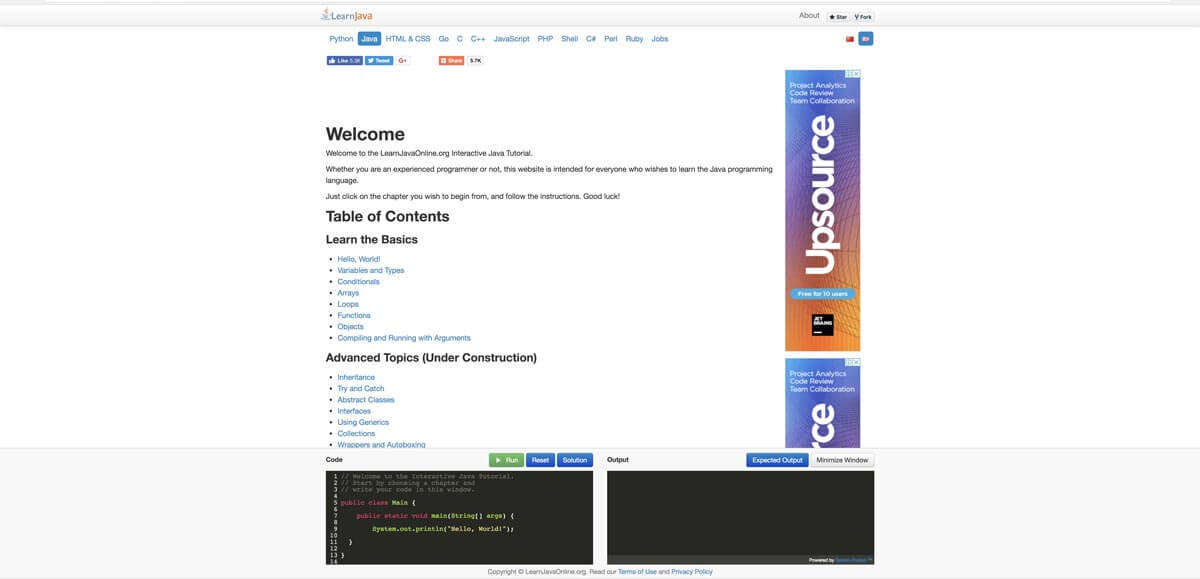 4. Udemy
The above mentioned online platform is one of the biggest ones that cover various programming languages including Java. Udemy offers more than fifty different Java programming online courses. If you are willing to incur a small cost of 10 US dollars, then the number of available courses will increase up to seven hundred. Udemy has an extremely user-friendly layout which allows it's users to organize courses based on various criteria like languages, level of difficulty, test availabilities and etc. The video provided video tutorials are in various languages like English, Russian, Spanish, Turkish, German, French and etc. Moreover, videos come with subtitles so that it is easier to understand the content. If you are interested in Udemy, please click on the provided link which will redirect you to the official website: https://www.udemy.com/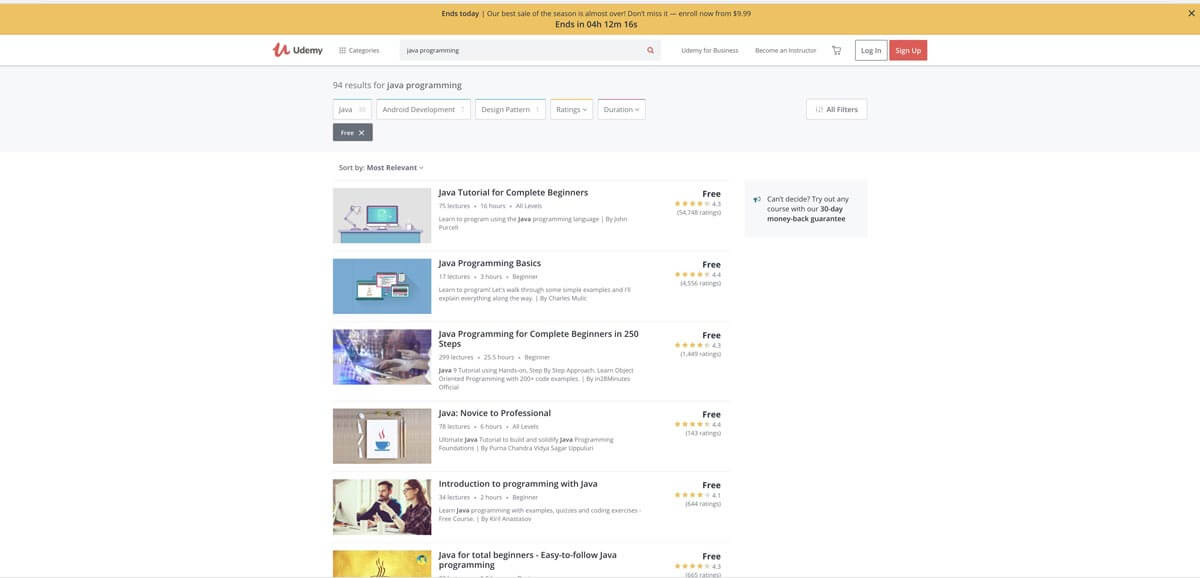 5. Skillshare
With Skillshare one can learn Java programming for free and acquire new skills through classes that are provided by professional coders. If you have a time constraint, you can organize courses by length and choose the ones that are shortest in duration. Each course comes with users' feedback and therefore it is easy to distinguish which is good quality and which not. In Skillshare you can watch not only videos but also do the practical exercises which will develop your Java programming skills. If you want to gain more information about Skillshare, then please click on the provided link and visit its official website: https://www.skillshare.com/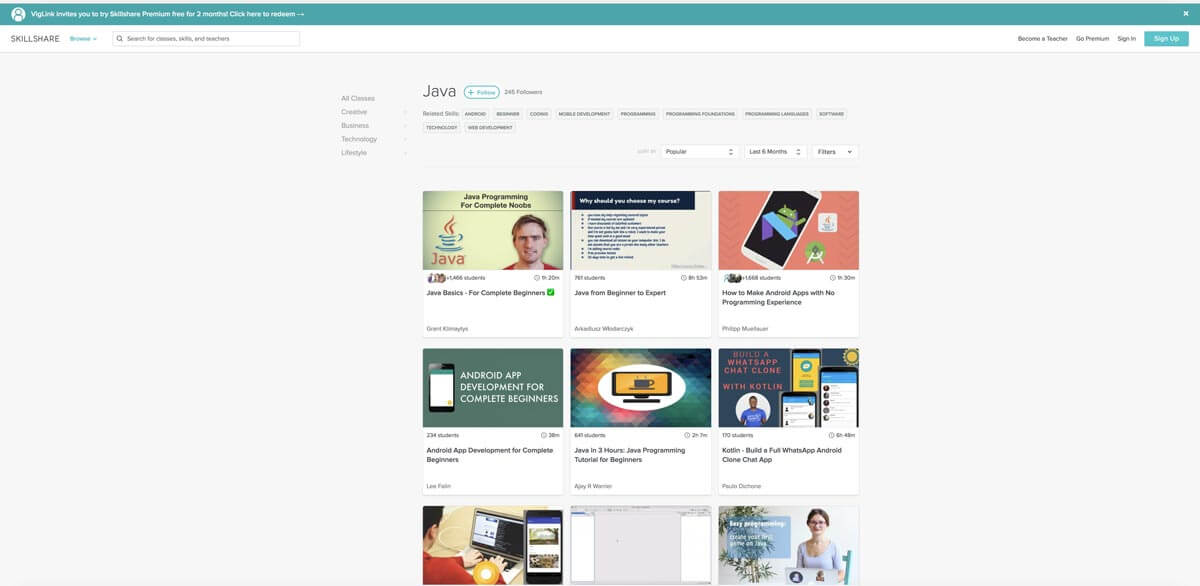 We hope that offered article will help you to choose the right Java programming course that covers all of the relevant and useful information. By learning the Java language, one can generate various interesting products like applications and become more competitive on the job market. So if you want to start with Java, then check out the provided free source learning platforms.
---
Share:
Tags:
online courses