The 5 best Joomla Extensions / 9 May 2018 - 01:46:59
The 5 Must Have Joomla Extensions
Nowadays Joomla templates are very popular because of their high-quality performance but there are always ways to improve the functionality of website. For Joomla templates there are thousands of various extensions that make the website to function and process smoother and gain additional features. However, searching for right extension might take you a very long time since Joomla Extension Directory (JED) already compromises more than 7900 Joomla extensions. Therefore, we decided to create an article for you with a short-list of Joomla extensions that are important part of Joomla websites and should be included there.
1. Joomla Page Builder
It is the most advanced responsive the first website builder for Joomla, in an entire world. It was always time-consuming for Joomla users to customize the layout of a website based on the clients' preferences and taste. With the help of Quix 1.3 you can forget all these problems and easily create complex website looks even without coding. The Quix 1.3 is considered to be the best page builder for Joomla because it delivers Drag and Drop layout system, boosts the page load speeds by nearly 300 percent, works with every framework out of the box and offer more than 60 different elements. As you might already understand, the Joomla page builder Quix 1.3 is a must have extension for Joomla templates. If you got interested please, click on the provided link and visit the official webpage: https://www.themexpert.com/quix-pagebuilder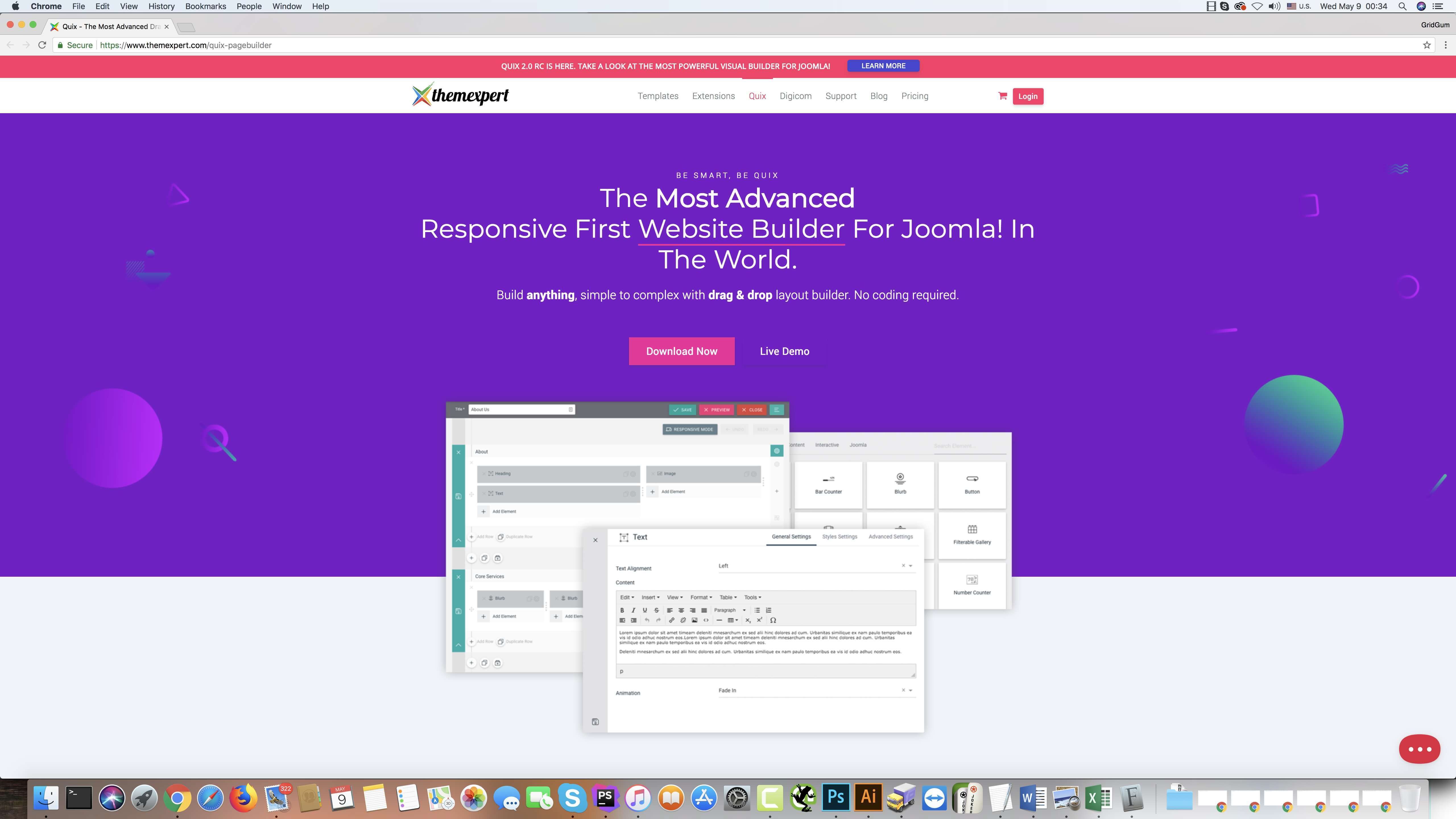 2. Admin Tools for Security (Akeeba)
Administrative tools is one of the most diverse Joomla extension that have ever existed. It is multifunctional and solves several problems together, for instance it easily simplifies the website's administrative task and security. It has many different features which help to utilize the website and make it function even better. For example, it can optimize the databases, clean the temporary directory and many more daily administrative tasks. It can also easily change the permission of your files without using the FTP or SSH. And the most importantly it protects the website against the multiple common attacks and you would never be able to find more secure tool than Akeeba. If you got interested and want to acquire the suggested Joomla extension, then please follow the link: https://www.akeebabackup.com/products/admin-tools.html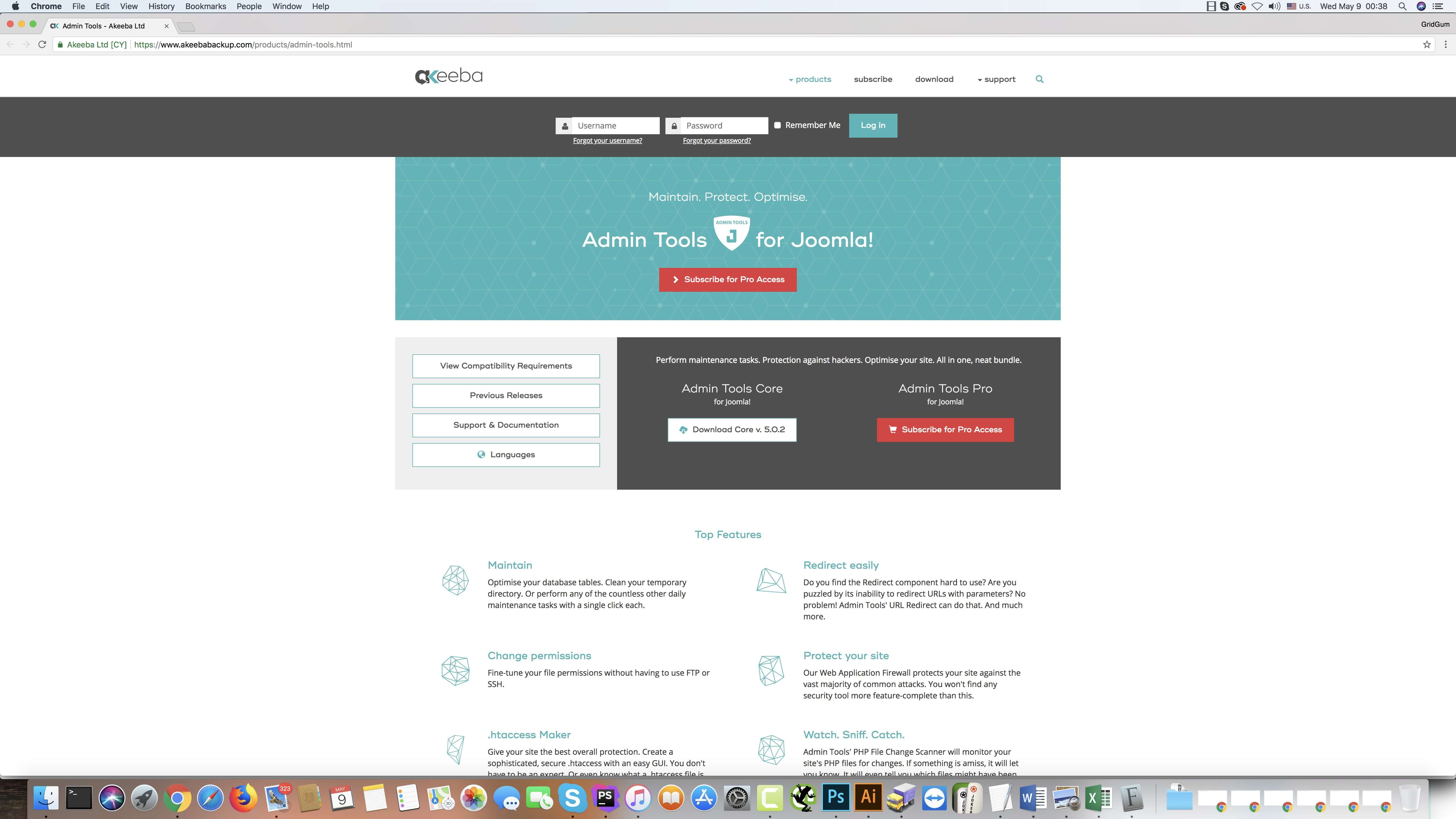 3. Content Editor – RoKPad
The Joomla extension RokPad is a very powerful extension for building and altering the Joomla contents without putting a lot of effort. RokPad has been considered to be one of the most advanced code editors. It has a range of settings which start from stylistic options like font size, theme and end with some functions like autosave time intervals. It also provides a wide range of theme options which include various theme colors for code highlighting. RoKPad comes with a huge package which include Ajax Saving, 29 themes, Short-codes, Drag and Drop from other applications, Multiple Code Languages, Code Folding, Print Margin, Font size, Full Screen, Vertical selection and many more other features. Moreover, it is compatible with various browsers like Safari, IE, Google Chrome, Opera, Firefox and etc. If you are interested in gaining more information about RoKPad, then please follow the provided link and visit the official webpage: http://www.rockettheme.com/joomla/extensions/rokpad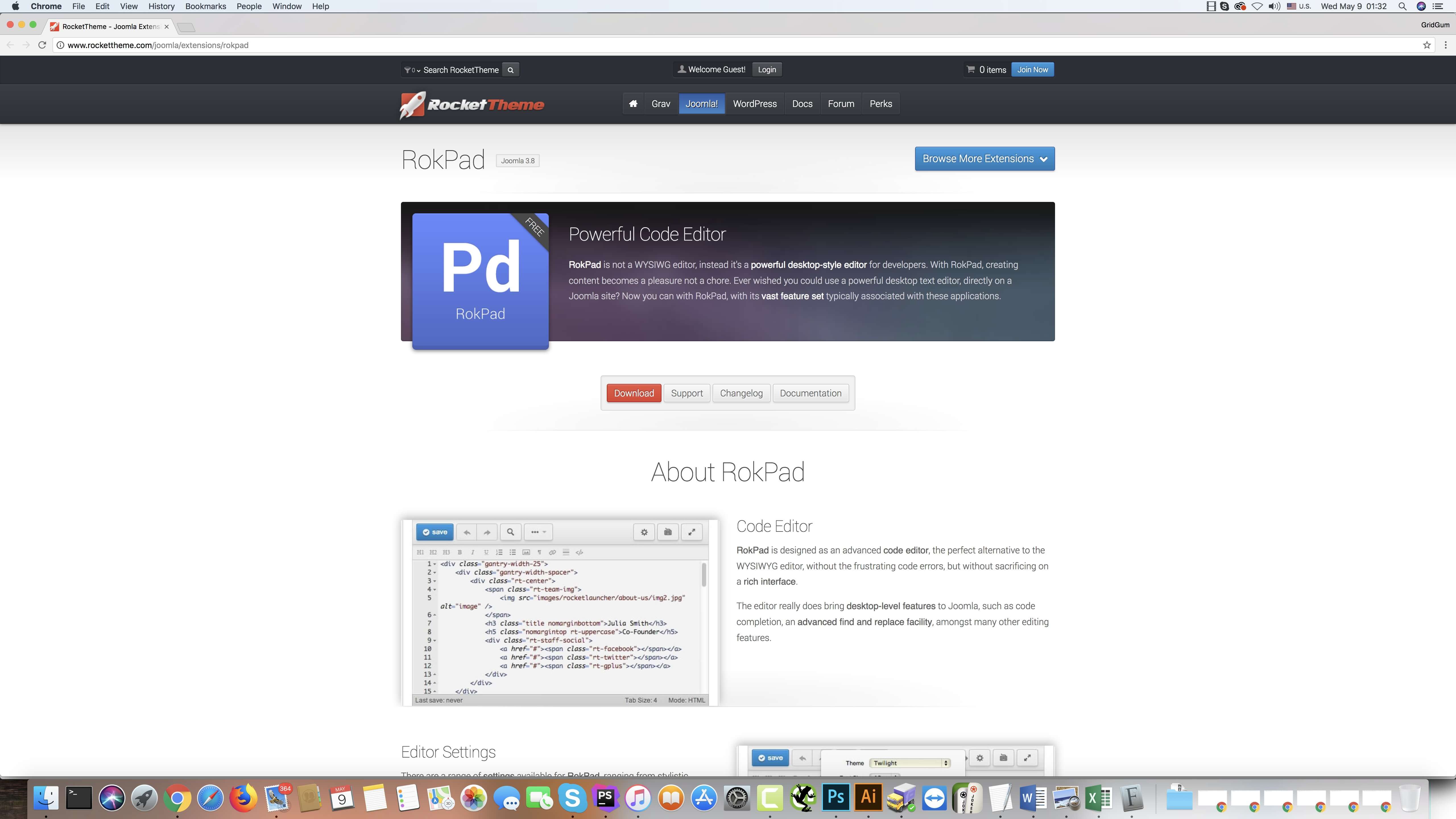 4. Increase Performance – RoKBooster
When the website has loading problem, it makes the website viewers highly unsatisfied and the most probably they will switch to another site. The Joomla extension RoKBooster can be used to raise the speed of a website to a great extent. Moreover, it provides the extensive system of control options, to set all the variables via single interface. Advanced options compromise the ability to ignore some specific files, pages and compatibility problems. As the ending result we have the high functionality, increased performance speed and decreased number of HTTP calls which all together help the Joomla website to load within the minutes. If you visit their official website, everything is well written and explained therefore you will not face any challenges during downloading or installation processes. If you want to visit the official website of RoKBooster, then please click on the following link: http://www.rockettheme.com/joomla/extensions/rokbooster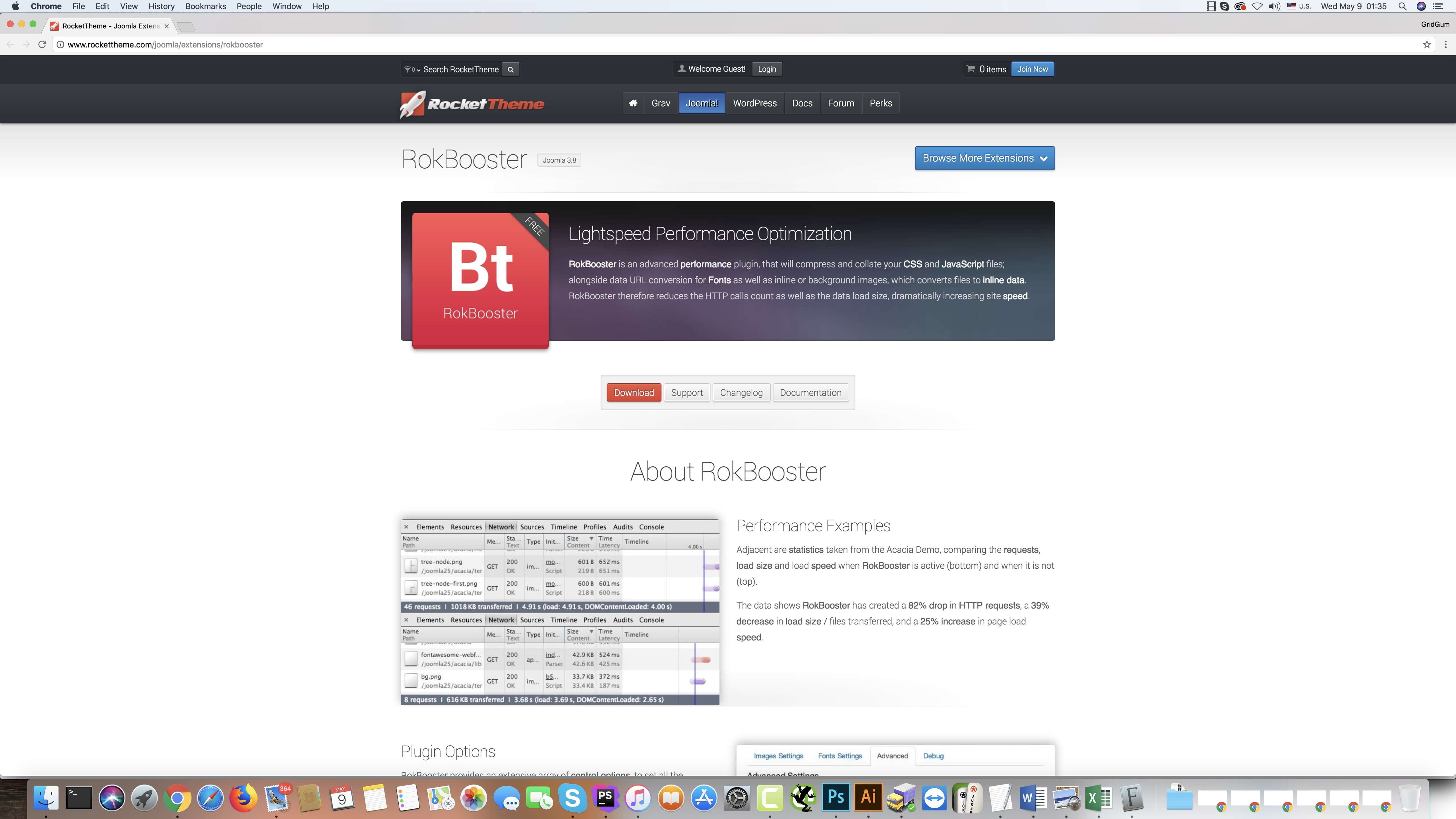 5. Site Management – JSN Power Admin
The JSN Power Admin is the most demanded product that were created by Joomla Shine. The extension is considered as one of the most innovative extensions that are available today which save a lot of time and effort for advanced Jooma users. The JSN Power Admin is a great Joomla extension which makes the Joomla administration assignments very easy and enjoyable. It allows you to have full access over the Joomla website in one single screen. You can variate with elements via employing GUI with drag and drop operations. If you got interested and would like to acquire the suggested Joomla extension, then please click on the following link and visit its official webpage: https://www.joomlashine.com/joomla-extensions/jsn-poweradmin.html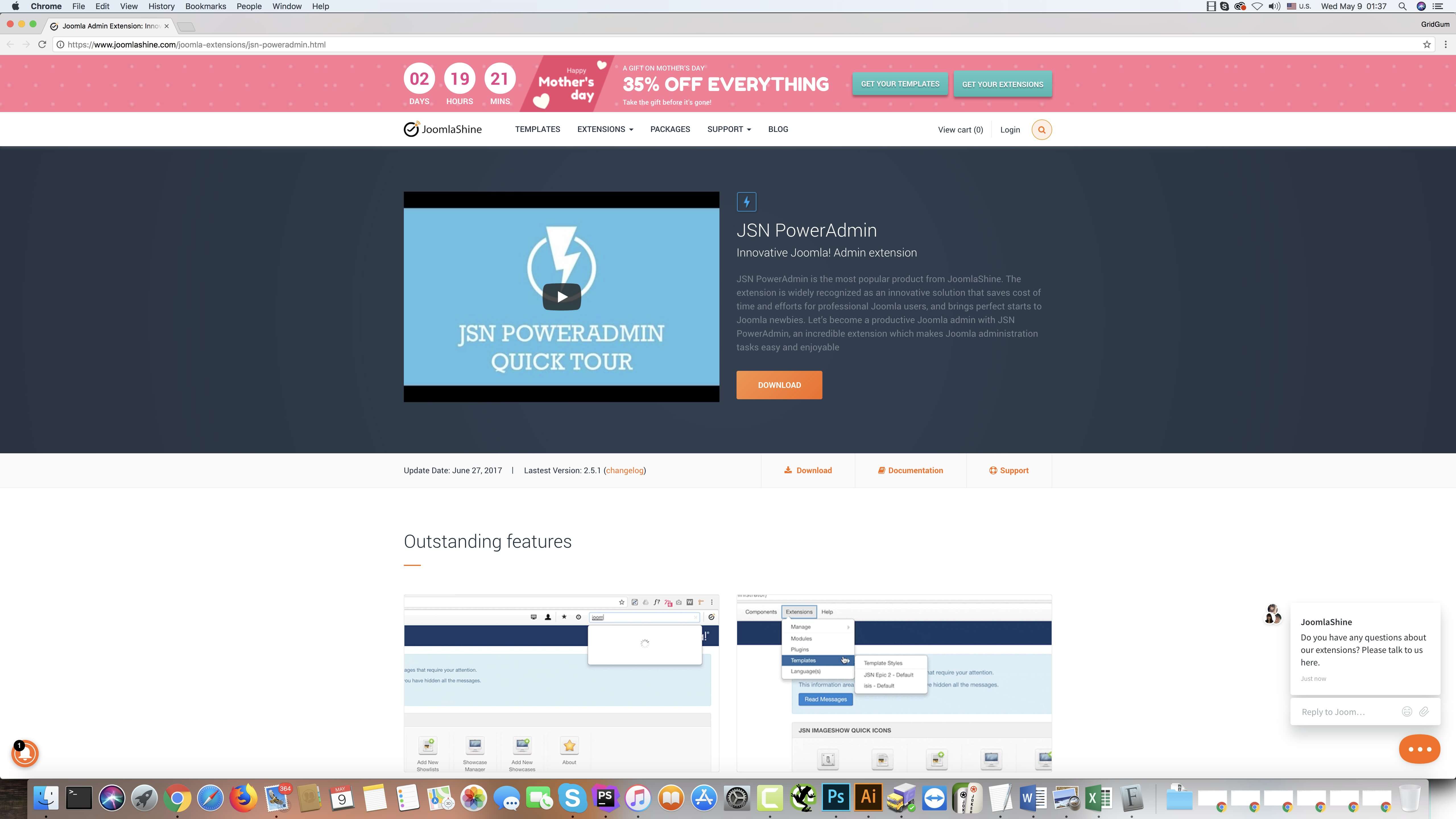 We hope that after reading this article you will have more or less clear understanding of which are the best Joomla extensions and why. We hope that after going through this article you will be confused when choosing the right Joomla extension for your website.
---
Share:
Tags:
web
,
web programming