The 5 best WireFrame tools / 27 February 2018 - 16:49:23
The Finest WireFrame Tools on The Whole E-market
We decided to offer you an article about the best five wireframe tools that will make your life a lot easier! Wireframe tools play an important role in designing since it makes the app or website creation process fundamentally simpler. The customers to whom you would offer the application or website should know how they function and simply explaining verbally or in written worm will not be very useful. Therefore, wireframe tool will act as a helping hand and will summarize explanatory part in an understandable and illustrative way.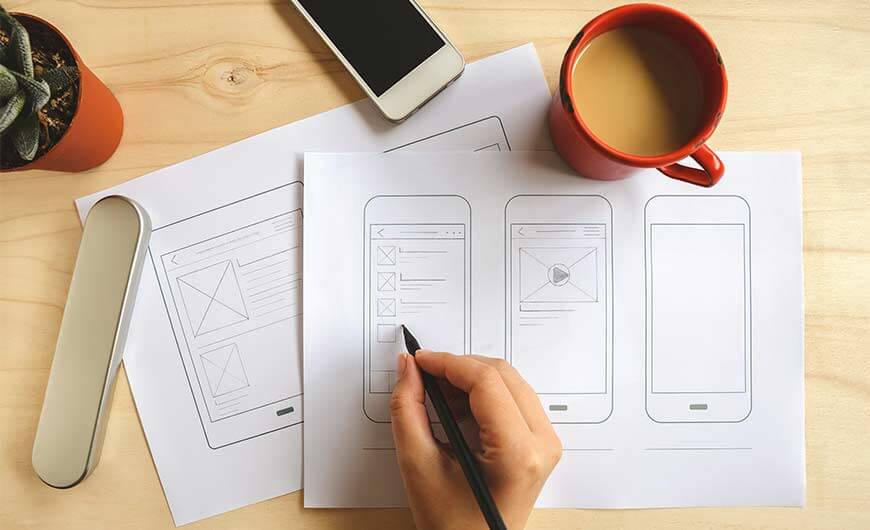 The problem with wireframe tools is that there are hundreds of them and it is difficult to distinguish which one is good and which is bad. However, we did the selection process for you and offer you the best ones.
1. WireFrame.cc
The WireFrame.cc tool offers a very simple but at the same time sophisticated interface for creating and sketching your wireframes. It looks like a normal drawing application that compromises various toolbars and icons but its usage is extremely simple. WireFrame.cc provides color palette that can be used to create better illustrations and authentic content and it only appears when you need it. As it was mentioned above the WireFrame.cc is extremely easy to use since it has drag-and-draw function, in other words rectangular shaped canvas with pencil. However, to employ the tool and experience its benefits there has to be paid a price for it. It offers different price packages which vary based on the functions you are looking for but the price range is 16$-99$. For additional information, feel free to visit the official website which can be found here: https://wireframe.cc/
2. Moqups
The Moqups tool will help you to visualize your concept, test and make your ideas real with swift wireframes and meticulous mockups. With Moqups you can work from anywhere and always be in touch with other team members. It can be connected to Cloud which enables working remotely from any device without causing any problems with uploading, sharing and downloading the various files. The Moqups interface is very simple and intuitive there is no necessity of having any prior experience to cope with it. Moqups will increase the speed of creation process since all the team members will work using one single tool in which can be built flowcharts, maps, scheduels, study charts and many more things. The Moqups tool is offered for a decent price, the price varies based on how many people are using it, from 13$-149$. If you are interested in this tool and want to acquire it, please follow this link: https://moqups.com/
3. UXPin
The UXPin tool can be employed to combine all the wireframes at very high speed with the drag-and-drop function. The collections for Bootstrap, iOS, Android and Foundation are updated on a regular basis and therefore your wireframes can be easily changed to mockups. Moreover, you can already start creation process in Photoshop or Sketch and afterwards, forward it to UXPin for prototyping processes. The UXPin users are also able to create the guidelines for developers, documentation for the prototypes and mane more things. The UXPin tool is website based platform and can be installed on various operating systems. It is traded for a fixed price for everyone, 26.10$ for per used on a monthly basis. If you are eager to get more detailed information about this tool, please click on the provided link which will redirect you to the official website: https://www.uxpin.com/
4. Fluid UI
The Fluid UI is a very intuitive, adaptive and prevailing tool that can be used for prototyping. To employ UI Fluid requires no prior knowledge since its very easy and fun to use it. It offers various features that makes it extremely attractive to the potential customers. With Fluid UI one can create nicely illustrated prototypes within the minutes without spending a lot of time and money. Fluid UI is very fast since everything is streamlined only in one place. If you already have the graphical assets that you want to use, you can easily add them to the prototypes or save them in online library for later use. It also offers the sophisticated and high quality animations that can enrich the visual of your prototype. Fluid UI as many other wireframe tools is online prototyping which means that you can work from anywhere and still be in touch with other team members. The team members will be able to see each other's changes all the time without even having a meeting. As you might understand the Fluid UI makes the whole prototyping process a lot easier therefore if you got interested in this tool, feel free to visit the official website: https://www.fluidui.com/
5. Balsamiq Mockups
The Balsamiq Mockups tool comes with three different versions, a website application, a desktop application and Google Drive Add-On application. All of these three versions have different features, benefits and prices. For example, the Web application is s web-based and all of the data is saved in the cloud. It is a prefect match for teams that are not sharing the same location but are working on the same project. It is priced for each project but there can be unlimited users and the two project plan is charged only for 9$. The desktop application is compatible with Windows or macOS and all of the files will be saved on the hard drive. In this case it will be priced for each user and single license costs around 89$. And finally Google Drive Add-on, which is also web based but the data is uploaded and saved in Google drive. It is priced per user and fee is charged on a monthly basis in the amount of 5$. https://balsamiq.com/products/
From our viewpoint, these five wireframes are currently the best ones on an entire market. Even though none of them is offered for free, still the wireframe tools are very important since they are making the planning for a website's structure and functionality a lot easier and illustrative.
---
Share:
Tags:
web