8 Great Bootstrap Dashboard Templates / 21 June 2017 - 16:44:03
Great Bootstrap Admin Dashboard Templates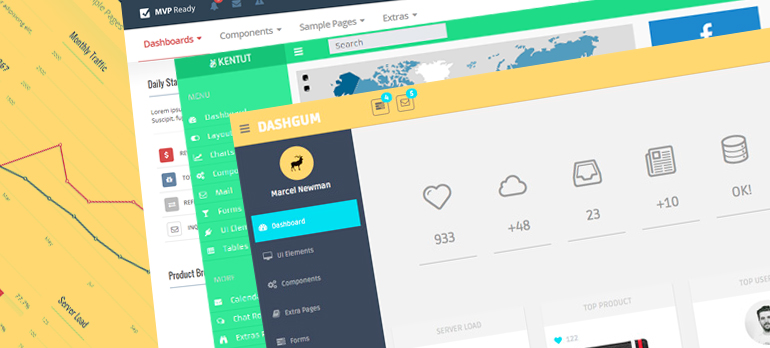 When it comes to speed and function, it's hard to go wrong with Bootstrap. If you need an admin or dashboard template for your backend that's intuitive, easy-to-use, and affordable - we've got you covered. Here's our top eight favorite dashboard templates that use the Bootstrap framework.

An exclusive Gridgum theme, DashGum is a beautifully designed admin dashboard theme. It was built with the Bootstrap 3.2 Framework and features 33 uniquely designed HTML pages. DashGum is fully responsive, meaning that it can be accessed on multiple viewports without distortion or pinch and zoom. You can use DashGum for multiple web applications. Use DashGum for a customized admin dashboard or panel, an application backend, customer relationship management, and a project or content management system. It comes with over 40 plugins, including Google Maps, easy pie charts, form validation, Dropzone file upload, and many more.
Preview Dashgum | View Dashgum Details

Wrapkit is a fantastic Admin template that can be used for a range of web applications. This admin template is designed with an attractive look, rich features and is very easy to customize. Works well with frontend/backend frameworks like angularjs, etc. Wrapkit has a huge collection of plugins and UI components and works well on various sizes devices (desktop, tablets, and phones).
Preview Wrapkit | View Wrapkit Details

Srikandi is a responsive admin template built with Bootstrap v3.1.1. This theme is great for users who need a professional, front end page design. It uses attractive icons on the navigation for easy reference and appeal. Srikandi also uses breadcrumb and pagination so you'll always know where you are. The Srikandi theme comes with over 40 customizable pages, including a form wizard page, a form validation page, a 404 error page, an invoice page, real estate list page, a shopping cart page, and many more. You can also add a FAQ page.
Preview Srikandi | View Srikandi Details

MVP Ready is both an admin template and a landing page theme two in one. For the Admin template, MVP Ready is built on the Bootstrap 3.1.1 framework. It's sleek and quick, with three dashboard layout design choices. No matter which design you go with, MVP Ready will be a lightning fast load. You'll be able to several different admin pages, including plans & billing, account setting, FAQs, a register form, and a user profile.
Preview MVP Ready | View MVP Ready Details

Built with Bootstrap 3.2.0, Kentut is a responsive admin dashboard template. It's comes with eight different color schemes for a striking appearance. You can customize the template to match your brand. It features many different pages, including a chat room page, a timeline page, a todo list page, and a basic calendar page. If you're looking to implement a backend for your company site, Kentut is a great option.
Preview Kentut | View Kentut Details

NG-Admin is a colorful theme using the Boostrap 3.2 framework. Exclusively found on Gridgum, NG-Admin also uses the JavaScript framework, AngularJS. Use NG-Admin for all sorts of web applications, from custom admin panel to application backend. NG-Admin features support for HTML5, CSS3, and LESS. NG-Admin features five different color schemes and over 200 UI components. NG-Admin works best for backend and admin dashboards.
Preview NG-Admin | View NG-Admin Details

Built with Bootstrap 3.2.0, Arjuna is responsive and beautifully designed. This theme is multi-functional, and can be used for many different purposes. You can successfully use Arjuna for a backend control panel, a membership site, or a store. Arjuna includes a store list, a chat room, an email inbox, and a calendar of events. It includes charts, widgets, and user interface elements.
Preview Arjuna | View Arjuna Details

Flatomic is another Gridgum exclusive that features 3 templates for only one price of $15. It features a vibrantly colored dashboard with decorative icons. It includes charts, UI elements, and forms. You have a choice of buttons, typography, sliders, and grids. You can also incorporate a form wizard to help users correctly fill in forms on your site. Preview Flatomic | View Flatomic Details
Check out all of our affordable Dashboard templates, and get your own professionally built admin theme today.
---
Share:
Tags:
Admin & Dashboard Templates