All about hosting and domain registrartion / 9 May 2018 - 13:29:24
How To Start, How To Publish Your 1st Website
This article is for people who have no experience and have never published a website so far. A lot of people buying our templates, often times face challenges of not knowing how to publish the site. In this article you will learn how to share your site online.
SO LET's START:
First of all, you need a ready-to-go site, if you don't have one, we recommend you to purchase our responsive website templates or download one of our free website template from here:

So what is a template? It is a ready-to-go website template, where you can edit text, pictures and other media according to your needs and preferences and what your website is supposed to do. The reason why responsive website template is so good, is that it can be viewed and accessed from tablet as well as computer and mobile.
Let's suppose you already have a ready site and have purchased template and made necessary customizations. for the next stage that is sharing this website online, so you and your users will be able to see and visit it online, you will need a name, which your users will type in their browsers and find you. This name is called domain name (www.yourname.com).
---
How to choose and register you domain name?
Today you can access multiple domain registrars such as:
www.godaddy.com-ი, hostagtor.com, hostmoster.com, However lately godaddy and other host providers have increased their registration fees, so we recommend you the following registrar: www.m9host.com Let's review how you can choose and register your domain on m9host.com In order to register your domain for the first time, you will need to check if your desired domain name is not already registered for someone else. In order to do this, you will need to visit the following link: http://www.m9host.com/domains/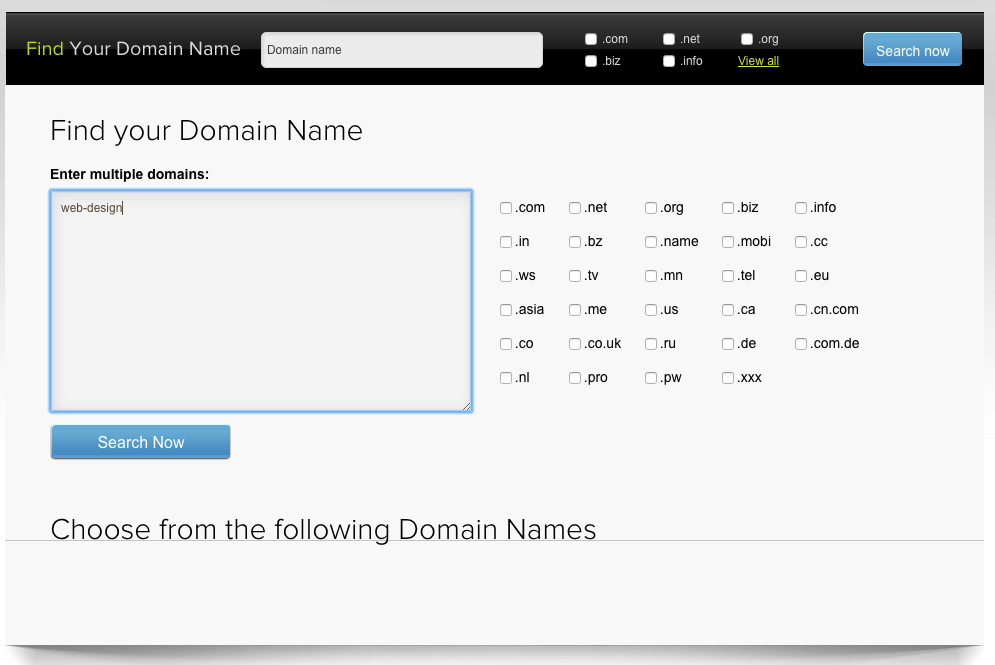 In the above showed shot, you can see that in the space "Enter multiple domains" you are able to type in domain names you like and want to register, however keep in mind that you should leave the extensions (for example .com and .net) out. If you for example want to own domain "web-design.com",you need to enter "web-design" in the designated field, and then check the checkboxes with the extensions you like, it's advisable that you check multiple checkboxes, because .com extension might be taken for that name, but chances are .net or other extensions might be available. In order to start the search process click on "Search Now"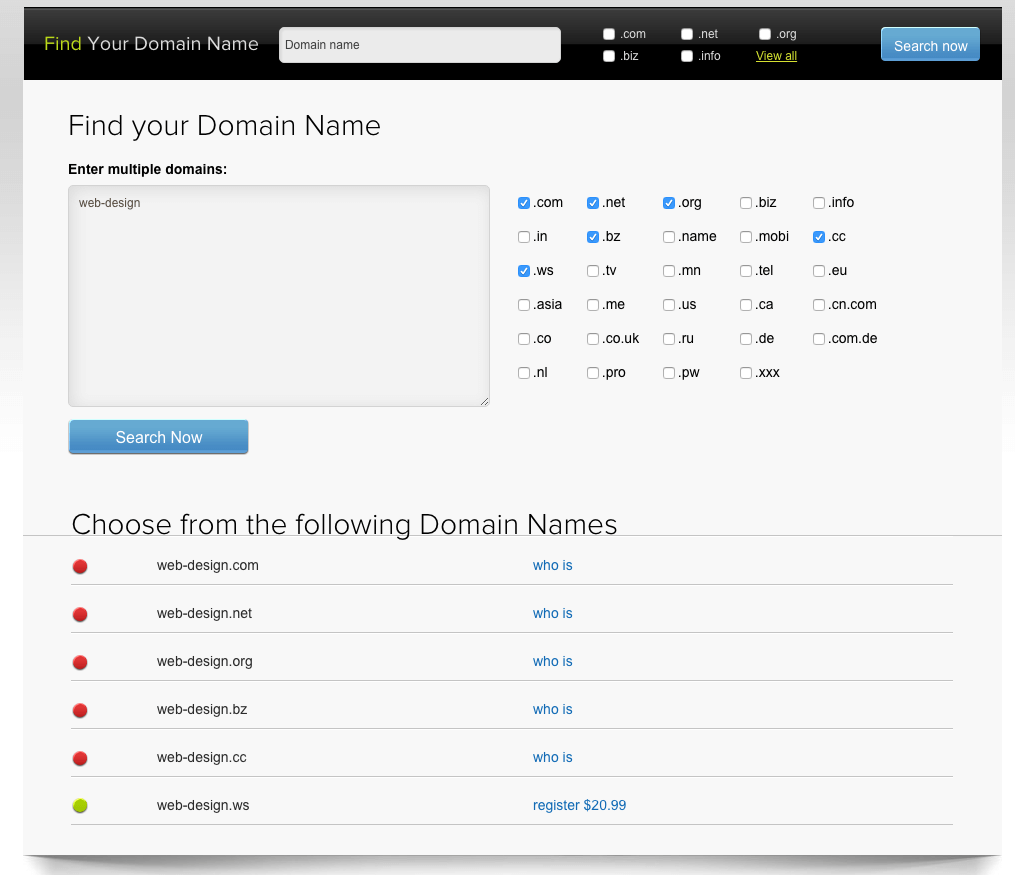 After you click on Search Now button, page will process the information and show you the results. If you see on screen above a red circle by the domain name in the list, it means its already registered by someone else and it's impossible for you to register it on your name. However, if there is a green circle next to the domain name, it means it's available for registration and anyone can register it, thus you need to hurry so no one will take your name. If the domain has a green circle, you will also be able to see the registration fee on the right. As you can see in the screenshot above, all the extensions for your domain name are taken such as .com, .net, .org, .bz, .and only web-design.ws is available, which will cost you to register for $20.99 annually. Domain's prices are given for 1 year long registration . Let's suppose you are content with "web-design.ws", in order to register it click on- register $20.99 - which will take you to the following page: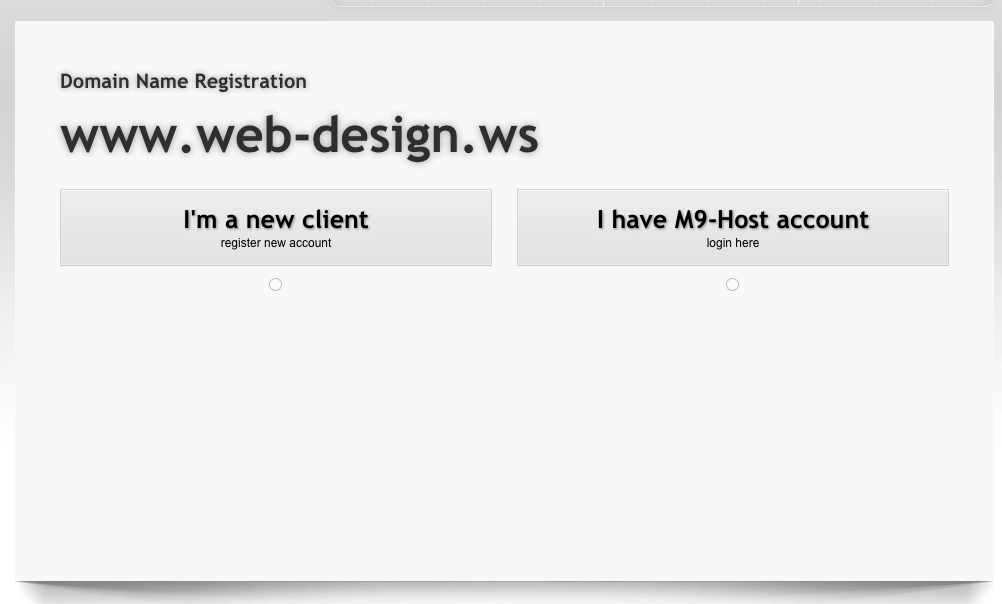 Here website wants to know if you already have an account on m9host.com, if you do not have an account click "I am a new client". Fill out all the required prompts, and try to give in as much details as possible. Because a lot of countries have regulations in place for registration of domain names, thus it's viable if you fill it out completely so you won't have any setback in registering your site.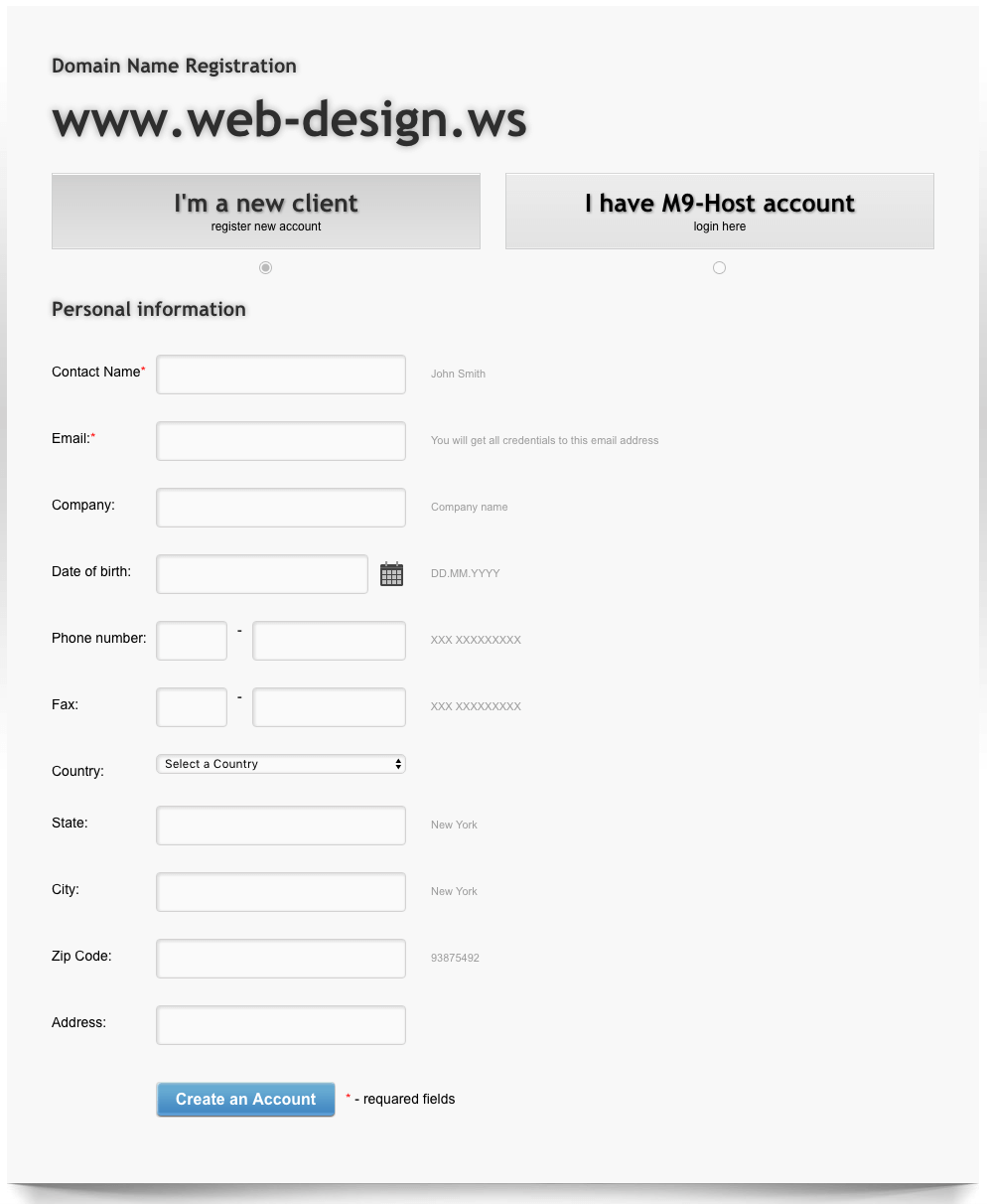 After completing all the fields click on - Create an Account After which, your account will be created and you will be redirected to your account page; see the screen shot below: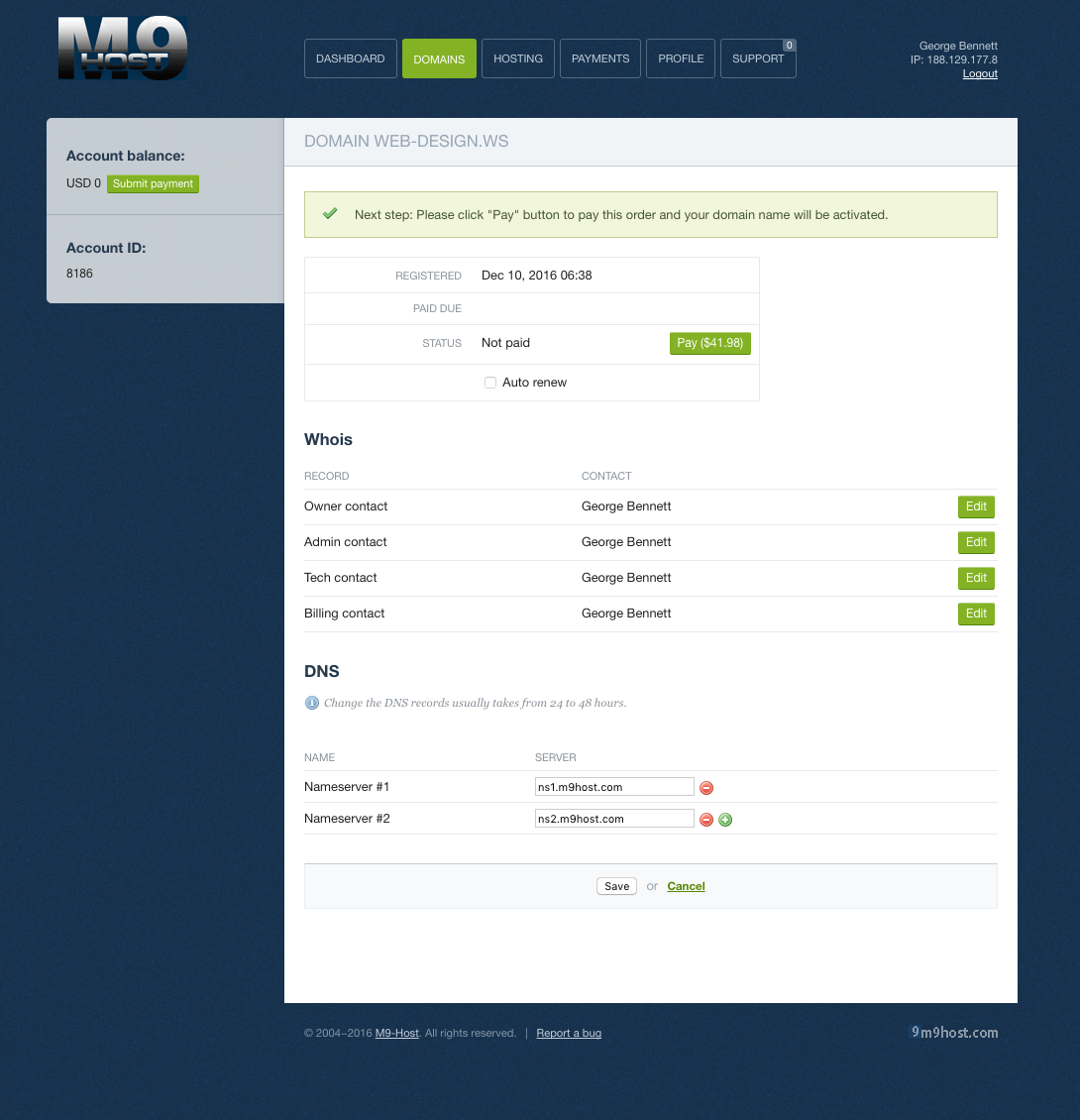 IF you want to register your domain, the next step for you will be to pay for it, thus click on PAY, which will redirect you to the payment page, where you can pay for the registration either with paypal or your credit card, after which you will now be the owner of "web-design.ws". Web-design.ws is of course just a name for an example for you to show clearly all the registration steps. Do not forget to fill out your profile and password for your account, you can do this by visiting your profile page here: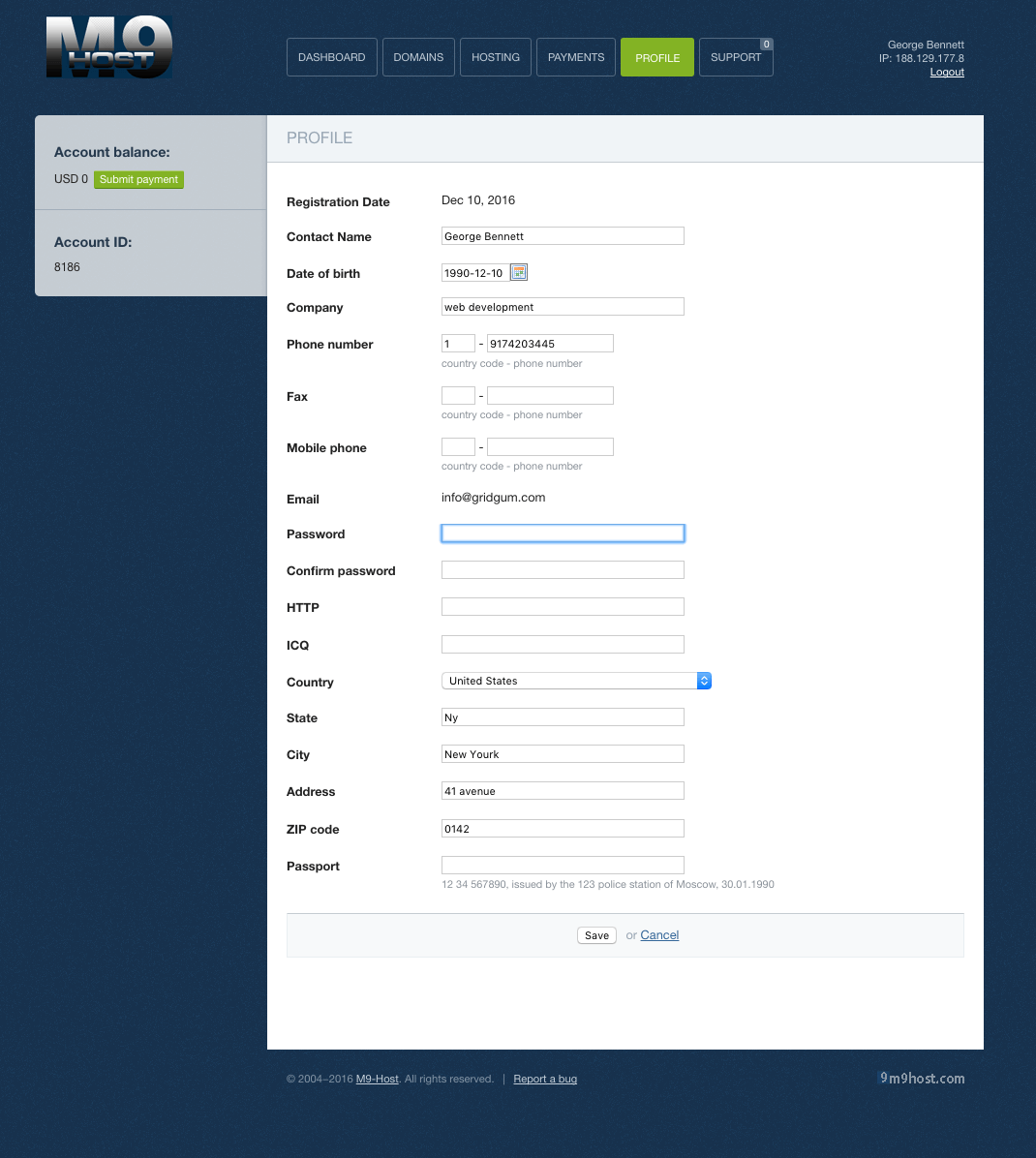 After you checked availability of your domain and registered it, you are now the owner of it for as long as you have paid for it be it a year, 2 years or couple more. Generally domains initially get registered only for a year, so you will be able to see how well will it work and later you will decide if you want to renew you registration and extend it.

---
Host Account
What is hosting and why do we need it? Imagine that you registered new company in your town to do some business. You probably would not place it on the street and would need an office, where people would do the work. Or imagine that you want to make a shop, for which you would need a place to sell the products. This is what is happening in internet too. The place where you publish your website is called hosting. Host companies, in our case www.m9host.com, rents places on the server, where people could place their websites. For this you would also need a host account. How to create host account? For this you can go here: http://www.m9host.com/hosting/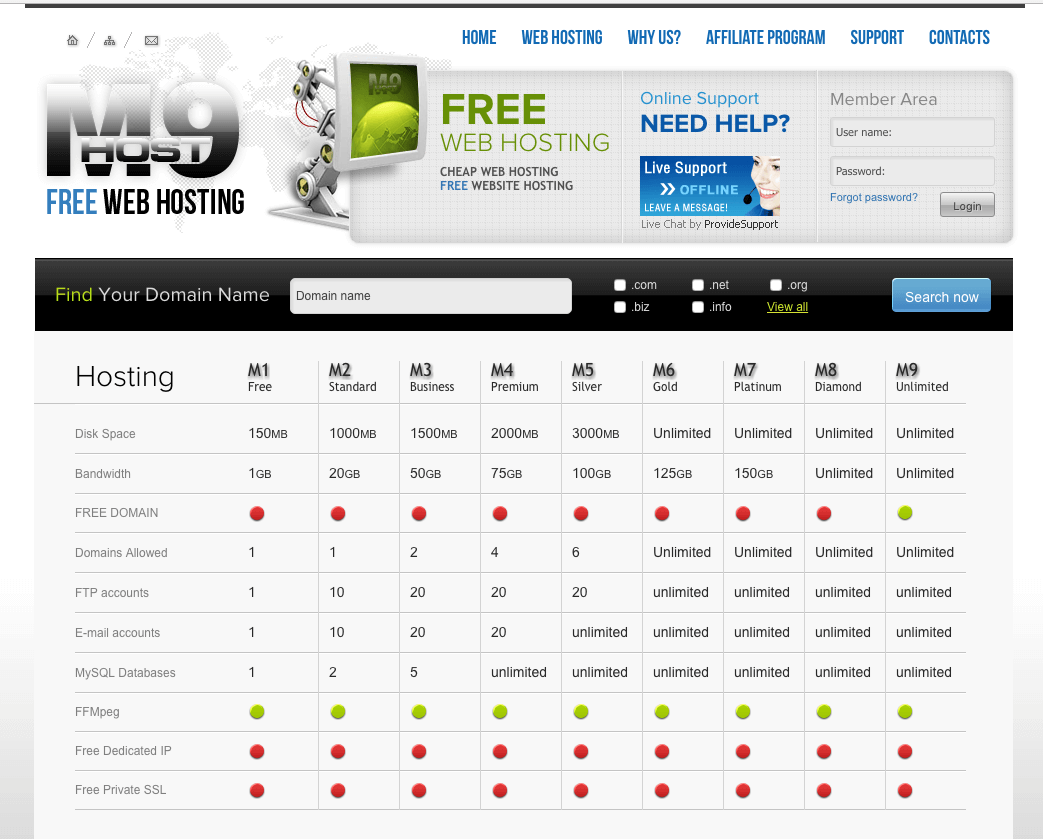 There are 9 host accounts represented, from which you could choose the one that suits you the best. You can also find button to create the account: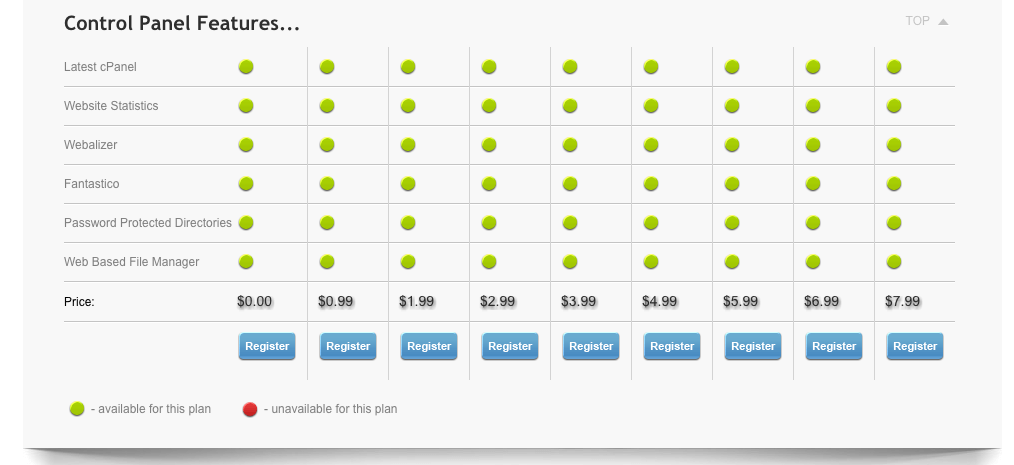 M9host.com offers everyone one month free hosting to make it easier for customers to understand if they like the service or not. If you want to create free hosting, please click on register button of a column, that has listed the price as $0.00. You will be redirected to a familiar page that asks you if you are a new client or not.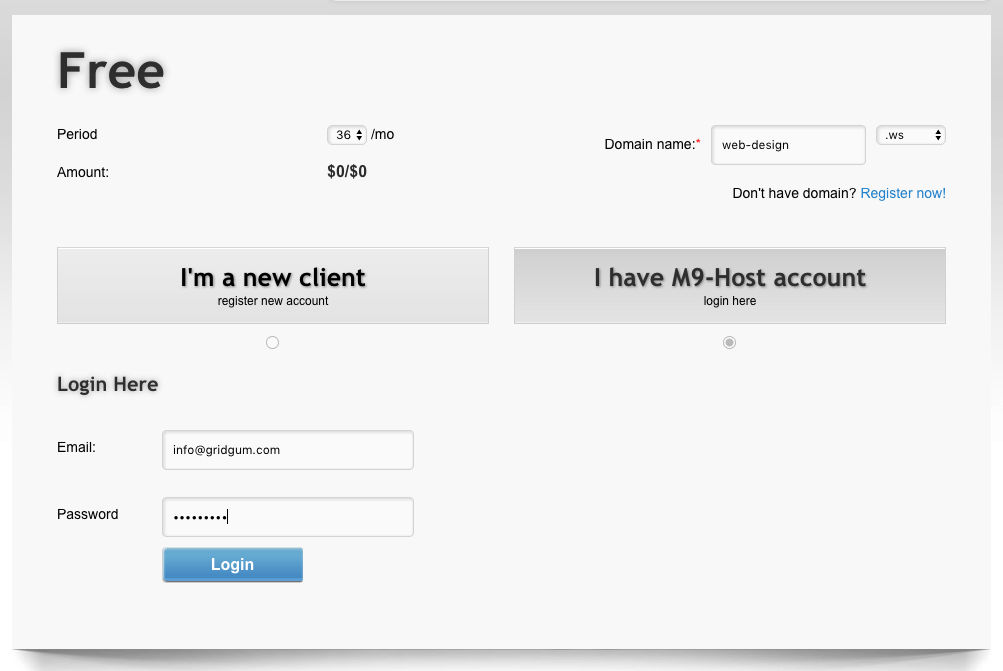 As you already have gone through the registration part, you have the ability to click on the button that says "I have m9host account and domain name" and type in the text field the domain name for which you need the hosting for. You will also need to type in your email and password and click login button. You will need to wait for a little bit for m9host.com to decide if they can open host account for you if you need one month free hosting. However, if you choose to pay for the hosting, then there is no waiting time for approval. Let say that you did everything as its explained in this article. Then you already have a host account and you should have received an email (welcome host information) with your hosting information.
---
How to login to host account ?
Please check your email for hosting information, which should look similar to this: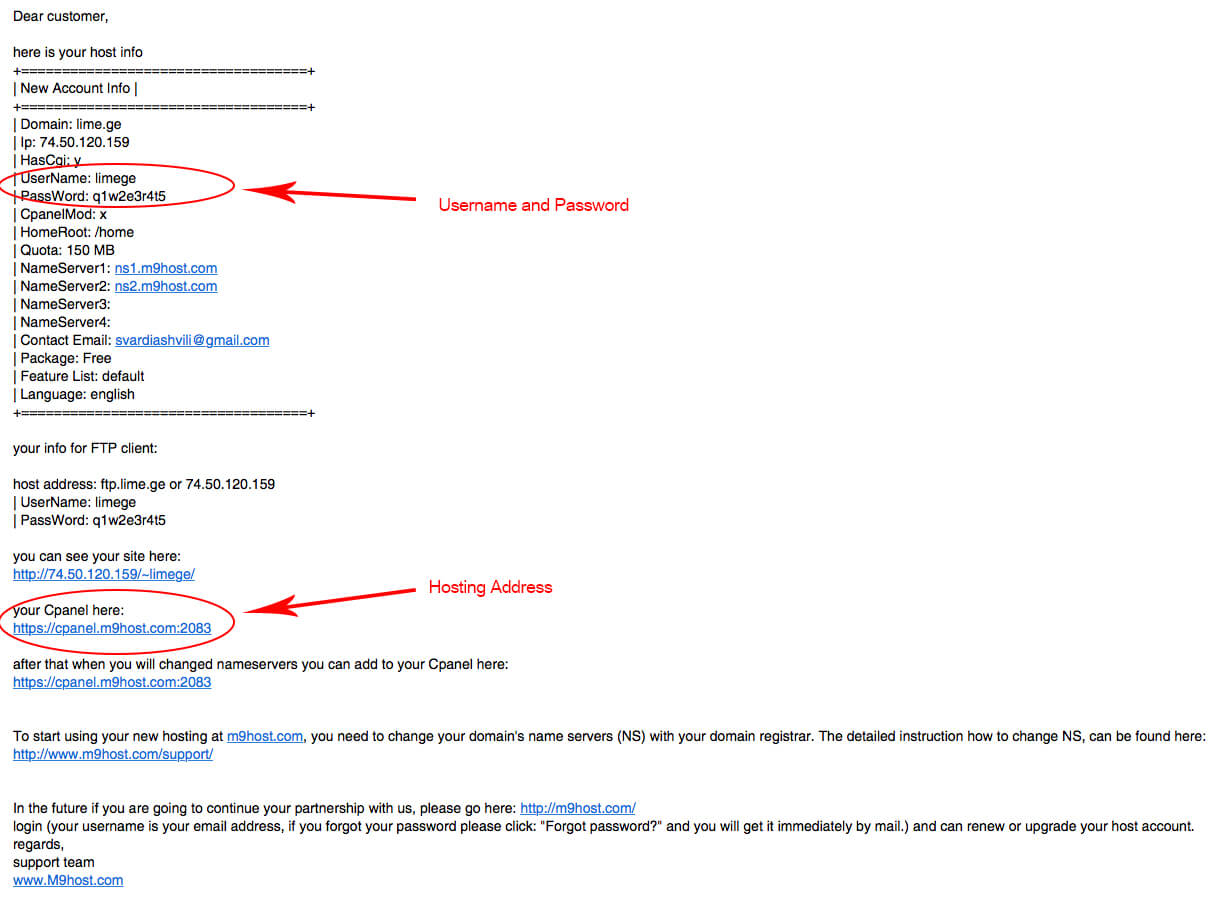 This email contains all the needed information to login to the host account. You would probably find something like this in your email: your Cpanel here:
https://cpanel.m9host.com:2083
This means that your hosting account's cPanel address is:
https://cpanel.m9host.com:2083
There should be a mention of username and password also:
| UserName: limege
| PassWord: q1w2e3r4t5

In order to login to your host account, type in the following address in the browser:

and you will be redirected to a page like this: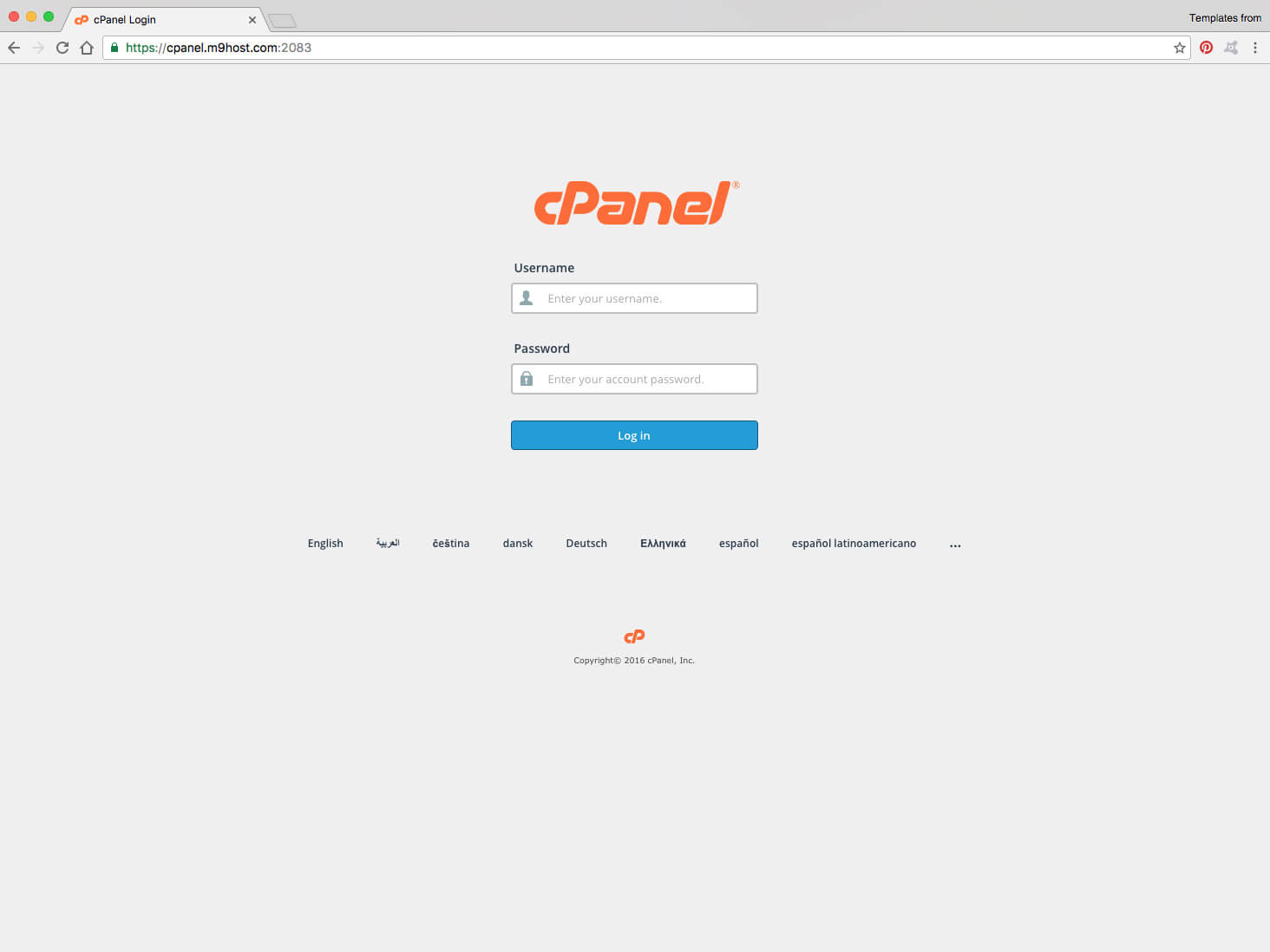 You should enter the username and password that is mentioned in the email and click on login button, which takes you to cPanel page: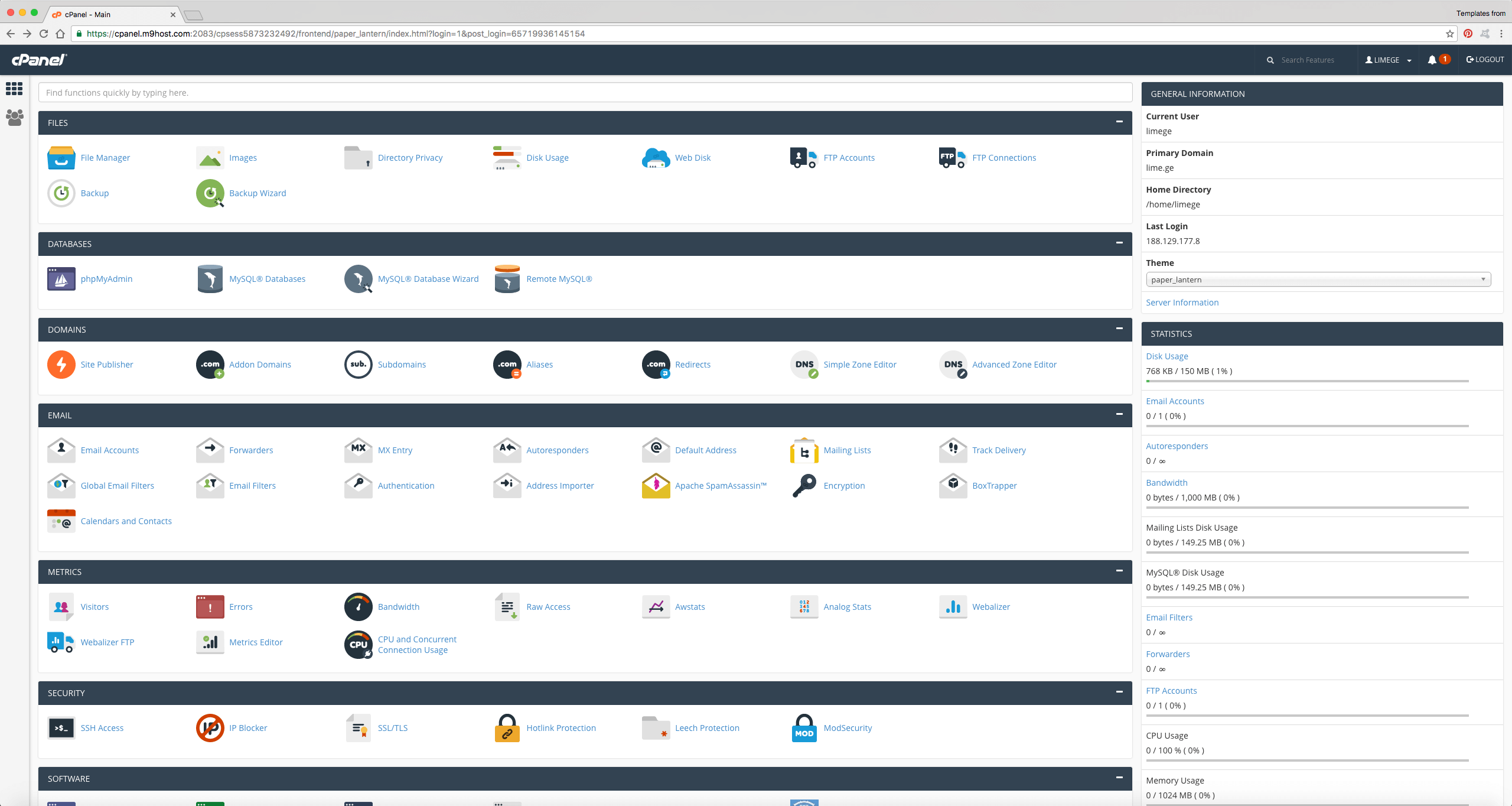 ---
How to publish the website? How to upload a ready website on hosting? How to link the website to domain?
Please find a button File Manager in the cPanel, that is first button on the top and you will be redirected to this page: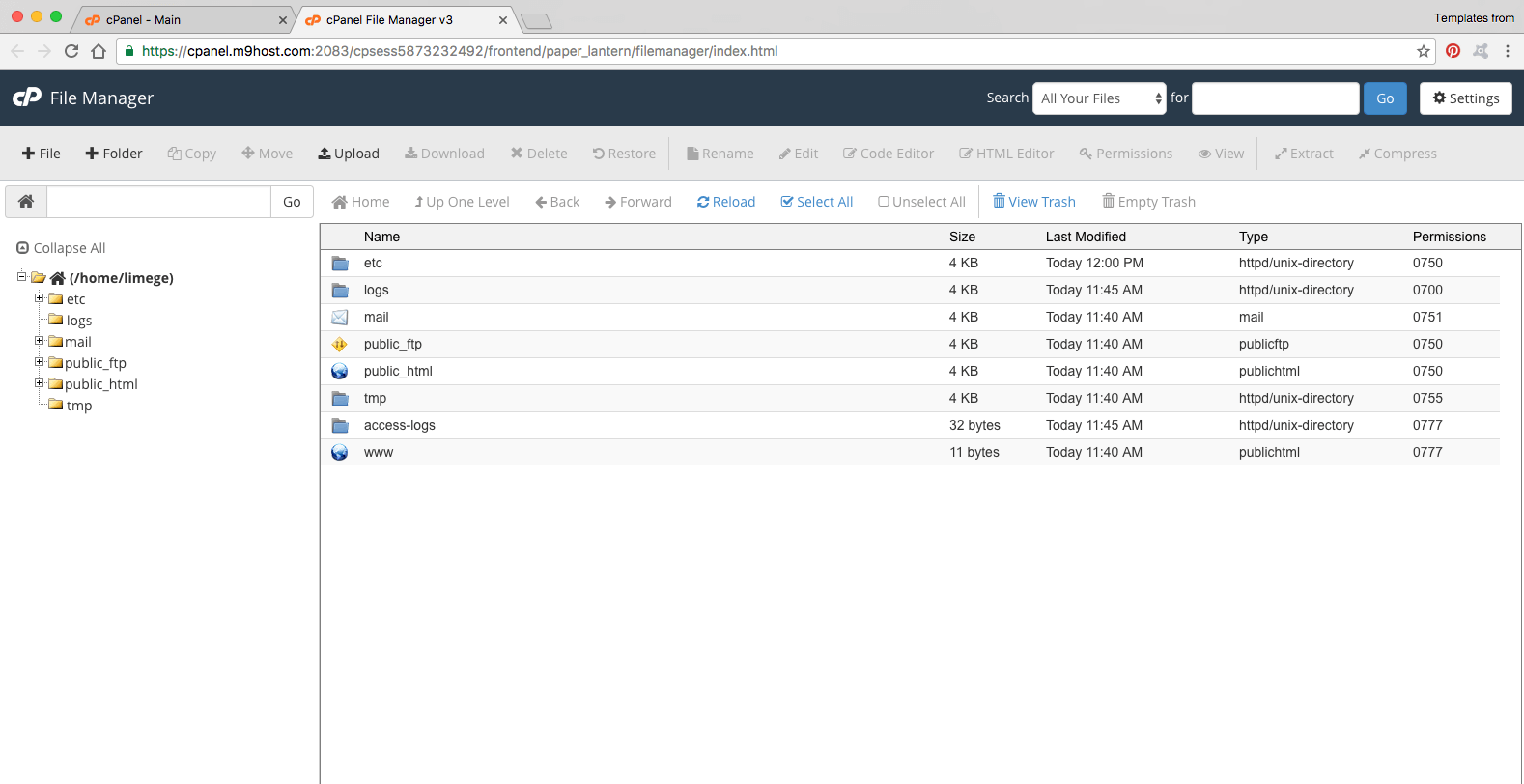 Your website should be uploaded in public_html folder. To go to public_html, please click on it twice.

When you get there, you should see something like this:

Now is the time to upload the website on your account, for which you need to click this button:

Please click on a button Select File and choose file in your computer that you want to upload on the hosting.

After the files are uploaded, please check in the browser if you are able to see your website or not.
This is all, congratulations!!!
Publishing your website went successfully!
Please do not hesitate to let us know if you need any help or have any questions.
---
Share:
Tags:
hosting
,
how to host website
,
how to create host account
,
how to register domain name