Which service protects the website better – CloudFlare VS Sucuri / 5 June 2018 - 23:00:55
Which service protects the website better
CloudFlare or VS Sucuri
There is an increased interest about website's security and one of the most popular question is which one is better to use Sucuri or ClouFlare. Therefore, we decided to fulfil our readers' interest and provide brief analysis of above mentioned online services. Sucuri and CloudFlare provide the website firewall, DDOS protection and CDV services. So, let's find out their features, benefits and lags to understand which one is better. If you would be interested in the above mentioned services then please click on the following links:
Sucuri: https://sucuri.net/
CloudFlare: https://www.cloudflare.com/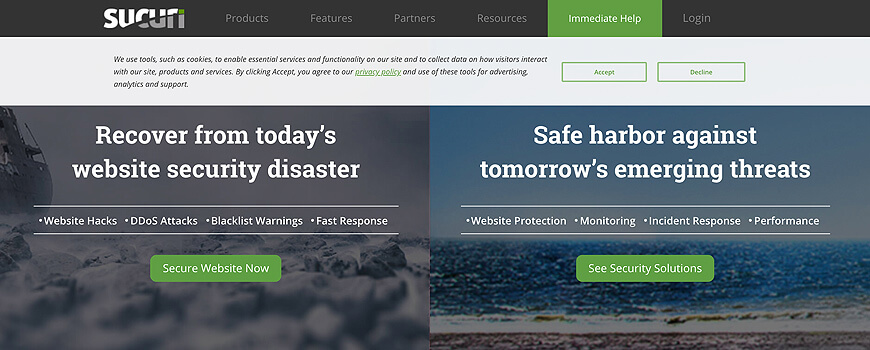 Features of Sucuri:
It is one of the most reliable website security and controlling service. Sucuri offers meticulous website monitoring, DDOS protection, scanning for errors and error elimination services. Moreover, it provides the CloudProxy, load balancing and website firewall service. It eliminates the suspicious traffic to reach your website, code injections, DDOS attacks, bad bots and many other potential website threats. Sucuri, on regular basis, scans your website for file edits, malwares and code injections. It also cleans up the hacked websites which are can be supported by various CMS softwares like WordPress, Drupal, Joomla and many more.
Sucuri as Malware Removal
Since Sucuri is focused on security they are the best in monitoring the websites and protecting them against various attacks. The application firewall that is offered by Sucuri can protect you from DDOS, XSS and SQL injections, contact form and comment spam. Even if something will cross over the provided security barriers they will clean them up for you.
Pricing of Sucuri
Unfortunately, it does not provide any free plans. The website security stack plan starts from 200 hundred US dollars per year. The most basic plan compromises whole website monitoring, DDOS protection, error and malware removal, website application firewall and FREE SSL certificate.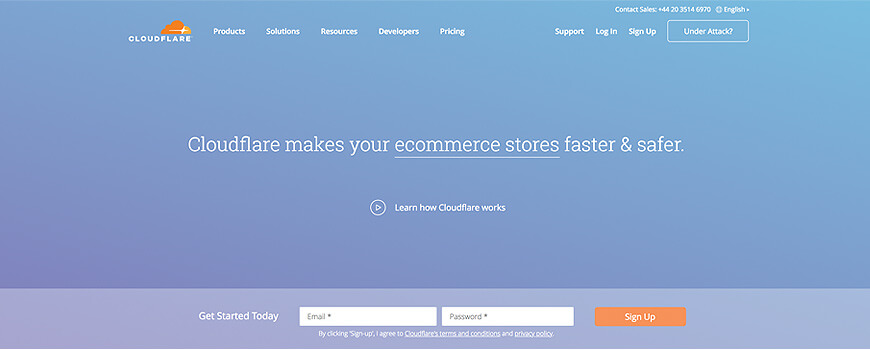 CloudFlare Features:
CloudFlare is focused on defeating the DDOS attacks through their product of website application firewall. Therefore, it is very popular because of its FREE CDN service. CloudFlare makes available your website to users even when it is under attack or heavy traffic. It provides very high-quality website application firewall because it blocks the suspicious attack even before it reaches your website. Moreover, firewall even covers the form submission which protects the website from registration and comment spam. CloudFlare offers a free and also paid plan for custom SSL certificates. If you want to have the custom certificate, then you have to upgrade the plan to Enterprise or Business one. Even though the CloudFlare offers the CDN as a free option, the rest of the features need the paid plan. Unfortunately, the CloudFlare does not provide the server scanning or malware detection or removal services.
CloudFlare – Malware Removal
The free version of the CloudFlare is a network for content delivery that helps the website to work better and faster. Of course, if you get the paid plan, then you will automatically receive the website application security firewall. However, it does not provide, file editing detection, control of blacklist, error scanning and removal and many other features. You will be able to add the third-party applications for malware controlling however you will incur the additional costs. Pricing
As it was mentioned above CloudFlare offers the CDN service for free and even if you traffic volume is very high, you will not be charged extra for that. Yet, this free plan does not cover the website application firewall. Even though the website will benefit from CDN, it will not be fully protected from DDOS attacks, various spam and malfunctional traffic. Therefore, to get the website application firewall you will need their paid plan which is up to 20 US dollars on a monthly basis. The suggested plan does not cover the DDOS mitigation and custom SSL therefore to get these features, you will need the Business plan which is 200 US dollars per year.
When you compare these two services you will notice easily that both of them do good jobs in protecting website against DDOS attacks. However, CloudFlare provides better results in the area of content delivery network. On the other hand, Sucuri paid plans are better because they cover more features and offer better security scanning. Therefore, if you have a website which is supported by CMS like WordPress, then you will need the Sucuri. If you are fine with adding the third-party applications of malware monitoring for extra cost, then you can also go for CloudFlare. In conclusion, we can say that Sucuri is winning of all fronts, in regard to offered features and prices.
We hope that our article will be helpful for you to make the right choice and protect your website fully!
---
Share:
Tags:
website hosting